Routing and asset management
For vehicle routing and navigation software providers, this data gives you all you need to get your users safely to their destinations: turn, height, weight and width restrictions – and even bollards and traffic calming.
Improved planning
Our asset management information allows highways teams to improve planning schemes in the office, avoiding unnecessary site visits. It can also identify potentially difficult locations, so you can organise required permits in good time.
One instant view
All the details at your fingertips. If a water leak is reported, use the data to find the property, street and nearest hydrant and assess impact on nearby properties, while determining the risk to other assets.
Knowing turn information
Go beyond just the restrictions with detailed information about narrow roads and pinch points. Join up your organisation's common reference to roads and help make informed decisions around the road quickly and effectively.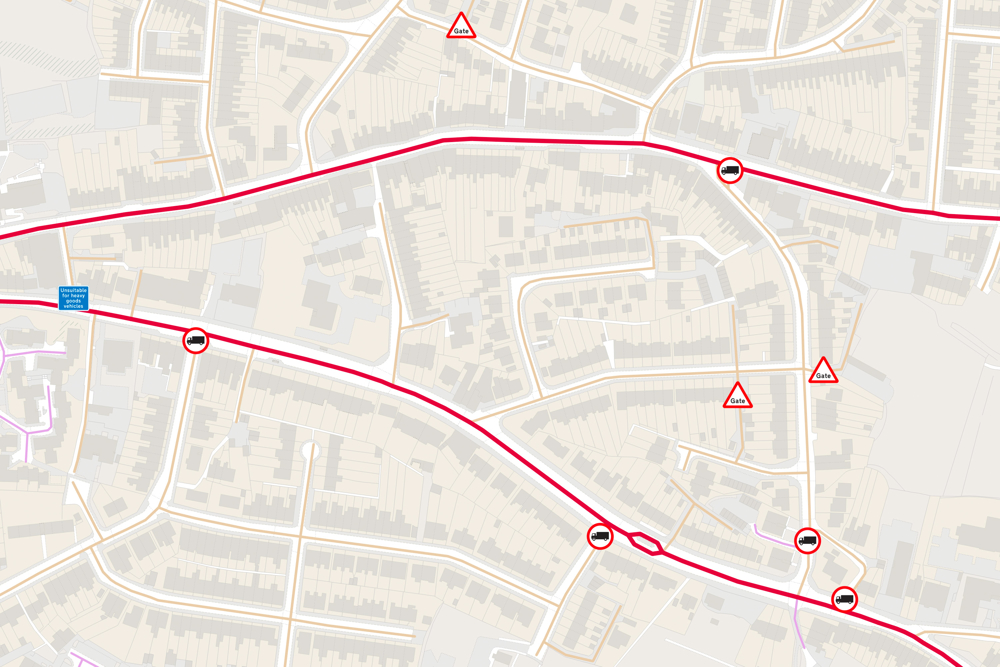 Comprehensive and authoritative
OS MasterMap Highways Network - Routing & Asset Management Information includes our highly accurate road network geometry and associated routing restriction information for detailed route planning and network analysis.
Case studies
Saving resources through intelligent route planning
Saving money while providing efficient services is a challenge for most local authorities.
Thanks to Map-a-Route dynamic routing software from Exactrak, detailed routes for fleets of vehicles can be created at the touch of a button.
| Key Features | What this product offers |
| --- | --- |
| Format | GML 3.2.1 |
| Data structure | Vector – topologically-structured link and node network. |
| Supply | Download |
| Support documentation | |