Sourced and quality-checked
Points of Interest contains over four million records, sourced and quality-checked from more than 100 leading listing suppliers. It's updated more than four times a year, so you'll always be working with current information.
Tailor your order
You can tailor your order to just what you need - and our tiered classifications make it easy to narrow down your choices. So if you only want to know about businesses in Wigan or banks in Kent, we're here to help.
Identify gaps in services
For the public sector, Points of Interest lets you identify gaps in services and analyse changes in city centre retail space over time. This helps you maintain a quality environment for your residents, shoppers and visitors.
Take your analysis beyond the address
Points of Interest GIS data can help to identify places by their use and function as well as by their postal address or location. Each record also contains a telephone number, web address and brand, where appropriate.
The nearest of anything, anytime
More than 45% of Points of Interest records are businesses. It shows the organisation and activity at commercial addresses in Great Britain, and includes the brand, phone number and web URL of major businesses.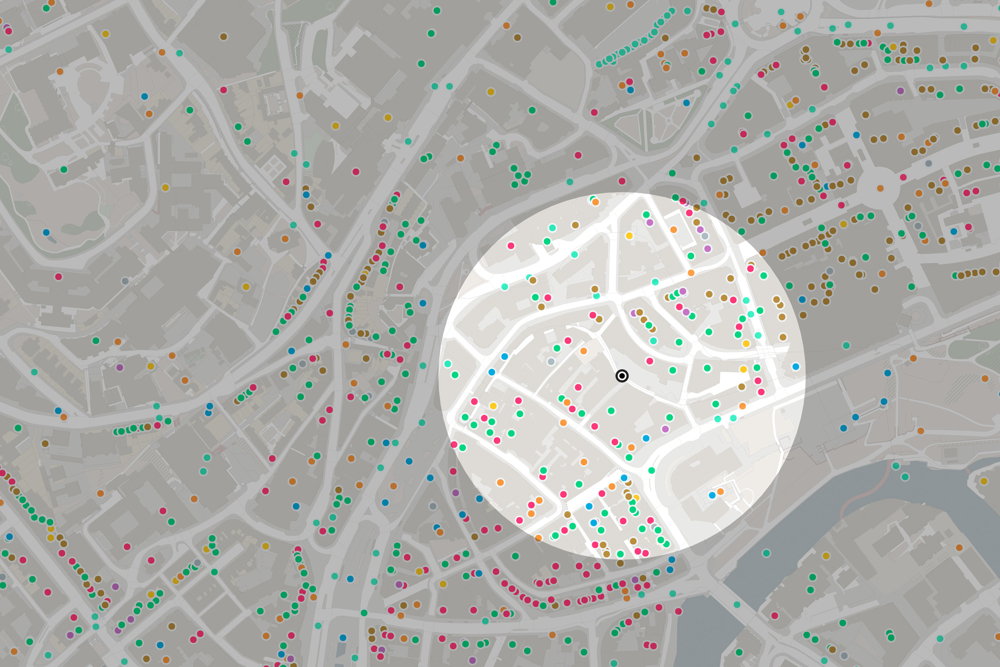 Target the competition
Thanks to its detailed company classifications linked to addresses, you can conduct detailed competitor and site analysis for the potential location of your next high street outlet.
Explore our data
You're welcome to try out this data for free under our Data Exploration Licence.
Internal business use
If you wish to use Points of Interest for internal business use you should contact one of our Partners unless you're in the energy & infrastructure sector, in which case please contact us so that we can advise you on next steps.
Creating products or services
To use this data commercially in your own products and services, or to distribute it, you will need to sign up to our Framework Contract (Partners) and a relevant defined use contract. This will vary depending on what you're going to do with the data.
| Key Features | What this product offers |
| --- | --- |
| Format | Text |
| Themes | Accommodation; eating and drinking; commercial services; attractions; sport and entertainment; education and health; public infrastructure; manufacturing and production; retail; transport. |
| Data structure | Points |
| Classification | 3-tier hierarchy (9 groups, 52 categories and 616 classes) |
| Key attribution | Unique reference number, feature name, classification code, geo-code, positional accuracy code, topographic reference, road network reference, distance to nearest road, postal address detail, telephone number, web URL, brand, provenance. |
| Supply | Secure URL |
| Update frequency | Quarterly – March, June, September and December (full re-supply). |
| Total feature count | More than four million |
| Coverage | Great Britain |
OS helping HMRC to target financial support
This case study outlines how HMRC has used Ordnance Survey (OS) data to increase the take-up of tax credits so that disabled workers, people on low incomes, or those responsible for children, receive the benefits they deserve.