Space, maps and the vulnerable - how integrated spatial data can help society
6 Oct 2020
4 Earth Intelligence
data
developers
satellite
Throughout the coronavirus pandemic, we've been supporting the country's response with our data. In April, we announced the release of an additional Covid-19 licence (extended until March 2021). This enables organisations, developers and individuals to use OS data, free at the point of use, for the specific purpose of supporting the UK response to Covid-19.
Since using our Covid-19 licence, we've welcomed 4 Earth Intelligence (4EI) as an OS partner! For this week's OS Developer blog, their Chief Technology Officer Richard Flemmings explains how OS data is enabling their work to address climate change…
Air, surface and soil temperatures in cities are higher than their surrounding rural areas, predominantly due to the modification of land cover. The compact design of cities and the lack of vegetation and green spaces means that heat gets trapped within the urban area from both natural and waste heat energy. This is created from everyday life such as heat escaping from insulated buildings and is known as the urban heat island effect.
Satellite data analysis is complex and most people think it's beyond their skill to understand and use it. However, that's what we do and it's 4EI's core mission – we take complex science and distil it into information and insights that are valuable to our customers – at its simplest, this includes making maps.
Heat mapping
In 2019, we were asked by Bristol City Council if we could provide information from space on the urban heat island effect to support its climate change resilience planning. Despite Covid-19 halting our publicity campaign, the initial work we did with Bristol City Council on heat mapping provided us with a springboard to reach out to others who could benefit.
Heat impacts can be severe in normal times, so when we realised early on that heat affects the same groups vulnerable to crises such as the pandemic, we knew the risk a lockdown would bring for vulnerable people in the summer months. It is also known that people in properties with poor access to greenspace can't escape the heat and this tends to impact the most disadvantaged in society. Read the full ONS report here.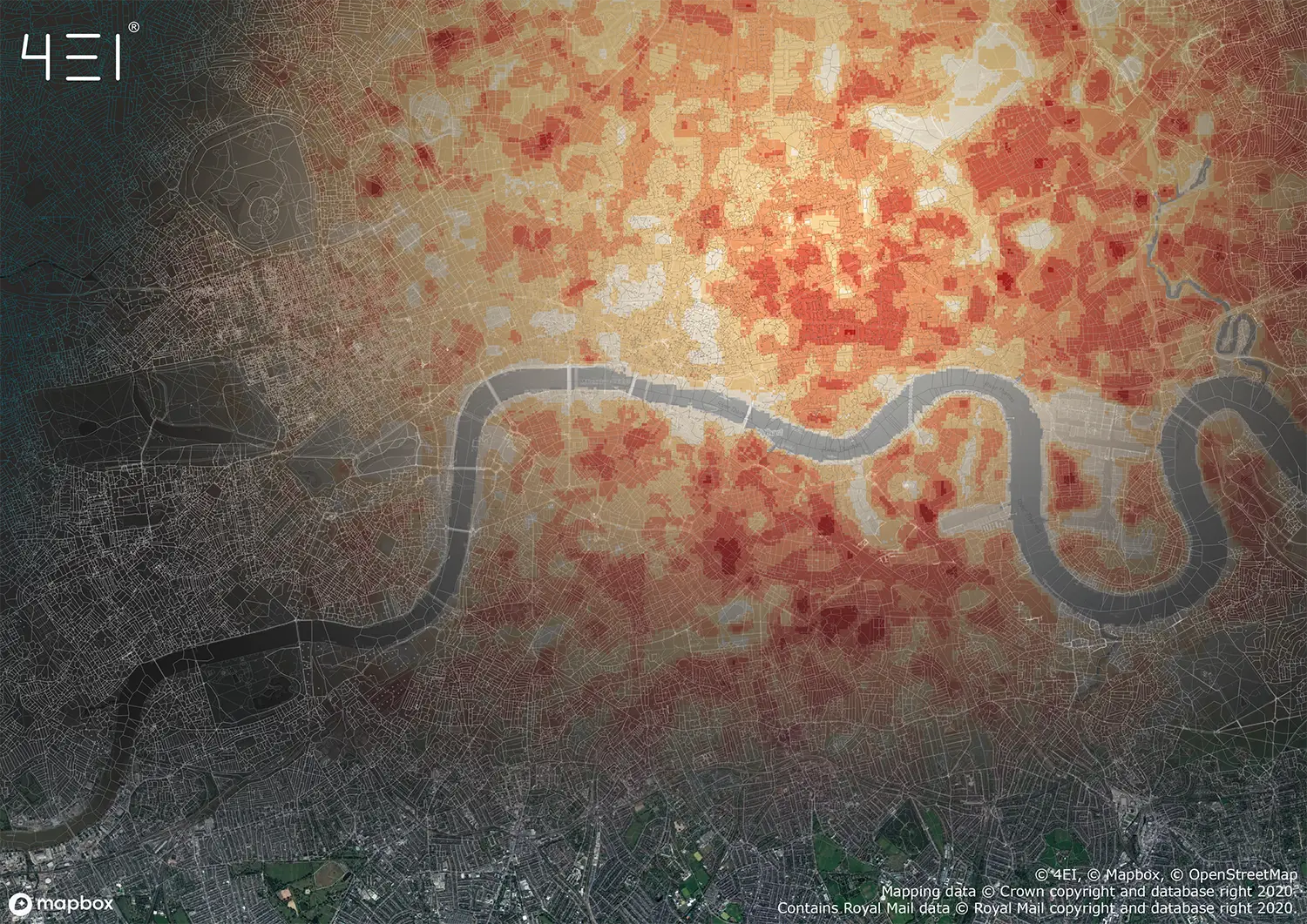 OS data and the Heat Hazard Index
Postcode data is one commonly used way of organising location data. As a result, we discovered that the easiest way for emergency responders to use heat data for identifying and contacting those at risk would be to utilise the Ordnance Survey (OS) Code-Point with Polygons product.
We planned to use this postcode dataset as the foundation for the 4EI satellite-derived Heat Hazard Index, allowing the index to be applied alongside other emergency responder's datasets or included in their Geographical Information Systems (GIS).
As a space data company, we didn't have the relevant licence, so we contacted OS to see what we could do. OS quickly provided us access under their Covid-19 Licence, so we were able to offer the data for free until September 2020 to enable mitigation planning for category 1 responders.
Promotion of our heat mapping resource began in May 2020, and the response was immediate. From NGO to local and national government, within a month the data was being shared at all levels. We've now signed up as an OS Licenced Partner so we can provide this service beyond September.
OS Open Greenspace – Lambeth
Whilst promoting our Heat Hazard Index at the London Climate Change Partnership's Green Infrastructure event and speaking to a variety of local authorities, we discovered a need to identify Heat Hazard and understand its proximity to open green space.
We looked to incorporate the OS Open Greenspace layer to give an indication of how green space impacts heat hazard and which postcodes have heat refuges within close proximity. A heat refuge generally tends to be a green space or a space surrounding a body of water and are essentially areas that are cooler than their surroundings, which people subsequently move to so they can escape the heat and cool down.
During this process we were approached by the London Borough of Lambeth, who also wanted to explore which areas of their community would be most vulnerable to climate change such as extreme heat events. According to Lambeth Council, it is the 5th most densely populated borough in England and Wales and 70% of people live in flats, many with limited access to green space.
They are now using maps containing both the 4EI Heat Hazard postcode dataset and the OS Open Greenspace data layer in their community engagement platform to help members of the borough identify areas of heat refuge by locating their closest open green space.
Lambeth intend to use the heat maps in conjunction with other data such as indices of multiple deprivation and flood mapping in order to target the areas of greatest need. 4EI will continue to work with OS and local councils to further develop our climate monitoring and resilience products to combine with data, such as flood risk and air pollution, and census outputs to get an idea of how other issues are impacting the population.
The technicalities
The Heat Hazard Index Dataset has been created using archive satellite data from the summer months of 2017, 2018 and 2019 across Great Britain. Several satellite images were processed each year to produce multiple Land Surface Temperature values for each location at a resolution of 30m. The data was then combined and statistically analysed to produce an average heat risk value for every 30metre squared. From this, risk values can either be amalgamated to provide an average heat risk value for each postcode or can be delivered at 30 metre resolution in raster format.
A Heat Hazard Index score ranging from 1 to 5 is available for every postcode and each 30-metre square grid in Great Britain. For more technical information on our Heat Hazard Index product, have a read of our whitepaper.