Addresscloud using OS data for new UAV project
24 Feb 2021
As an OS Partner, Addresscloud has been working with OS data to create geospatial solutions for the logistics and insurance sectors for six years. Their latest project, LandSafe, aims to produce a national suitability database of landing sites for unpiloted aerial vehicles (UAVs) for every address across Great Britain.
The LandSafe database, available via Addresscloud's Intelligence Service, will meet the needs of the emerging UAV delivery market, with users able to type in an address and see whether a drone can be landed at a property. This innovative use of OS data will enable business and public sector to assess the feasibility of UAVs for last-mile delivery and LandSafe will provide precise coordinates for a safe landing spot.
The project was recently selected as a winner for the Transport Location Data Innovation competition launched by Geospatial Commission in partnership with Innovate UK. Their prize funding will allow Addresscloud to progress the LandSafe project and develop a sample data area to study the scope and scalability of the data.
UAV flight and delivery is a complex process and Addresscloud is concentrating on defining suitable landing sites, to help operators assess the feasibility of UAV deliveries and support the creation of flight-safe corridors for UAVs. This could include use for consumer deliveries, emergency response and health care providers. The project isn't looking at line of sight or where UAVs are able to be flown as part of the project.
Addresscloud knows that last mile logistics account for over 50% of supply chain costs and already work with customers like Riverford Farms to reduce costs and carbon emissions of their deliveries, getting their drivers and your vegetables to your doorstep with ease. With some studies estimating up to a 54% reduction in emissions when using UAVs for last-mile delivery, the next logical step for Addresscloud was to support the development of UAV deliveries with the world-first database LandSafe.
Addresscloud's state of the art geocoding service uses the Ordnance Survey AddressBase family of products to provide roof-top level accuracy locations for its customers. LandSafe extends this capability, using the Inspire polygons from Land Registry in conjunction with OS OpenMap Local, to provide a framework on which to build the LandSafe model and link to other OS datasets from OS MasterMap Topography Layer to OS Terrain 5 with addressing information.
Addresscloud is now working to assess the feasibility of LandSafe using a geospatial algorithm to determine landing site suitability for their chosen study area in North Leeds. Their algorithm identifies potential landing sites, and verify their suitability by analysing geospatial datasets. This includes checking the area is free from aerial obstructions such as masts and pylons, are outside restricted airspace, and whether there is water or vegetation making an area unsuitable for landing. UAVs need a clear area 2-3 times larger than the drone itself. Preliminary results demonstrate that 70% of addresses in the study area have an area suitable for delivery via UAV.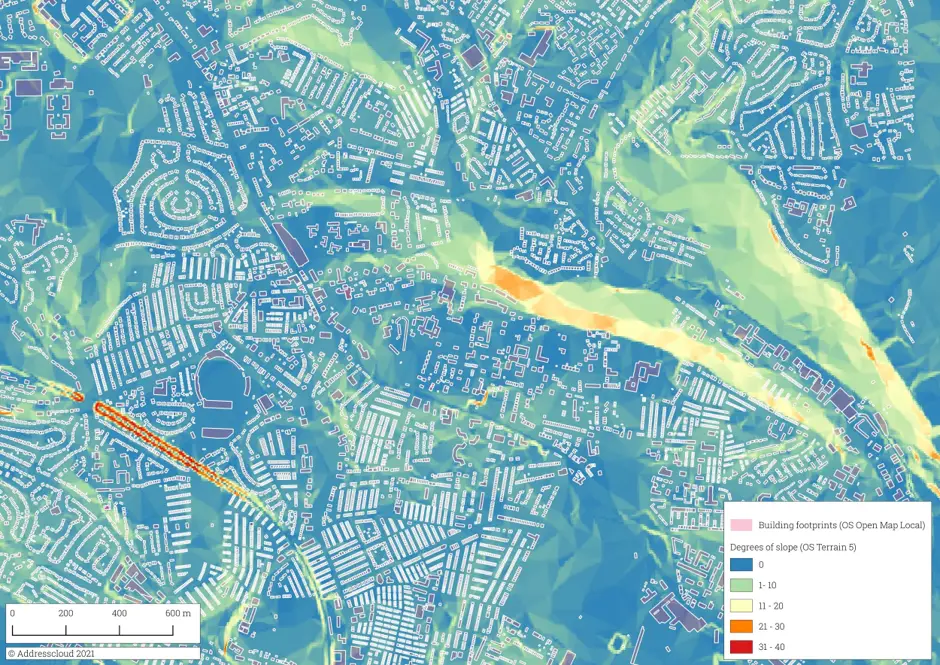 There are still many considerations within the UAV delivery feasibility beyond identifying suitable landing locations, including the fact that a person needs to be available to support the delivery and keep the public clear for a UAV landing. Many businesses such as Amazon and Royal Mail already have tests underway, and LandSafe could be developed to support those trails further.
"LandSafe is a really exciting development in the use of UAVs for logistics. By linking every address with a landing suitability score, businesses and the public sector will be able to safely and effectively plan last-mile deliveries using UAVs nationwide. Addresscloud is a market leader in geocoding and property intelligence, and this innovative project extends our capabilities to support our logistics customers in their use of UAVs to optimise last-mile deliveries, reduce road congestion and cut vehicle emissions."
- Mark Varley, Addresscloud CEO (January 2021)