Britain's most popular grid squares
11 Jul 2016
Cartography
Using GI and maps
cartography
grid reference
Lake District
You may have heard us saying that there are over 500,000 routes in our OS Maps service…well, we've been analysing all of that data to look at which areas you most like to #GetOutside and explore. We've compiled a list of the 20 most popular grid squares in Britain, using 10 years of public routing data compiled in OS Maps and its predecessors.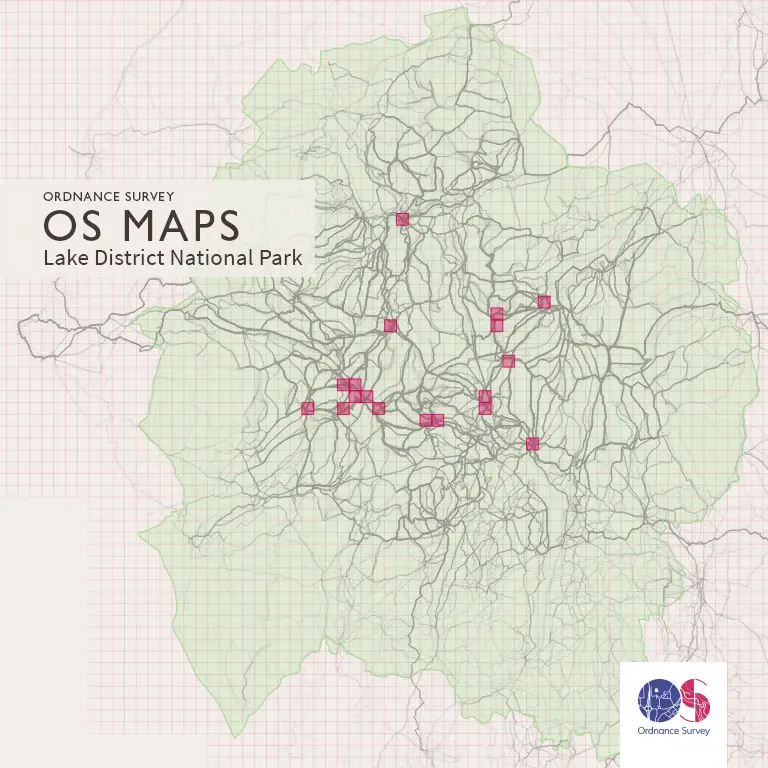 We suspected that the Lake District would feature highly, but were amazed to discover that eighteen of the top twenty most popular grid squares to create a route fall in the heart of the Lake District National Park, close to popular tourist locations Keswick, Ambleside, Grasmere, Helvellyn and Scafell Pike. The other two top twenty places can be found in Snowdonia and the Yorkshire Dales.
The 500,000 plus routes have been illustrated in a series of stunning data visualisations created by our Cartographic Designer Charley Glynn. The darker, thicker areas illustrate the higher concentration of routes and reveal popularity. Charley was surprised when he started analysing the data:
"We've always assumed the majority of the routes are created for walking, cycling and running activities, but it's clear that some people have been finding new ways to use our products. I've noticed several instances where people have used our products to route their car journeys and spotted a couple of people using our products at sea to recording their movements."

Top 20 locations (by 1km grid square) and number of routes
NY2107 – Scafell Pike Summit – 2172
SH6054 – Snowdon Summit – 2111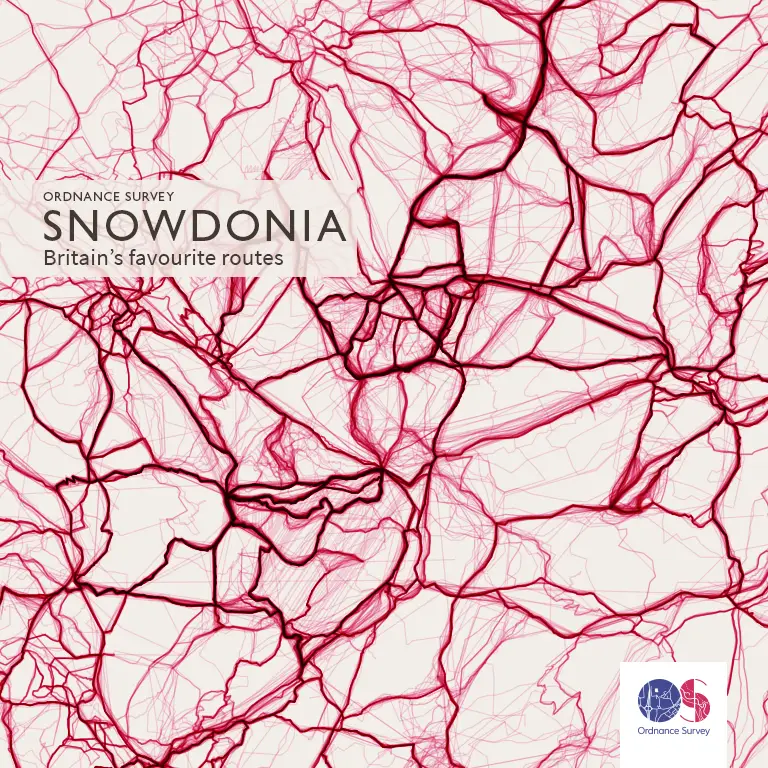 NY2308 – Allen Crags (Near Scafell Pike) – 1918
NY2208 – Great End (Near Scafell Pike) – 1908
NY2806 – Langdale Fell (Cumbria Way) – 1865
NY3415 – Helvellyn Summit – 1793
SD8072 – Horton-in-Ribblesdale – 1593
NY2514 – Rosthwaite – 1576
NY3308 – Grasmere (North) – 1558
NY1807 – Wast Water (North) – 1551
NY2407 – Rossett Pike (Near Scafell Pike) – 1531
NY3414 – Nethermost Pike (Near Helvellyn) – 1527
NY3704 – Ambleside – 1520
NY3816 – Glenridding – 1519
NY2209 – Great Slack (Near Scafell Pike) – 1515
NY2906 – Langdale Fell (Cumbria Way) – 1491
NY3511 – Fairfield Summit – 1487
NY3307 – Grasmere (Centre) – 1467
NY2109 – Sty Head (Near Scafell Pike) – 1431
The Lake District is a truly stunning area of Britain, and one of our 15 National Parks, but there are many other beautiful places to explore around the country too. We have inspiration for some of Britain's hidden gems, detailed walking guides, outdoors tips and more on our #GetOutside site. Take a look and then add your new route into OS Maps too.
You can also view all of the the data visualisations created by Charley in our Flickr gallery.