Can you help colour London's buildings?
23 Jan 2020
buildings
colouring london
crowdsourcing
London
What?
Using OS data for the building outlines, this project is designed to collect, collate and visualise around 50 types of statistical data for every building in London. These are grouped into 12 core categories: location, land use, building type, community assets, age and history, size and shape, construction, team, sustainability, street context and environment, planning and protection and "like me?".
As you can see, this part of the map is bursting with colour and is almost complete. As well as enabling users to visualise the data categories, the use of colour allows us to acknowledge each contribution and in turn, unveil the diversity and richness of London's buildings.
Polly Hudson, Director of Colouring London, said: "Provided by Ordnance Survey and facilitated under PSMA licensing arrangements with the Greater London Authority, this project relies on OS MasterMap which includes the Building Footprints. Access to this data allows us to collate, collect, and visualise open building attribute data. We are grateful to many individuals within OS for their advice, encouragement and ongoing support for our open data work.'
Why?
According to the project's website, "Buildings and building construction are responsible for around 40% of global energy use, and 24% of global material extraction from the lithosphere."
As you can imagine, the fact that London's building stock makes up most of the city's urban landscape means it is its largest and most valuable socio-economic resource. Despite this, the data for this information is extremely fragmented and, in many cases, restricted, unverified and incomplete.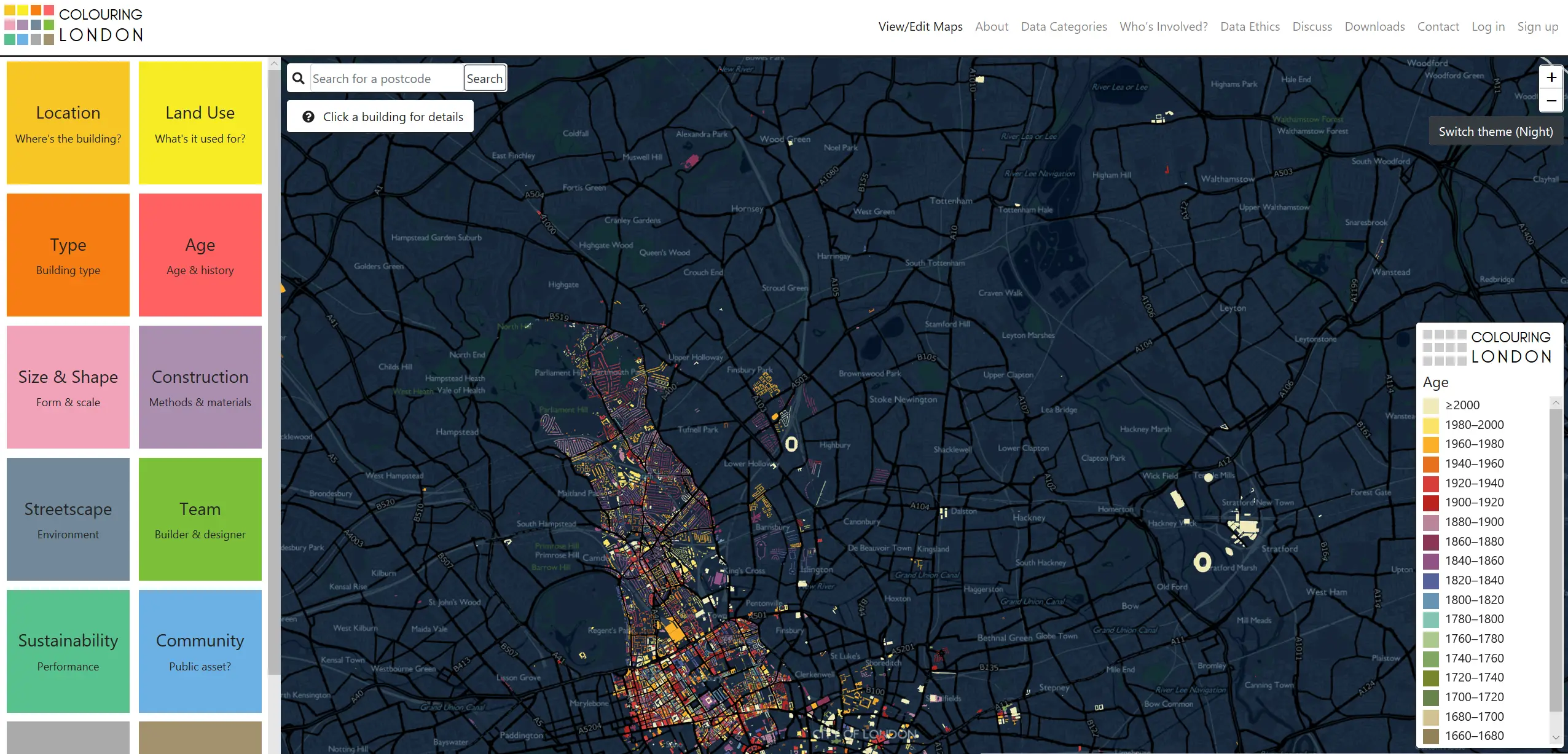 Being able to create accurate theoretical planning and energy scenarios is critical to creating a sustainable city, but without a building dataset, this cannot happen. This is where Colouring London comes in – the first place to go for data on London's building stock.
With an aim to bring together as much information as possible to aid research and improve decision-making, Colouring London will help establish what buildings should be kept, upgraded and repaired to make London as efficient, vibrant and sustainable as possible.
Polly adds: "'Access to comprehensive, regularly updated data on the characteristics of the building stock, and its dynamic behaviour, is today essential to increase resource efficiency in cities, to facilitate the transition of countries to low carbon economies, and to support expert bodies, academics, government and residents in meeting sustainable goals."

Free to everyone, this open data project invites volunteers from all sectors and disciplines and of all ages and abilities to help create this statistical database of beautifully colour-coded buildings.
If you live in, study, design, build, care for, manage or just love London's buildings, come and volunteer your much-needed knowledge to this free knowledge exchange platform.
Interested in helping to create a sustainable city? Want to learn more about London's buildings? Enjoy colouring maps? Whatever your motivation, we need your help to build a better future.