How combining three OS APIs improves PropertyData's analytics functionality
7 Sep 2021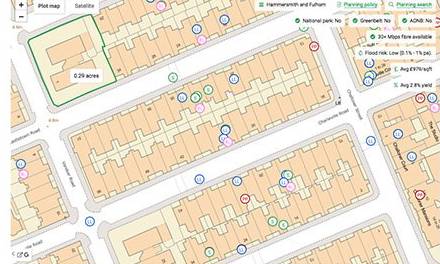 As part of our #OSDeveloper blog series, PropertyData tells us how they are making the most of the new OS APIs within their app…
What is PropertyData?
PropertyData (child of parent company, LibertyTech) is a platform that provides the UK's most comprehensive and wide-ranging array of residential property market data and analytics functionality, designed to help residential property investors, agents and developers.
Using OS data, PropertyData's analytical tools and resources aim to give detailed property data through easy-to-use and attractive interfaces. This enables end users to create data driven property decisions with ease and at low cost.
What inspired you?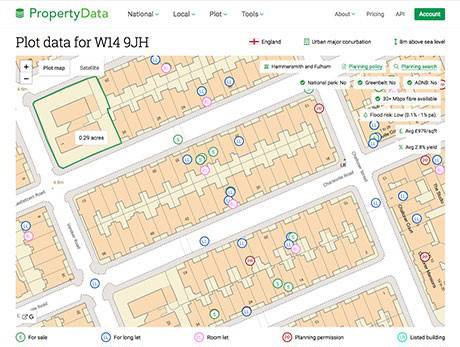 Property developers and investors are always taking on risk when they work on a property project, which is why PropertyData provides detailed tools to help interpret, analyse and understand that risk. PropertyData is helping their customers to make informed decisions throughout multiple stages of property investment.
Once researching and sourcing properties has been carried out with PropertyData then evaluation of a potential target property is needed to act as a due diligence step – this is where PlotMap is invaluable.
PlotMap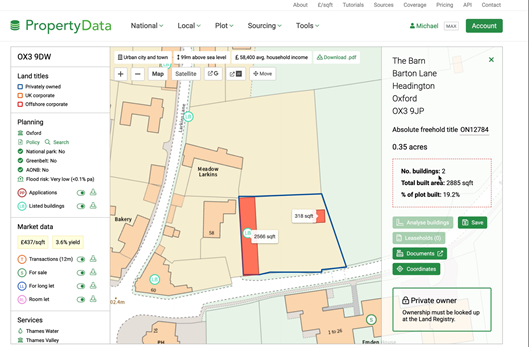 PlotMap combines a treasure trove of data sources to inform decision making on property investment and development targets. These are combined and contextualised within a detailed map tool and it is this cross referencing of the data that makes it really powerful. Decisions are made from the combined outputs of this data so seeing it all together on a basemap provides a real-world, accurate depiction. Due diligence decisions can then be carried out by an investor or developer in a way that is not achievable by other means or by sourcing the data individually.
Customers can easily achieve a level of due diligence that was previously difficult and laborious to get to – saving significant time and effort. With the combined and contextualised information that they can now get, potential property issues can be identified easily.
OS data
Michael Dent, founder of PropetyData and manager of LibertyTech, shared his experiences of using OS maps and data:
"We've been using Ordnance Survey (OS) maps via their APIs for a couple of years now and in my view, OS MasterMap really is the gold standard for web maps. To support PropertyData, we incorporated three OS APIs. Now accessible via the OS Data Hub, we make use of the OS Maps, OS Features and OS Places APIs.
"The OS Maps API adds significant value to the PlotMap product because a mapping base layer is fundamental to the idea of contextualising and combining property data. Yes, other mapping options are available, but OS is a no brainer for PlotMap – it is a superior product for detail and provides the gold standard for mapping. This is what PlotMap and its users are all about.
"We use the OS Features API to get information on buildings such as footprints or eaves/ridge heights. This is useful to combine with Land Registry data to work out the percentage of a plot that has been built on etc.
"Most recently, we introduced a third – the OS Places API. We are using this to get AddressBase classification data, which in turn enables them to make educated guesses about planning use class.
"The OS Data Hub Dashboard adds great clarity on how PropertyData is using the APIs and allows them to track their costs well. They get up to date insight on the savings that they are making in switching to the new API services. Alerts, tracking billing and notification of new features also adds value here too."
How did you find the transition from the old OS APIs?
"Moving our web implementation over from the OS Maps API to the OS Data Hub could not have been easier. The documentation and code samples on the Data Hub are straightforward and easy to follow, and when we did have a technical query relating to map projection, it was answered swiftly. We managed to complete our migration in just a couple of days, and the new online dashboards for Data Hub make it much easier to monitor API key usage.
"We wouldn't hesitate to recommend the OS APIs to any UK companies that need the very best in home-grown mapping."