OS hackathon allows Paua Tech to enrich solutions for electric vehicle drivers
19 Nov 2021
developers
developer challenge
UK start-up and Geovation member Paua Tech is enhancing its electric fuel card solution and seeking to learn from the best, including through participation in the recent Ordnance Survey hackathon.
The hack gave Paua Tech an opportunity to assess mapping and navigation data to improve driver experience.
An EV ecosystem
Tesla has not only created the world's most popular electric vehicles (EV's), amongst other technologies, but also an entire ecosystem within it. Drivers have the ultimate consumer experience, or as some put it the 'Tesla experience', where they can seamlessly charge their vehicle at a network of super chargers shown on their in-vehicle app platform, and comfortably use a parking bay without any concerns. Its vehicles even warm up the battery ahead of charging for optimum charging speed.
The demand for EV's could begin to outpace fuel counterparts in 2022 and almost all automotive companies now have an electric alternative to their offering. The consumer experience, so far as charging is concerned, is far different than the refuelling experience they may be used to. This needs reimagining, and the infrastructure requires radical change, which may pose some challenges for automakers that may not have the ecosystem and charging network of Tesla's.
Paua Tech focuses on providing EV fleets with network, routing, and charging information for all EV models and charging stations. They also offer price insights across charging networks that provide their customers a competitive rate, simplifying the process for fleet managers with all-in-one app and Paua fuel card. Fleet managers can streamline this process into three very manageable steps; find, charge, pay.
With around 75 charging networks in the UK, Paua is looking to aggregate all of them into providing one common way of accessing all charge points. Then, Paua will use their electric fuel card to simplify the purchase process, and provide a single bill back to the fleet manager.
Enhancing with geospatial data
Paua recently took part in OS Map & Hack, a virtual hackathon aimed at expediting EV adoption and infrastructure, to understand the benefits of using geospatial data alongside their solution. Paua identified issues with existing EV-related data due to several errors. Some of these errors include missing coordinates, charge points put into the wrong location (e.g., the wrong side of a dual-carriageway) or charge points in the right location but EV owners are unable to charge – for example, accessing a bay on a one way street with a charger at the front when you only have a rear charge port.
Niall Riddell, co-founder and CEO at Paua said: "It's worth noting that not all vehicles have the same charge point location. Renault Zoe and Nissan Leaf are located at the front, whereas Mercedes and Tesla are located towards the back of the vehicle. Due to the cable length and charging location, there are number of accessibility issues that can cause drivers to get creative with their parking."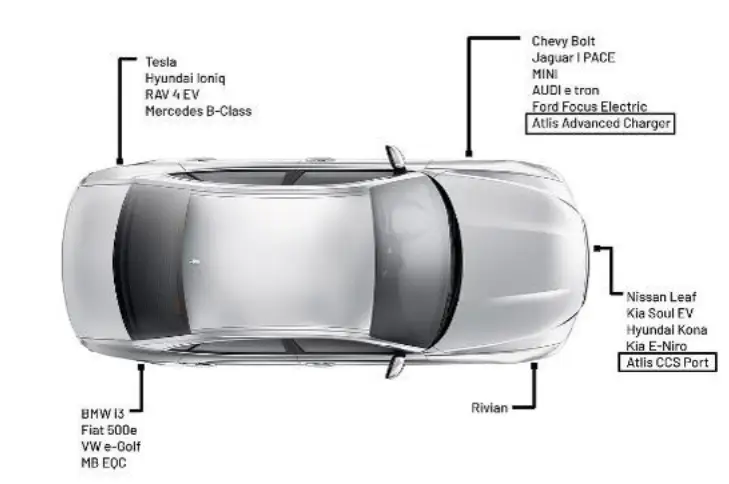 Niall added: "Another issue is the physical size of a vehicle and the bay configuration. The parking and charging issues are worse with commercial vehicles, such as a VW e-Transporter or Mercedes eSprinter, which are bigger than most standard parking bays. Some parking bays are already reduced size due to allow for an EV charge point."
Insights from the hackathon
OS Map & Hack provided an opportunity for Paua to experiment using OS data alongside their propriety datasets. Using the OS Maps API for their basemap, Paua also used the OS Features API to identify geographic features such as local amenities, including cafes and restaurants, that are located at various charging stations. The richness of OS data provides fleet managers important location information to improve their driving experience, considering their vehicle requirements and consumer needs. In addition to simplifying transactions, Paua's fuel card adds further consumer demand for the UK's charging stations to become more accessible for all car models.
André Pinho, Co-founder and CTO at Paua Tech who led the hack team. said: "The Ordnance Survey expertise in mapping combined with the digital tools on offer enabled us to start demonstrating new features that we will be building into our solutions.
"Creating a use case behind each area we assessed in the hack is important for a driver focused business such as ours. 'What to do whilst I charge' is a crucial part of the charging experience so the ability to bring OS amenity and points of interest data to life for our drivers will be built into future releases of our solution."
Paua Tech fleet drivers can access thousands of chargers across multiple networks with their mobile app. Paua currently have nearly 3,000 charge points under their control where drivers can find data, run a charge session and pay for their charging in the UK across several networks, with their solution scalable across charging organisations within Europe.
OS Map & Hack serves to advance the transition for both those who drive EVs, and those who provide supporting services. The hackathon saw over 80 participants collaborate across government, public sector, private enterprise, and start-up communities. The winning team, Arcadis, produced a EV site planning app that assesses potential charge point sites across the UK, using OS data accessed through APIs. Other submissions include Department for Transport, Ofgem, RAC Foundation, Jacobs and Eloy. Visit our hackathon landing page for more information.
The data used by Paua Tech throughout the hackathon was accessed through the API suite and on the OS Data Hub. For more information on how to access and use OS data via our API suite, visit the OS Data Hub and view our tutorials and documentation.