Football stadiums all mapped out
1 Aug 2018
football
opendata
geodataviz
With the English football season about to kick-off for 2018-19, our GeoDataViz team have been visualising the 92 football league grounds in one huge poster. The Premier League, The Championship, League One and League Two grounds have all been mapped using OS OpenData and put in order by stadium capacity.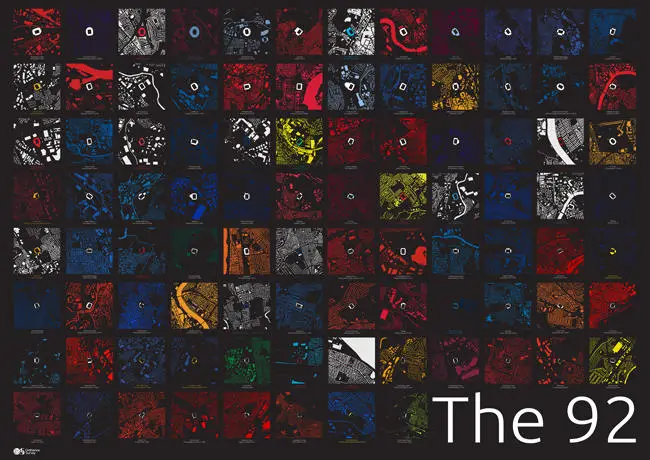 The 92
From Manchester United (capacity 75,643) to Forest Green Rovers (capacity 4,803), Joe Harrison (Sheffield Wednesday fan in case you are wondering) has used the club colours to plot each team's stadium.
The ground's stretch from Newcastle in the North to Plymouth Argyle in the South West and Norwich City in the East. Checking in our database, we identified Carlisle United's Brunton Park is the most remote stadium, sited over 83km from the next stadium on our poster, St James' Park in Newcastle.
Forest Green Rovers bag two records on our poster, having both the smallest capacity and being on the highest ground at 163.15m. The Den, Millwall's ground, is the lowest at just 1.27m.
The two closest grounds? Notts County (Meadow Lane) and Nottingham Forest (City Ground) with just 415m between the centre points of the two stadiums.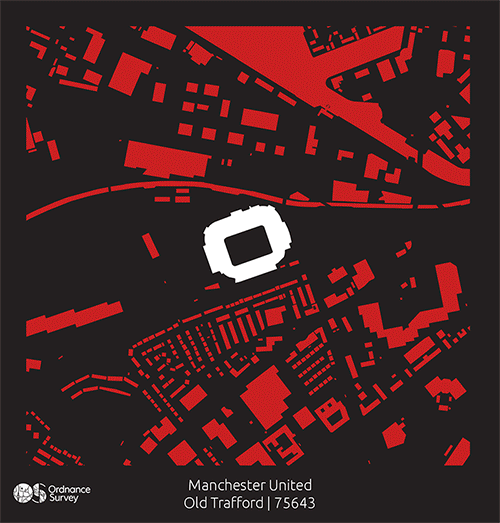 Joe created the poster by loading the centre point of each stadium into QGIS and drawing a 2km buffer around each one. He used OS Open Map-Local to pick up all the surrounding buildings and water and styled up the stadiums and buildings according to the colours of each team. From there, it was exporting the separate files and uploading them to Adobe Photoshop to create the final poster layout.
Find out more
The poster is best viewed at A0 to see all of the detail, so we've put the files on our Flickr page for you to download. We've also added the 92 individual stadiums for you to take a closer look.
If you've visited all 92 stadiums on the poster, give us a tweet!
Extra facts:
St Mary's is 86th highest (3.93m)
Goodison Park is 52nd highest (40.08m)
Hillsborough ranks 35th (63.04m)
New Meadow ranks 30th (68.37m)
Please note that the information on trophies was from Wikipedia and the information on ground capacities and names was from footballgroundguide.com.