How even quirky press enquiries demonstrate the power of location data
30 May 2022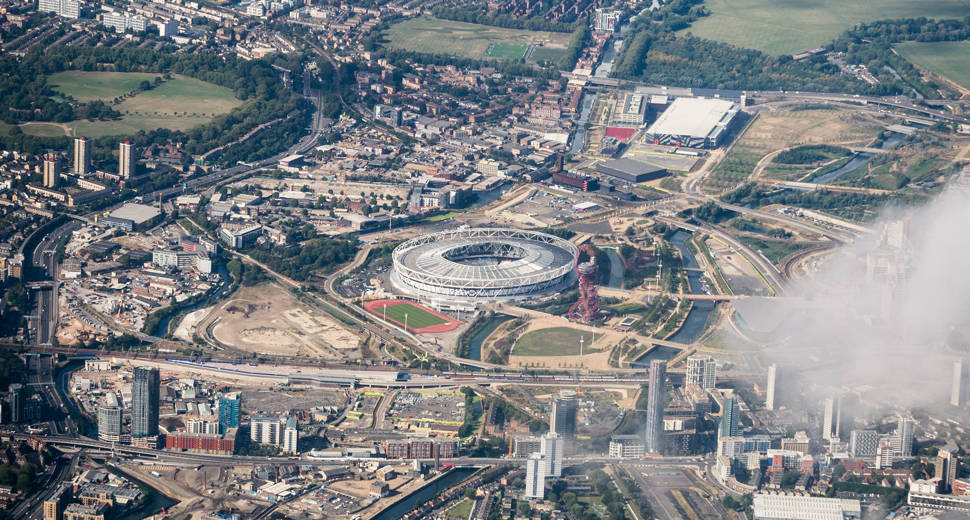 Behind the scenes
OS OpenData
location data
premier league
sports
The press office of Ordnance Survey (OS), a centuries old national mapping agency and forward-thinking data organisation is an interesting place and, believe it or not, we don't just receive enquiries about maps.
As you'd expect we receive a number of requests where we have to tap into our national geographic database. From traditional requests like the length of roads and coastlines to the number of addresses and points of interest. However, every so often, we get some unusual requests.
The most recent one related to footballing superstar and golf aficionado Gareth Bale. Amid transfer speculation surrounding his next club, we were asked about the number of golf clubs within a 20-mile radius of all Premier League clubs as well as Cardiff City and Swansea City.
It was not the type of enquiry we usually receive, but it was easily within our skillset, so we got to work to find out the answer.
To identify Gareth Bale's options our data scientists used OS Greenspace and filtered it to the function of 'Golf Course'. This produced a definitive list of golfing activity within a 20-mile radius of all those clubs. This included nine and 18-hole courses, driving ranges, putting greens and even crazy golf.
Wales. Golf. Brentford. In that order.
Unsurprisingly, the results are as you would expect. You can see the impacts of population density, geography and affluence. As an island nation, geography appears to be the biggest driver in this case, with eight of the bottom 10 clubs being close to the coast which obviously reduces their land radius.
The good news for Bale is that he has his pick of London clubs, including his former club Spurs. However Brentford lead the way with 239 different golfing venues within a 20-mile radius. The affluence, green space and central location of South West London and Surrey prove to be just the right mix for golf enthusiasts.
Chelsea (232), Arsenal (223), West Ham (212) and Tottenham (205) complete the top five clubs surrounded by the most golf activity. Norwich City, not content with being bottom of the actual Premier League, are also bottom of this list too, surrounded by a comparatively meagre 30 golfing sites.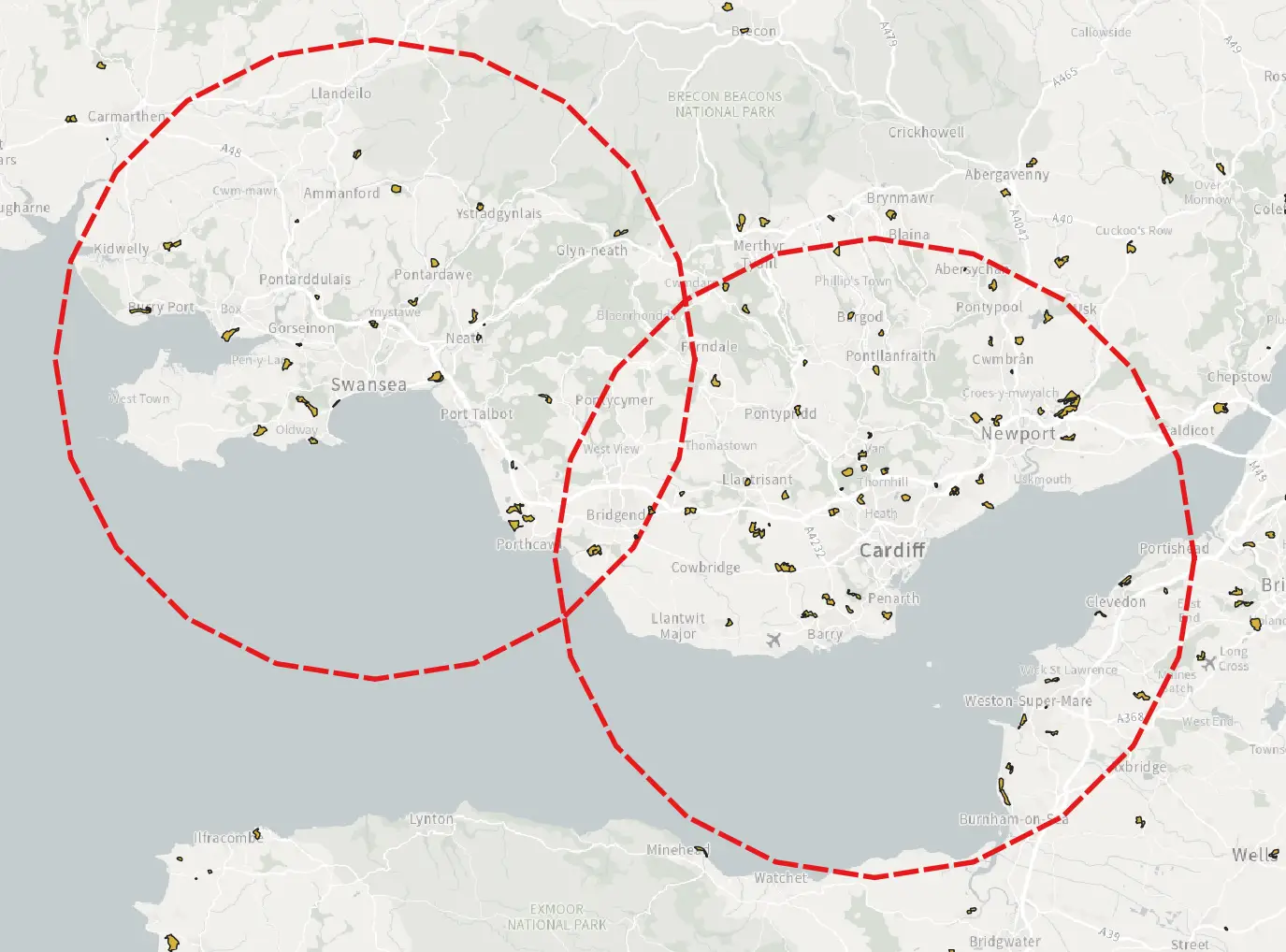 Bale, who famously has a replica of the 17th hole of Sawgrass' built in his back garden, may not need to worry about this, but this enquiry clearly demonstrates the power and accuracy of the data we are interrogating.
The concept of points, features and addresses within a radius can be equated to the work OS carried out during the Toddbrook Reservoir flood in August 2019. Several days of heavy rain resulted in high volumes of water flowing over the spillway, partially dislodging concrete slabs.
The Environment Agency (EA) issued a severe flood warning indicating a 'danger to life' and Derbyshire declared a major incident, with approximately 1,500 residents evacuated from the nearby village of Whaley Bridge.
Geographic Information was pivotal to the response. It was used to identify properties within at risk areas and develop robust evacuation plans in the event of a breach. So the same methodology used to answer the Gareth Bale enquiry is very similar to what we would use in critical situations.
On this occasion we used our Mapping for Emergencies (MfE) service to support the emergency services. Primarily aimed at emergency services, local authorities and NHS bodies, our MfE service provides geospatial support during any emergency or major incident whether it is responding to natural disasters or security threats.
Another example of critical work carried out by points within a radius is the emergency road closure research carried out by OS's Rapid Prototyping Team. They developed a prototype web app where the user can specify a location and a minimum safe distance, then instantly view an interactive map showing optimised recommendations for road closures.
While the number of golf clubs around Leicester City or Brighton and Hove Albion might not be what we would usually focus on, the methodology and depth of data behind this question acted as a fantastic barometer for the varying types of work OS is involved in, and the significant footprint this leaves on Great Britain.
Number of golf venues within a 20-mile radius of football clubs
| | | | |
| --- | --- | --- | --- |
| Rank | Stadium | Club | Golf venues |
| 22 | Carrow Road | Norwich City | 30 |
| 21 | Liberty Stadium | Swansea City | 31 |
| 20 | AMEX Stadium | Brighton and Hove Albion | 49 |
| 19 | King Power Stadium | Leicester City | 49 |
| 18 | St James' Park | Newcastle United | 58 |
| 17 | St Mary's Stadium | Southampton | 58 |
| 16 | Cardiff City Stadium | Cardiff City | 64 |
| 15 | Goodison Park | Everton | 99 |
| 14 | Anfield | Liverpool | 101 |
| 13 | Elland Road | Leeds United | 107 |
| 12 | Molineux | Wolves | 108 |
| 11 | Turf Moor | Burnley | 108 |
| 10 | Villa Park | Aston Villa | 116 |
| 9 | Etihad Stadium | Manchester City | 147 |
| 8 | Old Trafford | Manchester United | 150 |
| 7 | Vicarage Road | Watford | 184 |
| 6 | Selhurst Park | Crystal Palace | 201 |
| 5 | Tottenham Hotspur Stadium | Tottenham Hotspur | 205 |
| 4 | London Stadium | West Ham United | 212 |
| 3 | Emirates Stadium | Arsenal | 223 |
| 2 | Stamford Bridge | Chelsea | 232 |
| 1 | Brentford Community Stadium | Brentford | 239 |