Identifiers, the key to unlock your data
24 Jun 2020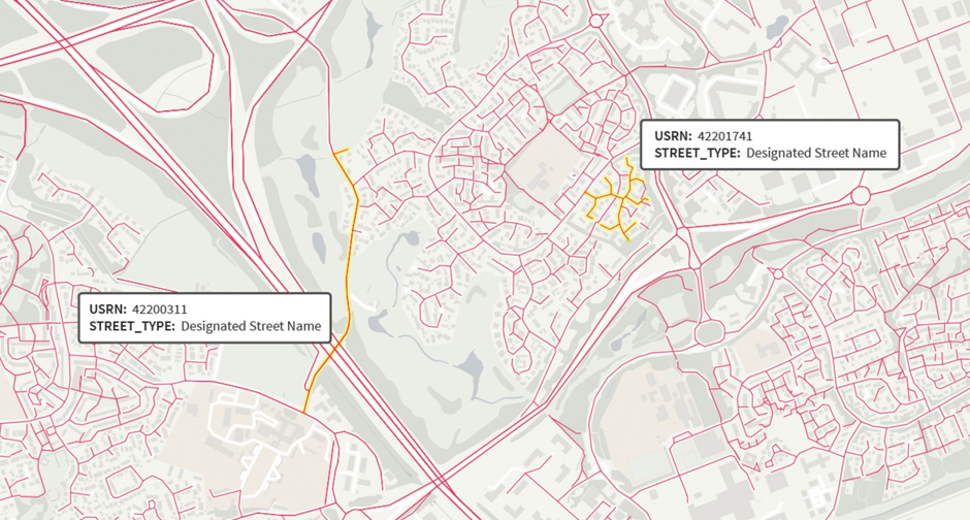 data
geospatial
identifiers
UPRN
What numbers identify you and your belongings? Your National Insurance number? Your NHS number? Your Tesco Clubcard? Your postcode? Your number plate on your car? We are all used to unique letters and numbers to identify us in our daily life. At OS we also use a series of unique numbers and letters, called identifiers, in our location data, from buildings to streets to bridges.
We've been working to make more OS data open, including identifiers. Our data can then be used with other data held by local/central government and commercial organisations. With the identifiers to give a geospatial context, those combined datasets become useful information to make efficient decisions.
But what are identifiers?
An identifier is a unique reference assigned to a specific thing, to help identify them uniquely from other things. So when we are talking to someone else we can use the identifier to easily ensure we're talking about the same thing.
We use identifiers all the time, without even realising it. Reeling off our postcode to help deliveries get to us is probably the most common use.
Just as identifiers are used in our everyday lives, identifiers are also a critical aspect of geospatial data. From all addressable locations, such as buildings and bus stations, to streets and paths and junctions and bridges, there is a unique code that will represent it across geospatial data.
Why are identifiers useful?
Identifiers are vital to easily and uniquely identify something. For example, a blue Ford Fiesta is a very common car in Britain. Identifying one from another would be very difficult without using a license plate – one form of an identifier. The unique identifier is key to Automatic Number Plate Recognition (ANPR) for schemes such as electronic toll collection, traffic movement monitoring and checking if a vehicle is taxed, insured and road safe.
Another identifier for the car would be its Vehicle Identifier Number (VIN). Why does it need two IDs? Well one is to track its ownership and road worthiness and the other is to uniquely identify the vehicle globally. Each identifier has been designed for a specific use. Our ownership is registered by the Driver and Vehicle Licensing Agency linking the license plate number to the VIN and our name and address. So, we can see identifiers are important and linking them is important too.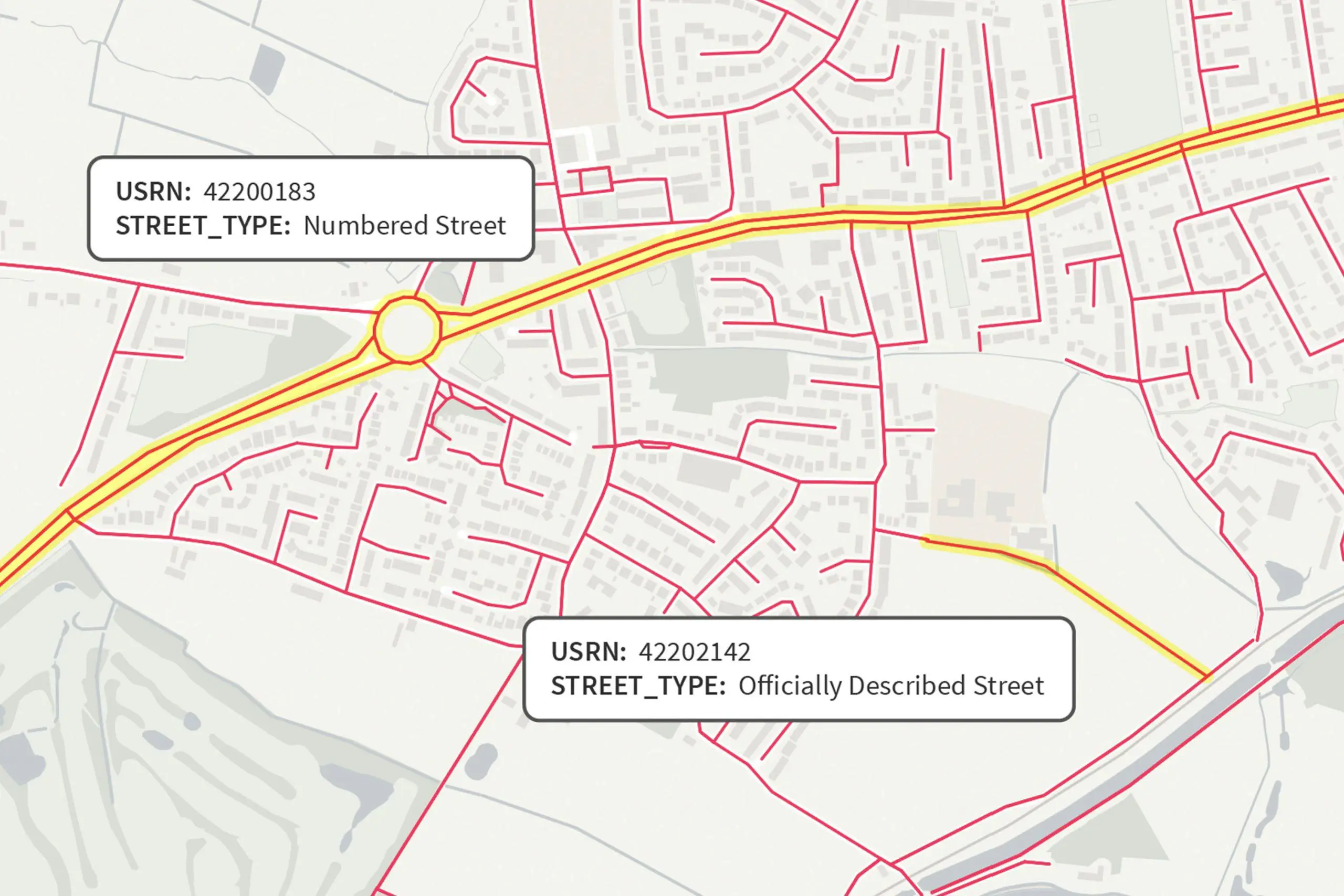 Identifiers are the 'golden thread' linking data together and can be used to effectively retrieve, reuse, publish and link multiple datasets together. NHS Numbers are an example of an identifier being used as the 'golden thread' for our historic health and care record. Our name and address are highly changeable personal details and can't be relied on in isolation to access our health and care record. But our NHS Number can be used by health care providers across all NHS services to correctly retrieve our health records and link them with other datasets such as our hospital number.
At OS we know that the identifiers within our geospatial data act as a 'golden thread' across a diverse range of use cases. This could be identifying the correct location to deliver parcels, to ensuring the appropriate emergency response vehicle is deployed to an incident and to ensuring the correct road is being dug up to maintain underground assets.
Our government also recognise how useful identifiers are. Government Digital Service presents the challenge clearly, stating that: "Data users want to be able to identify things, such as schools or companies, using identifiers that continue to mean the same thing over time. This means that data users can easily understand and combine data about those things from different sources."
The Geospatial Commission recognise identifiers are important because, "Publishing your data with unique identifiers is fundamental to support the creation of links to other data. Without identifiers, it is impossible to create any kind of enduring link. Without unique identifiers, it is impossible to reliably link to specific representations in the dataset."
What are OS' identifiers?
We have three authoritative identifier schemes:
Unique Property Reference Number (UPRN) – for every addressable location in Great Britain
Unique Street Reference Number (USRN) – for every street across Great Britain
Topographic Identifier (TOID) – for every feature in our large-scale geospatial database
These can be found throughout our premium datasets and we've been working to make the identifiers more accessible and useful for users of our data, as well as more widely adopted.
On Wednesday 1 July, we're launching four new open data products, a new API and a new policy to enable you to freely use our identifiers in your own products, service or data publications. All of the new products will be available from our new OS Data Hub.
OS Open UPRN: This includes UPRNs and geometry from AddressBase Premium, such as residential and commercial dwellings, ponds, electricity substations and advertising hoardings.
OS Open USRN: This includes USRNs from OS MasterMap Highways Network with a simplified line geometry.
OS Open TOID: A dataset containing a generalised location for a wide range of features such as buildings without an address, road junctions, land cover and more. These are extracted from OS MasterMap premium products.
OS Open Linked Identifiers: A dataset containing the relationship between UPRNs, USRNs and TOIDs. The relationships are extracted from AddressBase Premium and OS MasterMap Highways Networks products.
Also, if you don't want to download and manage the data yourself then we are providing direct access to this data via two new API services:
OS Features API: enables direct instant access to OS data products including OS Open UPRN, OS Open USRN and OS Open TOID
OS Linked Identifier API: allows you to instantly query with any UPRN, USRN or TOID and find its related identifiers.
Visit GeoPlace to see how customers are already using UPRN and USRN to plan streetworks in a way that minimises disruption to road users, homeowners, and businesses, to share data while protecting the identities of vulnerable householders and many more uses.