Mapping a new island for April Fool's Day
1 Apr 2018
For April Fool's Day, we challenged one of our most senior and experienced cartographers to create a mythical island for Country Walking magazine.
The premise was that this island had been lost to the sea centuries ago, only for it to have now mysteriously risen out of the waves in need of mapping.
Mark Wolstenholme, in his 34 years at OS, has worked across every series of mapping we have. Here he explains how to produce a fictional island in a short time frame, while making it authentic enough to convince as a prank.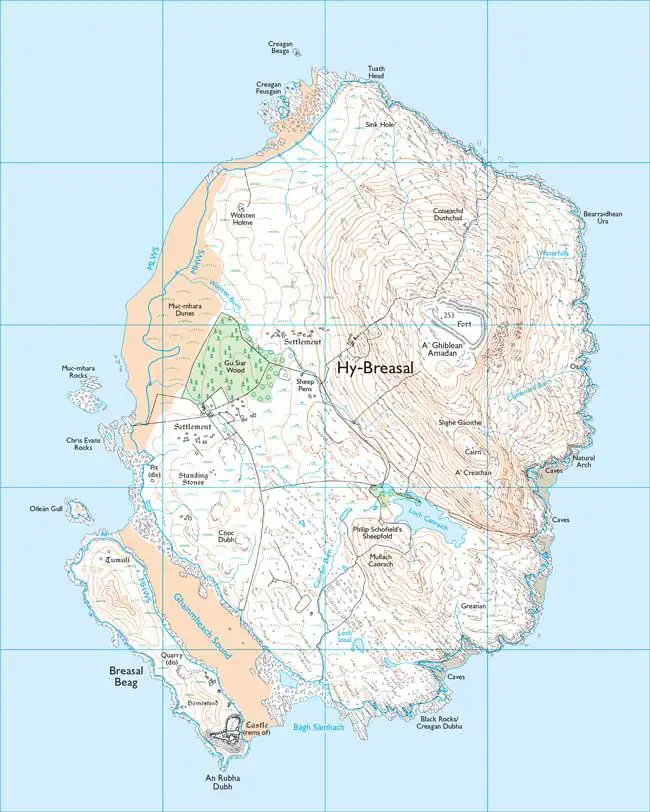 The challenge of creating a fantasy island for an April Fool's joke is not an easy one. A cartographer's skill is in distilling the real world into map. That said, creating this map was fun.
Once the size of the area required had been established, about 3 by 4 km, the trick was finding an existing island that could be used as my starting point. Drawing a new island of that size from scratch wasn't feasible, due to the time it would take. The island's position in the Atlantic Ocean, by the Western Isles, also dictated a lot of its look and feel.
Making Pabbay into a fantasy island
After an aborted attempt at cutting up Lundy, I chose the Outer Hebrides' isle of Pabbay for the main part of our new island. To disguise its origin, I flipped and rotated the island. To achieve that, all the names, symbols and vegetation had to stripped off, and because OS Explorer mapping is a raster image, that meant a lot of pixel selecting in Photoshop. Another restriction with the raster, meant I could only rotate the island by 90 or 180 degrees. Any other angle would re-interpolate the pixels and the print quality would be lost.
To further disguise the island, I looked for a smaller island to add, this time taken from the Orkney Islands. This was joined by the addition of an area of sand and reworked low water line. To finish the shaping, I added a handful of rocky outcrops around the coast as well as some mud, sand and a redrawn high-water line through the dunes. A bigger loch was hand drawn and is unique to this island.
Happy with the shape, it was time to move on the long list of features that were required. A daunting list, most of which we could achieve, although a Munro-class mountain was going to be impossible on an island of that size, without starting with 200m cliffs around its edge! Contours were added to Pabbay's main hill to turn it into a steeper and more dramatic flat-topped feature. An Iron Age hill fort was dropped atop by chopping up the earthworks of Hambledon Hill in Dorset. Extra contours were also added to the smaller 'Orkney' island, along with a medieval castle, this time a reshaped and rotated Corfe Castle. Of course, such a castle needs stone, so the quarry symbol was plundered from the legend and added in.
Translate fantasy island's Gaelic names
All the new names and symbols were applied as overlays in Adobe Illustrator. This allowed for quick adjustments, as we refined the finish of the map, not to mention the "can we add…?" requests from our Media team. Once the names had been fixed, any breaks in the detail which are needed to holdout the text clearly, were made in Photoshop. The Scottish Gaelic names were applied with the help of an online translation tool. If you want, you can reverse translate them and find a few surprises!
While I feel a bit like a dodgy car dealer that's cut and shunted two wrecked cars together, I'm happy with the result. Although I'm not convinced that such an island in the Atlantic would be able to have a wood, and the Natural Arch probably isn't very impressive, given the height of the cliffs!
Happy April Fool's Day!