Mapping a personal journey with OS OpenData
24 Nov 2020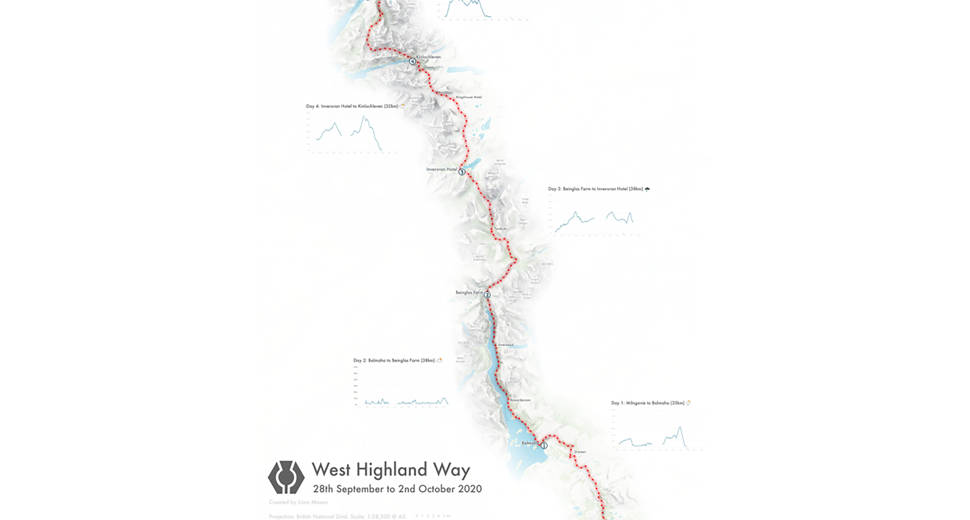 developers
OS OpenData
Scotland
As part of our #OSDeveloper series, we're bringing you a guest blog by Liam Mason, spatial analyst and cartographer for the Scottish Government.
After months living and working at home, I decided to stretch my legs and walk the West Highland Way, a long distance route from Milngavie to Fort William and one of Scotland's Great Trails.
Inspiration
To commemorate my walk, I wanted to make a map. I'd tracked my efforts using a GPS watch, so I had a wealth of data. Points, tracks, distance, pace, heart rate, elevation… So much data it was a bit overwhelming. What was important for the narrative? What style was I looking for?
I was able to implement the vignette effect in QGIS using an inverted polygon style with a shapeburst gradient, but I didn't think satellite imagery captured the feel of the terrain.
Styling the map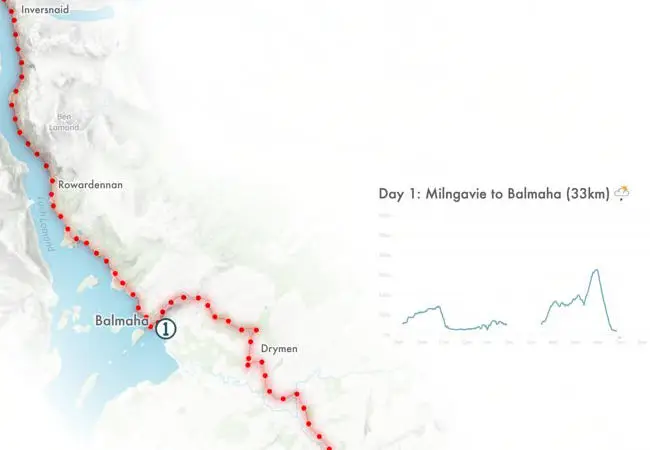 The first step was to implement the hillshading. I used OS Terrain 50, which provided a digital terrain model at a consistent scale across the area, and was freely available under Open Government Licence.
I followed the terrain visualisation techniques described by Charley Glynn at the 2019 Better Mapping seminars, combining hillshade, sky view factor, and shadow depth layers created using the QGIS terrain shading plug-in and the SAGA Sky View factor tool (available in QGIS toolbox). These were blended using a combination of multiply blend modes and transparency.
Next, I needed some vectors for features such as rivers, lochs, and woodland. OS Open Zoomstack offered a single product with data and styles at a variety of scales, again available under Open Government Licence.
I tested variations of the hillshading and colours, seeking feedback from other cartographers, before deciding on softer shading and muted colours.
For feature labels, I selected munros from the Database of British and Irish Hills and manually labelled points of interest. (While names were available in Zoomstack, I wanted to label some features along a line.)
I merged the GPX tracks from each day and styled them using a red outer-glow effect and with marker symbols at 1000 metre intervals.
The personal journey
I was happy with cartographic style, but I wanted the map to be a personal narrative. I decided to use the white space to include graphs of the time and elevation for each day. (I used time because the map already depicted distance.)
I converted the GPX points to CSV files and created some basic graphs in Excel. These graphs were exported as PDFs then touched up in Inkscape, before being added to QGIS as SVGs.
Now I could easily see which days were the longest, which had more climbs, and how long I stopped for lunch each day.
I hope this has inspired you to map your own personal journey. The final high resolution of my map is available on Flickr.