OS and ONS release report on the geography of Britain's high streets
6 Jun 2019
Public sector
Using GI and maps
addressbase
high streets
ons
public sector
When you're out shopping, you might think it's easy to define a high street and where it starts and ends. But is it that simple? Can a town have more than one high street? Is the road called High Street in your town still the primary shopping area? Or has the purpose of the road shifted over time?
We've been working with the Office for National Statistics (ONS) to define and analyse Britain's high streets. Together, we have been working out how many high streets there are in Great Britain, what types of properties and businesses are on high streets, as well how the number of businesses and employment has changed in recent years.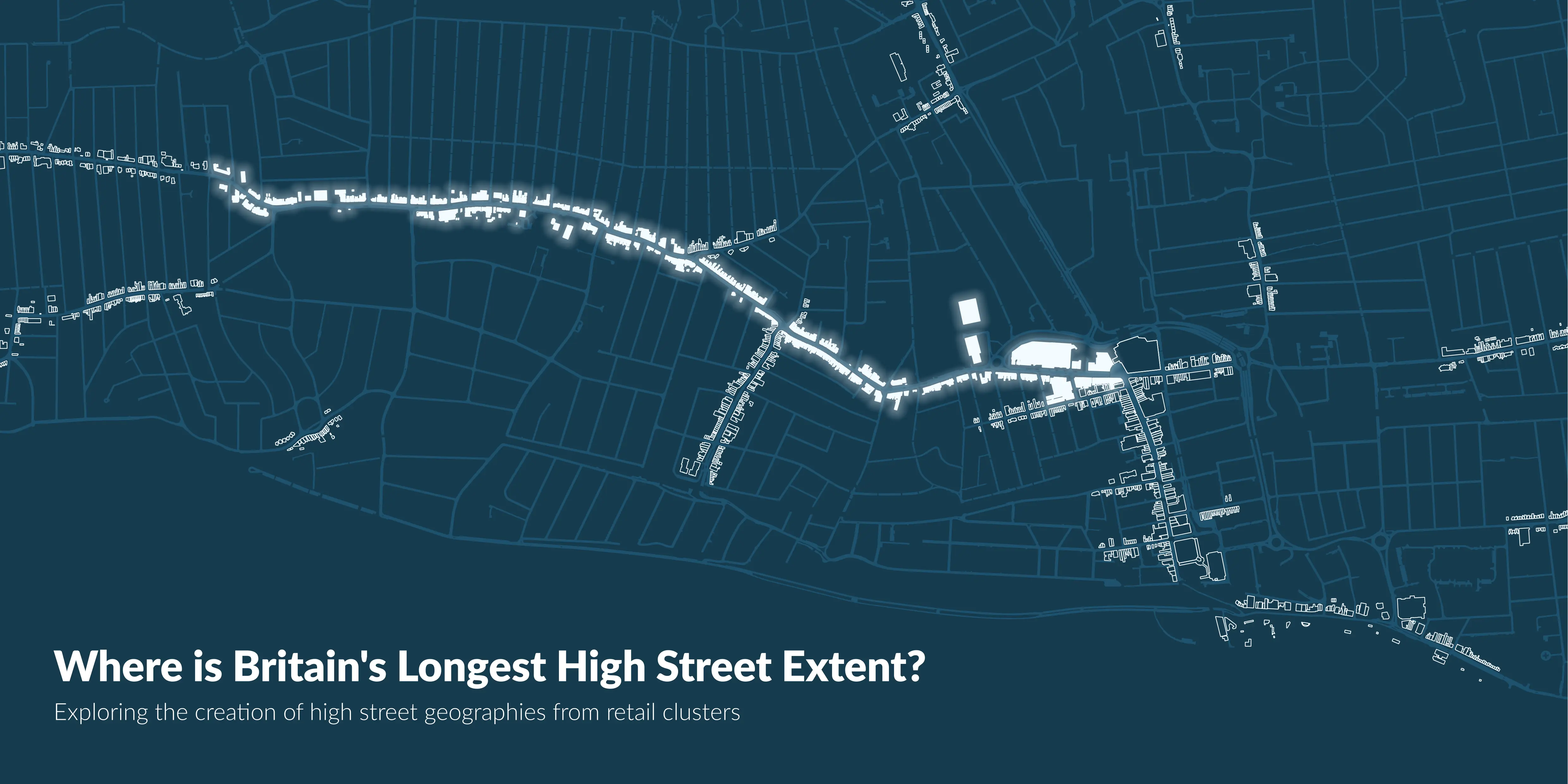 By our methodology, Britain has 6,969 high streets in 2019, with the greatest number found in London (1,204) and the smallest number in the North East (276). Our figures also show that across Great Britain over half (56%) of addresses on high streets are residential, with just under a third (31%) being used for retail.
How did we define a high street?
You can read the full methodology and findings in the report released by ONS today, but our starting point was to think of a high street as a location people visit to shop, eat and drink, which we classify as 'retail'. We looked for all addresses classified under retail within our AddressBase Plus dataset. From there, we wanted to understand streets with clusters of retail addresses.
We then created algorithms to make a decision on what a cluster is. To avoid naming small rows of shops as 'high streets', and to keep the data clean, we decided that a minimum of 15 retail addresses would be required to create a high street, provided they are within 150 metres of each other.
By using this spatial cluster analysis – in conjunction with street names – we've been able to create linear (straight line) clusters along a high street rather than sprawling clusters.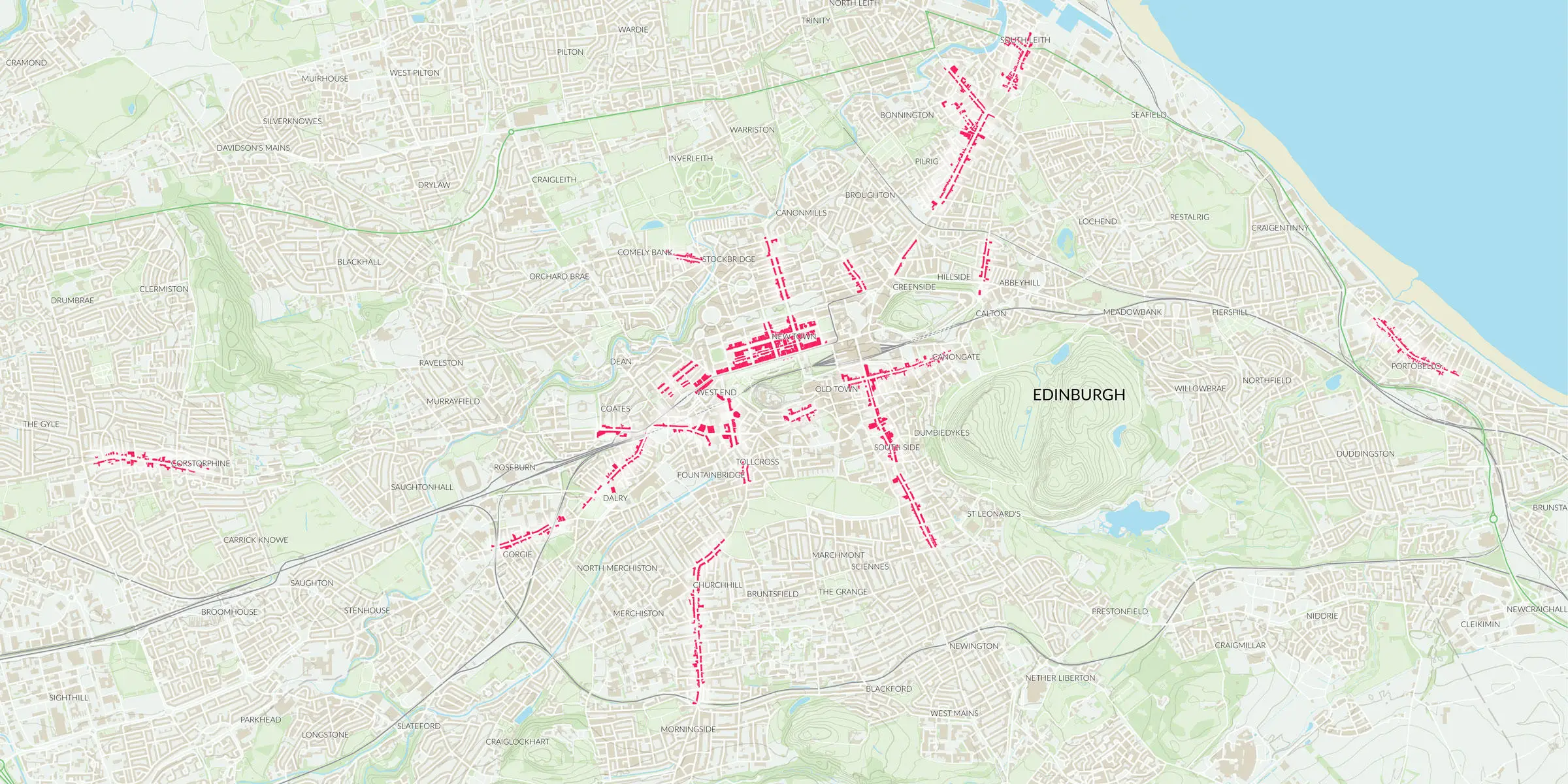 What did we find out about Britain's high streets?
High streets are typically between 200 metres and 500 metres long and the most popular names, after 'High Street', such as Market Place or Church Street hint at their geographic or historic importance. The top 10 are:
HIGH STREET, 755
MARKET PLACE, 103
MARKET STREET, 93
STATION ROAD, 93
LONDON ROAD, 80
CHURCH STREET, 79
MAIN STREET, 69
BRIDGE STREET, 56
KING STREET, 51
FORE STREET, 46
The longest high street in Great Britain, is London Road in Southend-on-Sea at 2983m. The longest high street in Scotland is Dumbarton Road in Glasgow at 1706m and in Wales it is High Street in Bangor at 1265m.
The North West of Britain has the second longest length of high streets, almost three and a half times the length of high streets in the North East.
| | | |
| --- | --- | --- |
| Region | Number of high streets | Total length of high streets in metres |
| LONDON | 1204 | 543.964 |
| SOUTH EAST | 915 | 328.256 |
| NORTH WEST | 866 | 340.616 |
| YORKSHIRE AND THE HUMBER | 640 | 236.026 |
| WEST MIDLANDS | 604 | 210.542 |
| SOUTH WEST | 591 | 197.465 |
| EAST OF ENGLAND | 547 | 202.142 |
| EAST MIDLANDS | 493 | 171.249 |
| SCOTLAND | 457 | 183.905 |
| WALES | 376 | 126.435 |
| NORTH EAST | 276 | 101.252 |
Find out more about the report on Britain's high streets
The full High streets in Great Britain release is available here, with data on employment, property prices and more.
The dataset is derived from data products licensed under the Public Sector Mapping Agreement (PSMA) and One Scotland Mapping Agreement (OSMA) and is available for evaluation to PSMA or OSMA members by request only.