OS data supports Tower Hamlets Council's Covid-19 response
6 Apr 2021
developers
council
covid-19
Samuel Jones is the Senior Intelligence & Performance Manager (Public Health Covid-19 Response) at Tower Hamlets Council. In this guest blog, he describes how utilising Ordnance Survey (OS) data and spatial analysis has been crucial to their response to the Covid-19 pandemic.
Public Health and GIS
The notion that location and the physical environment can influence health has been recognised throughout the centuries, with the John Snow cholera map of 1854 perhaps the most famous example. The technologies may have changed but many of these principles remain the same in the work that we undertake at Tower Hamlets Council.
The Intelligence and Performance Service within the council supports the analytic needs of the Public Health Division to ensure that an evidence-based approach is taken in decision making. This typically involves extracting specialist health datasets on the local population and performing analysis to better understand the health outcomes and the wider determinants of health in the borough.
From choropleth maps depicting the incidence and prevalence of disease, to proximity analysis of fast food and gambling outlets, we routinely use GIS as part of our analytical work. As members of the Public Sector Geospatial Agreement (PSGA), Tower Hamlets Council has unlimited access to OS open and premium datasets. The geospatial software used consists of ESRI ArcGIS, FME Desktop and QGIS.
Coronavirus pandemic
Like all local authorities in England, Tower Hamlets Council published its own local outbreak control plan. This sets out how we work with partners such as Public Health England (PHE) to prevent and manage Covid-19 outbreaks that may occur in the borough. The plan also provides the framework for data monitoring, intelligence and insight.
Each day we closely monitor cases data from PHE as this lets us know where cases may be rising or where there could be a higher risk of transmission.
The inclusion of location data fields means that we can identify statistical hot-spots or spatial clusters of confirmed cases. We are also able to match the data to property types, and this has helped us better understand some of the inequalities that are associated with higher prevalence of covid-19 such as deprivation and those residents who live in social housing.
Having real-time insight on how the pandemic is progressing within the borough means we get an early alert if cases are rising and can plan accordingly.
We also receive data on how many of our residents are being tested and vaccinated and we use this information to better understand variations by geography and for different subsets of the population.
We analyse and collate all this data into a dashboard and weekly summary. We also produce a detailed weekly data pack which sets out the latest trends of the borough compared to local and national figures. It also allows us to monitor disparities and inequalities that residents within the borough may be experiencing.
Communicating our Covid-19 data with maps
Our data pack is presented to our Health Protection Board each week and we also provide insights to support the council's gold–silver–bronze command response. Below are a few examples of how we are utilising location data to highlight trends or monitor clusters and inequalities across the borough which we present to some of our key stakeholders:
Sparkline maps to show trends of cases
It is important for our internal stakeholders to understand the regional context of Covid-19 trends. We do this using range of different charts which also includes a cartogram map comprising of sparkline charts: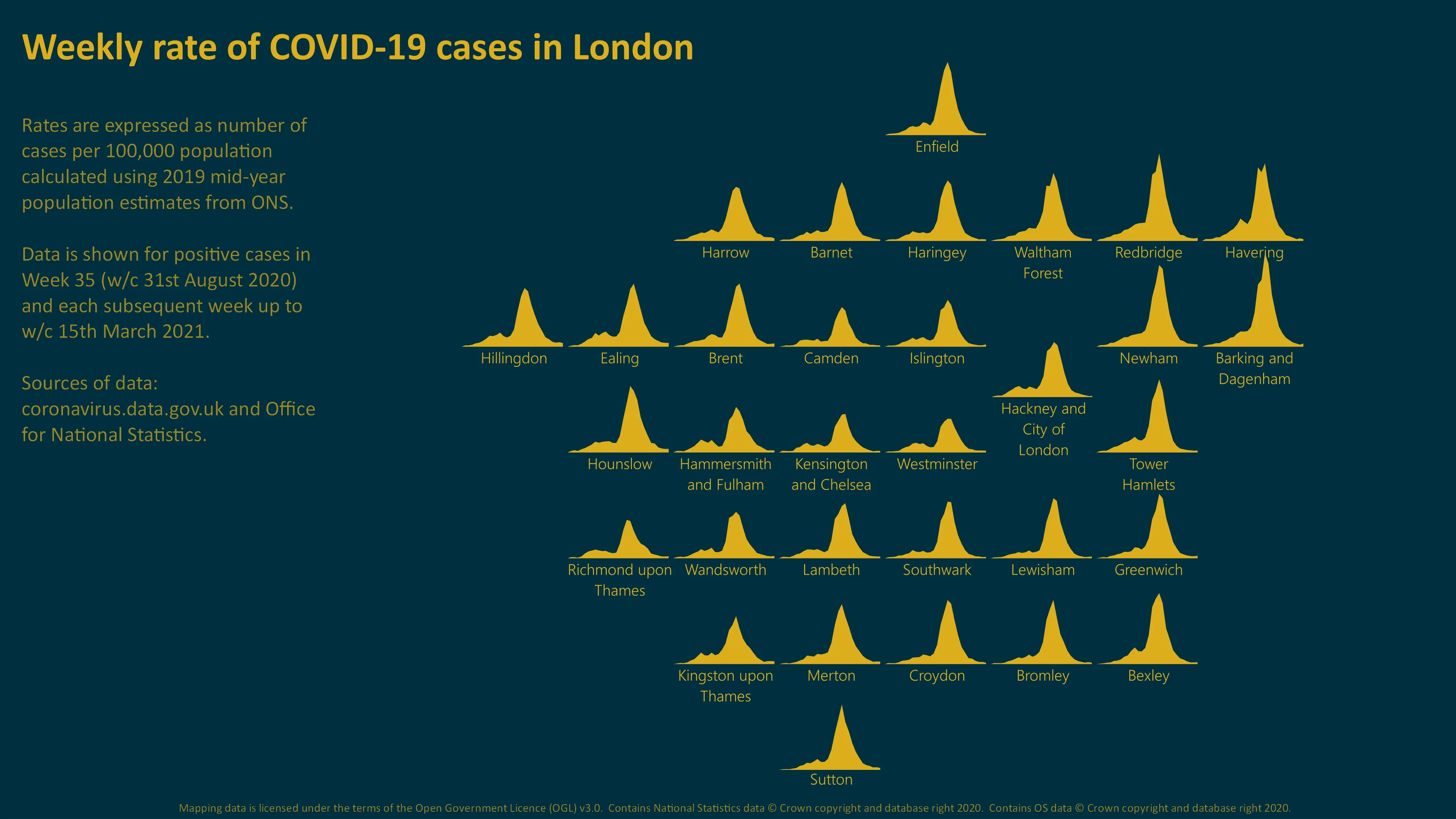 For this we used the equal area cartogram that OS has made available on their Github page, which we filtered for the London region.
The map itself has been produced using QGIS software. Instead of displaying the default cartogram, the geometry generator function uses the data attributes (number of cases per week) to draw a chart around the cartogram centroid.
The use of sparklines means it is easy to see which boroughs are experiencing spikes or increasing trends, whilst the cartogram itself preserves the topological relationship meaning we can compare these trends between our neighbours.
We have also have developed a similar cartogram of Middle Super Output Areas (MSOAs) within the borough so we can assess our own local trends.
Identifying hot-spots and clusters
Whilst extracting and interrogating case data from PHE enables us to monitor local trends, we also need to know where clusters may be occurring within the borough.
Using FME Desktop software, we have automated several processes so that we can efficiently map the data as we receive it. Outputs are produced in HTML formats so that we can easily share these with colleagues who can interact with the data using interactive maps which are underpinned by OS Open Zoomstack.
This includes generating hex-bin maps which show aggregated counts of cases in equal sized areas as well as a more standard choropleth maps of the latest weekly incidence rate (per 100,000 population) by Middle Super Output Area (MSOA).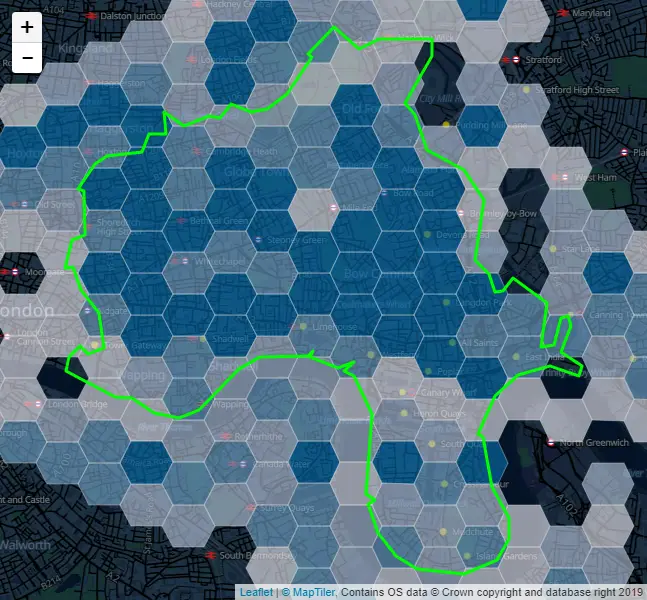 These outputs are presented at regular Covid-19 Response Team (CRT) meetings where we discuss and investigate the 'hot' areas that have been identified. This helps influence where our resources may be deployed. The CRT findings are also used to help recommend actions for our environmental health team as part of enforcement to ensure areas and establishments are compliant with the latest Covid-19 requirements.
Depending on the severity, the CRT may initiate an Incident Management Team meeting. This will result in a deeper dive analysis and working with other partners (e.g. PHE, police and emergency services, housing providers etc.) to discuss more specific and targeted actions.
Matching data to UPRNs to identify different types of housing
The pandemic has brought into focus the potential inequalities that are associated with Covid-19. This is no different in Tower Hamlets – a borough that has some of the highest levels of deprivation in the country. As part of our routine analysis, we look at the latest data according to our most vulnerable groups of residents, and break down our data by age, gender, ethnicity and deprivation.
Building upon previous data linkage work we have undertaken to better understand the wider determinants of health, where possible we are matching case data to council data using the Unique Property Reference Number (UPRN). This is helping us better understand the inequalities associated with Covid-19, where we are seeing greater proportions of confirmed cases for residents living in social housing.
In addition, we are now using the OS Vector Tile API to pull in OS MasterMap building height data. This allows us to see where cases may be in relation to high rise housing blocks (of which there are many in Tower Hamlets).
We are also using this data as part of our response by working with social housing providers. This is to ensure any blocks that are seeing higher cases are receiving the right support for residents and to remind contractors to be Covid-compliant.
Geo-intelligence within the council for everyone
The wider Covid-19 response at the council has seen different teams come together in order to support our community and most vulnerable residents. The council has adapted its services to focus on critical and essential services through a range of roles.
The PSGA is managed centrally by the Information and Communications Technologies (ICT) team at the council, which includes a dedicated GIS resource. Prabhjot Babra, GIS & Property Team Leader, has been working to deliver solutions in a DevOps practice. These solutions have helped to support the Covid-19 response such as to automate procedures, aid address matching and provide access to the underlying geospatial data via the OS Data Hub.
Prabhjot added; "We all use geospatial services on a daily basis from searching (address lookup software), spatial analytics (dashboards) and real time data decision making (route optimisation). The PSGA has helped put a value on our geospatial services to power our location intelligence and to embed these simple services into our organisation. However, the era of exploring different platforms has begun where you can spend the minimum amount of time to get the maximum value from the effort you put into making solutions. These solutions enable innovation, which are not aimed at those traditional Developers. Mapping is for everyone, everywhere."
Get started
By signing up to the Public Sector Plan on the OS Data Hub, you have the opportunity to benefit from more efficient data management and transform how you work with OS using APIs.
Find out more and stay up to date with our #OSDeveloper content by signing up for our newsletter.