Slow Ways project launches beta website
11 Jun 2021
Slow Ways
os maps
#getoutside
Founded by OS GetOutside Champion Dan Raven-Ellison, the aim of the Slow Ways project is to create a national network of walking routes that connect all of Great Britain's towns and cities. It's making great progress, so here's their Chief Technologist Darren Moore to give us an update on the Slow Ways launch.
Following on from Dan's previous OS guest blog about Slow Ways, we're excited to announce the launch of our new beta website beta.slowways.org. It's great to be part of the team that brought this to life and I'm really pleased that Dan got me involved in the project.
Beta website
This phase of the project aims to present the starter routes that our 700 strong group of volunteers put together during lockdown. The volunteers used OS Maps to generate an impressive 7,000 routes which we're now presenting on our website for people to choose, walk, review, survey and suggest alternatives to.
Our volunteers have not only blown us away by creating so many routes, but they have also helped with the testing and design process of the website. From the initial wireframing exercises to the review and testing of the pre-launch site, their efforts and detailed thinking have been incredibly supportive.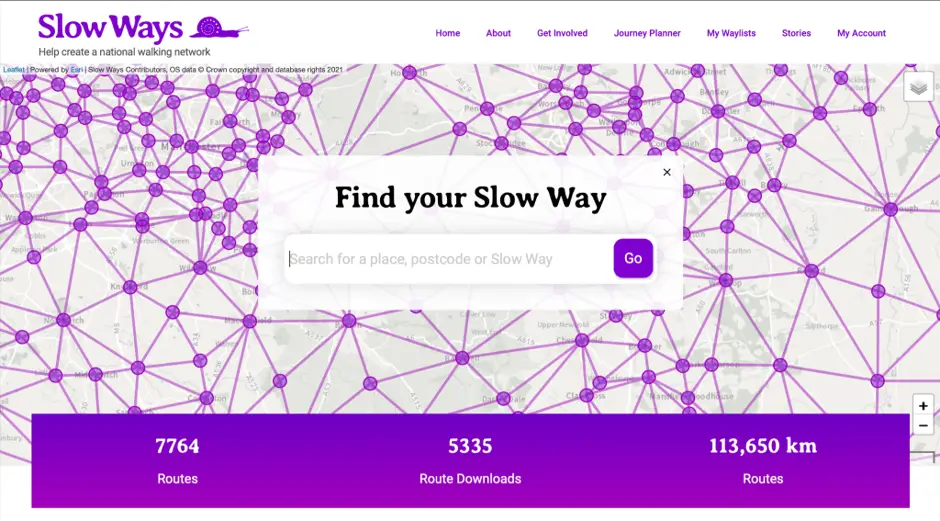 Even though we've only soft-launched the Slow Ways site, we've had a terrific response, with over 90,000 users logging in to catch up on the project in the last month. Built on a combination of Open Source technologies, the website is supported by ESRI GIS systems and the routes are presented on the beautiful style.
Given the support we'd received from OS during the earlier stages of the project and the popularity of their maps with walkers across the country, we thought it was essential to use OS maps on the Slow Ways website. Using the well documented OS Maps API, we very quickly integrated the data into our website and could choose from a selection of maps and cartographic styles. To date, according to the API usage metrics in the OS Data Hub we've already served almost 1.5 million OS maps!
It's a great testament to the powers of collaboration in the geo industries, allowing the heavy geographic lifting to be carried out at scale as a mash-up of technologies. From the ESRI geospatial backbone, ever-popular OS mapping, What3Words and a printing partner called Ink Atlas, the Slow Ways project is well supported.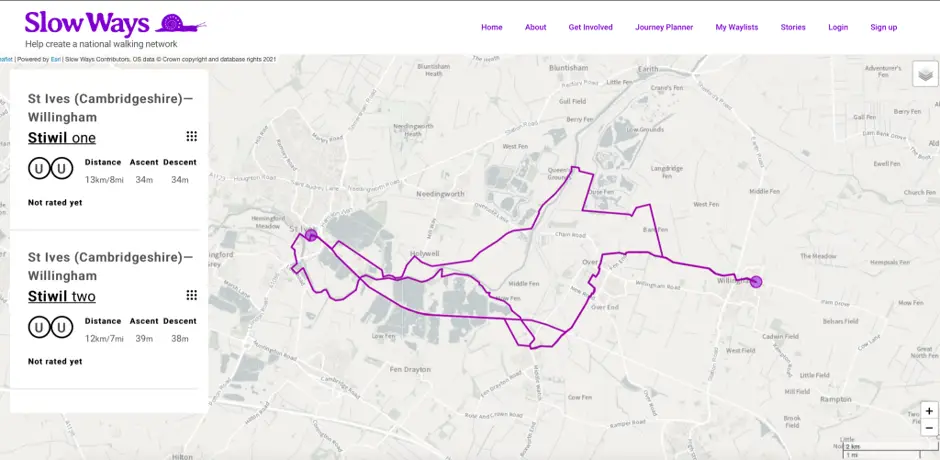 So far…
The users from our soft launch have already been beavering away reviewing, surveying and uploading new routes to the website. In fact, our initial launch routes have already been supplemented with a further 700 routes as users have submitted new improved walks based on their local knowledge. This adds up to over 113,000 km of recommended paths!
Website users have been busy reviewing the existing routes too! With over 1,000 reviews this adds up to over 12,500 km of routes reviewed, we're hoping that people will be able to soon see a clear picture of whether or not a route is for them and be encouraged to try new routes they may not have considered before.
Thanks to some seed funding we received from Paths for All, Sport England, the National Lottery and The Pilgrims Trust we've not only been able to create the website, but also a framework for people to survey the routes.
Place and route surveys
People have already submitted over 1,000 place surveys of the start and endpoints of routes. This means users can walk a route and be confident of the presence of essential facilities from accommodation and bus connectivity to toilets, disabled parking and mobility scooter hire. This helps with the project's goal of opening up these routes for everybody, not just seasoned walkers.
Our route surveys are an in-depth record of a route and allow people to let us know about any access or rights of way issues there may be with a route. Already over 250 people have measured and calculated the route's steepness and camber, listed any obstacles on the way and allowed us to grade a path for both surface quality and access - i.e. whether a not a route will provide challenges for those in wheelchairs, with dogs and pushchairs. Surveying over 100,000 km of routes is both ambitious and necessary.
Supplementary to the route surveys, a part of the site that has captured the imagination of users is the ability to leave photo surveys. These visual surveys help people with specific mobility needs make a judgement about if a route is suitable for them or not.
What's next?
We have a busy tech road map ahead and as our launch users help us identify gremlins with the site, our design-orientated thinking means we have a full improvement programme in place for the summer and the coming years. A feature that is planned to arrive shortly is a deeper integration with OS Maps. In turn this would lead to the Slow Ways routes displaying within OS Maps and the ability to seamlessly link between the two platforms. Watch this space…
Get involved
We're in a very exciting position and are hoping that the summer of 2021 will be the perfect opportunity for users to get outside and get walking and reviewing Slow Ways. So why not head over to beta.slowways.org, find your local Slow Way, download the routes to OS Maps and help out by reviewing and surveying the routes and even upload your favourite local walks so that everybody can enjoy them.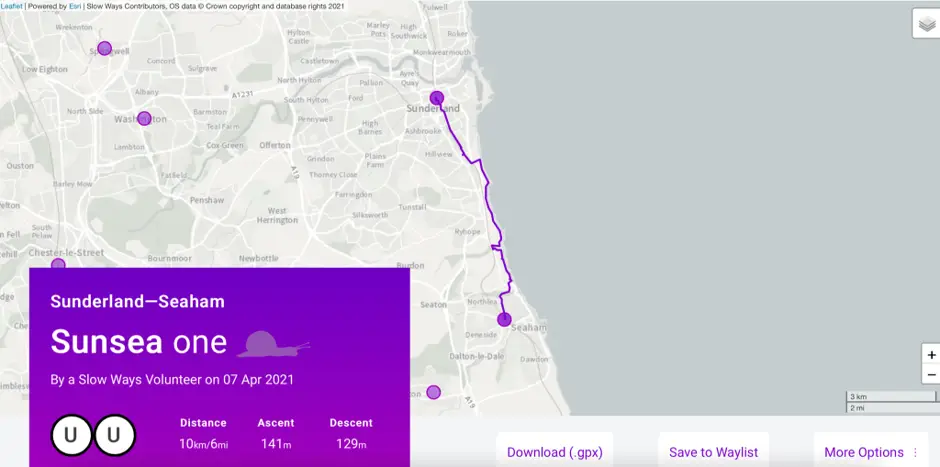 I hope that you'll find walking and reviewing Slow Ways rewarding. Taking part in the initiative is not just an opportunity to enjoy yourself, but to create a national walking network that can be enjoyed by current and future generations.
Visit the site now and discover your nearest Slow Ways route!