Snowdon tops the list for Britain's most trodden paths
22 Aug 2017
Did you know that OS Maps subscribers added over 400,000 routes to the service over the last 12 months? We've analysed the (almost) 400,000 public routes and found that Snowdon bags the top spot for most routes created.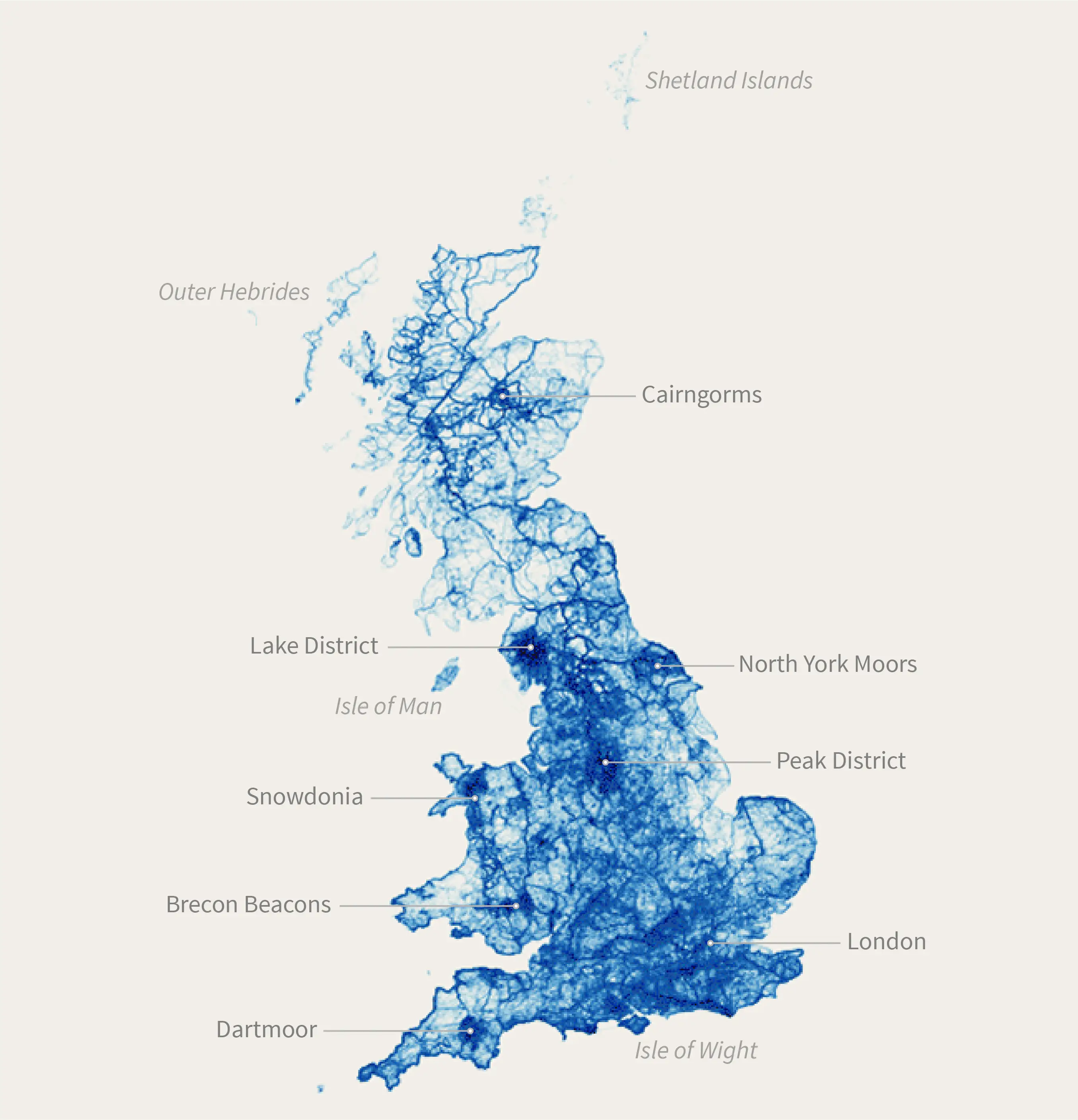 We broke the country down into square kilometres and counted the number of routes passing through each square, and while Snowdon topped this list, the Edale area of the Peak District grabbed 6 of the top 10 spots, with the Lake District taking the remaining places.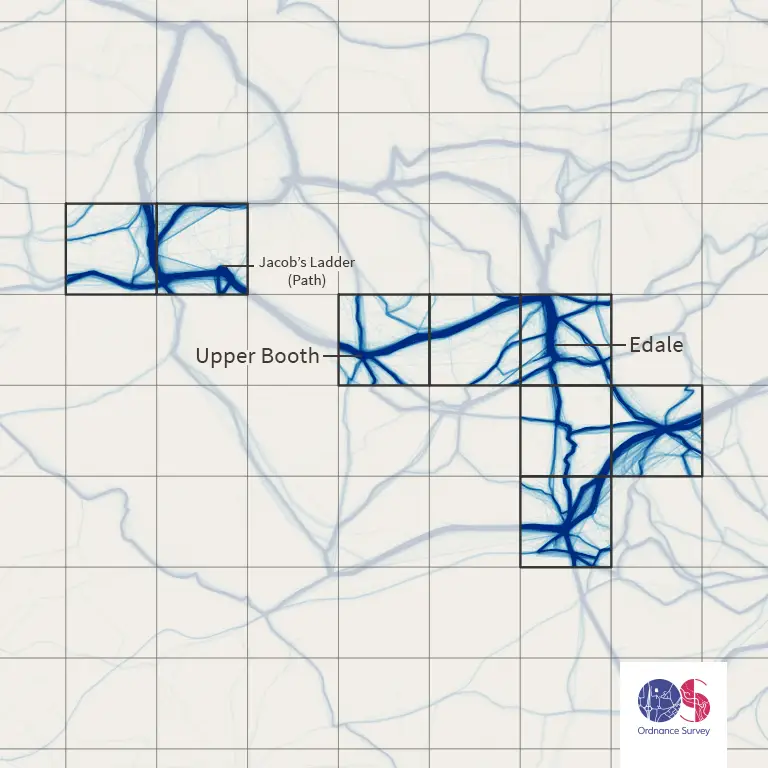 OS Maps now contains almost 1.2 million private and public routes, making it one of the largest databases of its kind in the world. We've illustrated the 400,000 public routes created in the last 12 months in a series of stunning data visualisations created by our GeoDataViz team member Charley Glynn. The darker, thicker areas illustrate the higher concentration of routes and reveal popularity.
We've always assumed the majority of the routes are created for walking, cycling and running activities, but it's clear that some people have been finding new ways to use our products. You can see several instances where people have used our products to route their car journeys and spotted a couple of people using our products at sea to record their movements!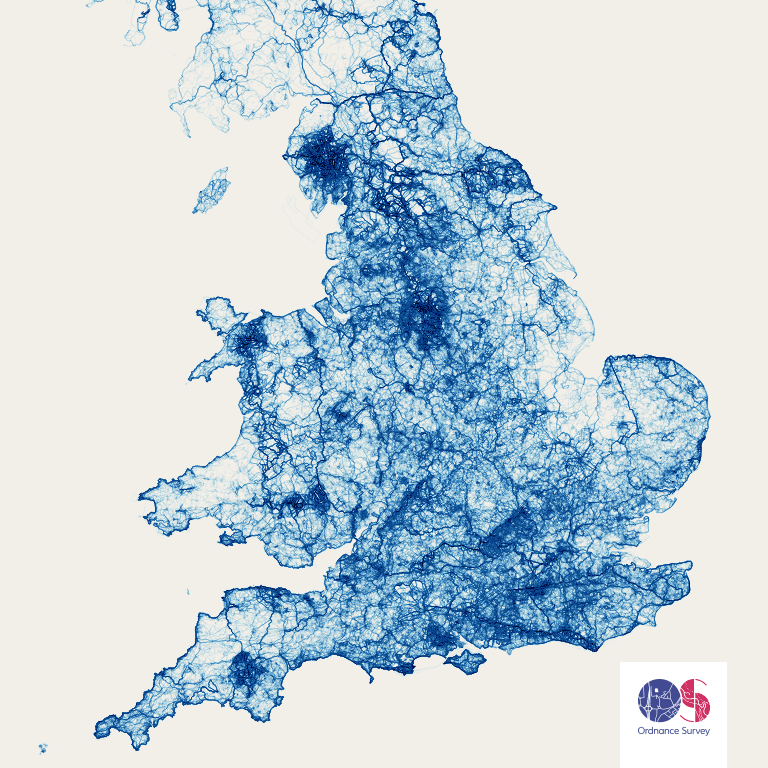 Beyond the National Parks, which obviously dominate, we also realised that the National Trails are heavily used to create routes. Their locations can be clearly spotted when looking at the data visualisations.
We also created a league table to establish the most popular towns and cities to #GetOutside and plot routes. The London boroughs of Richmond-upon-Thames and Wandsworth feature in the top ten, along with Guilford, Winchester, Sheffield and Bath. It's great to see people exploring our urban environment as well as the countryside. Take a look at the full results below, and visit our Flickr gallery to see all of the data visualisations.
1km Grid Squares with number of routes going through that square
| | | |
| --- | --- | --- |
| Grid square | Location | Number of routes |
| SH6054 | Snowdon (Summit) | 3779 |
| SK1285 | Edale | 3590 |
| NY2107 | Scafell Pike (Summit) | 3007 |
| SK0786 | Edale Cross | 2636 |
| SK0886 | Edale (Jacob's Ladder) | 2632 |
| NY3704 | Ambleside | 2587 |
| SH6154 | Snowdon (Pyg Track) | 2581 |
| SK1283 | Edale (Mam Tor) | 2529 |
| SK1384 | Edale (Hollins Cross) | 2492 |
| SK1185 | Edale | 2452 |
| SO0121 | Pen y Fan | 2404 |
| SH6455 | Pen-y-pass | 2377 |
| NY2806 | Langdale Fell (Cumbria Way) | 2359 |
| NY2208 | Great End (Scafell Pike) | 2342 |
| NY3307 | Grasmere (Centre) | 2311 |
| SK1085 | Edale (Upper Booth) | 2298 |
| SK1284 | Edale (Cold Side) | 2288 |
| NY2308 | Allen Crags (Scafell Pike) | 2278 |
| NY3415 | Helvellyn (Summit) | 2271 |
| NY2623 | Keswick | 2244 |
Top 10 cities and towns and number of routes
| | |
| --- | --- |
| City/Town | Number of routes |
| Ambleside | 2731 |
| Keswick | 2523 |
| Richmond Upon Thames | 1278 |
| Bath | 1234 |
| Sheffield | 1205 |
| Wandsworth | 1169 |
| Winchester | 1147 |
| Guildford | 1140 |
| Bakewell | 1091 |
| Church Stretton | 1003 |