Spotlight shines on new British Cartographic Society award winner
19 Oct 2021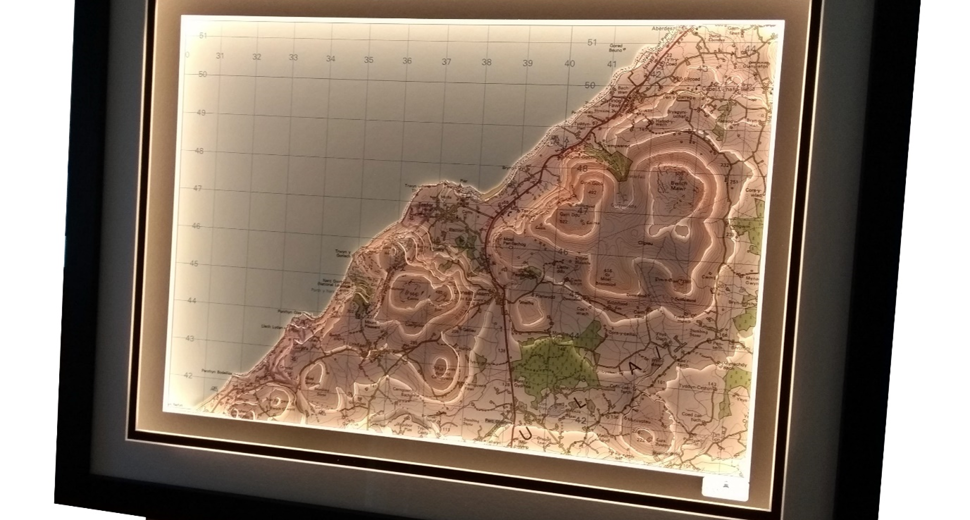 British Cartographic Society
cartographic design
cartography
Every year Ordnance Survey sponsors and judges one of the British Cartographic Society (BCS) awards.
The award is made annually and is given to encourage excellence in cartographic design, innovation, and exciting use of OS data.
Unfortunately, due to the covid pandemic, the 2020 awards were cancelled, and any entries received were included for 2021 this meant we had a bumper stock of entries.
The competition was intense and selecting a winner was not easy. However, one entry clearly shone out amongst the rest and that was Gyrn Goch by Peter Bolt.
Gyrn Goch is a 3D topographical map with contour lines framed by surround lighting. The map aims to bring paper maps to life and give the viewer a true sense of the landscape in which we live. This map uses Ordnance Survey 1:50 000 scale Landranger mapping.
We caught up with Peter to present his award and find out a bit more about him and the amazing maps he meticulously puts together: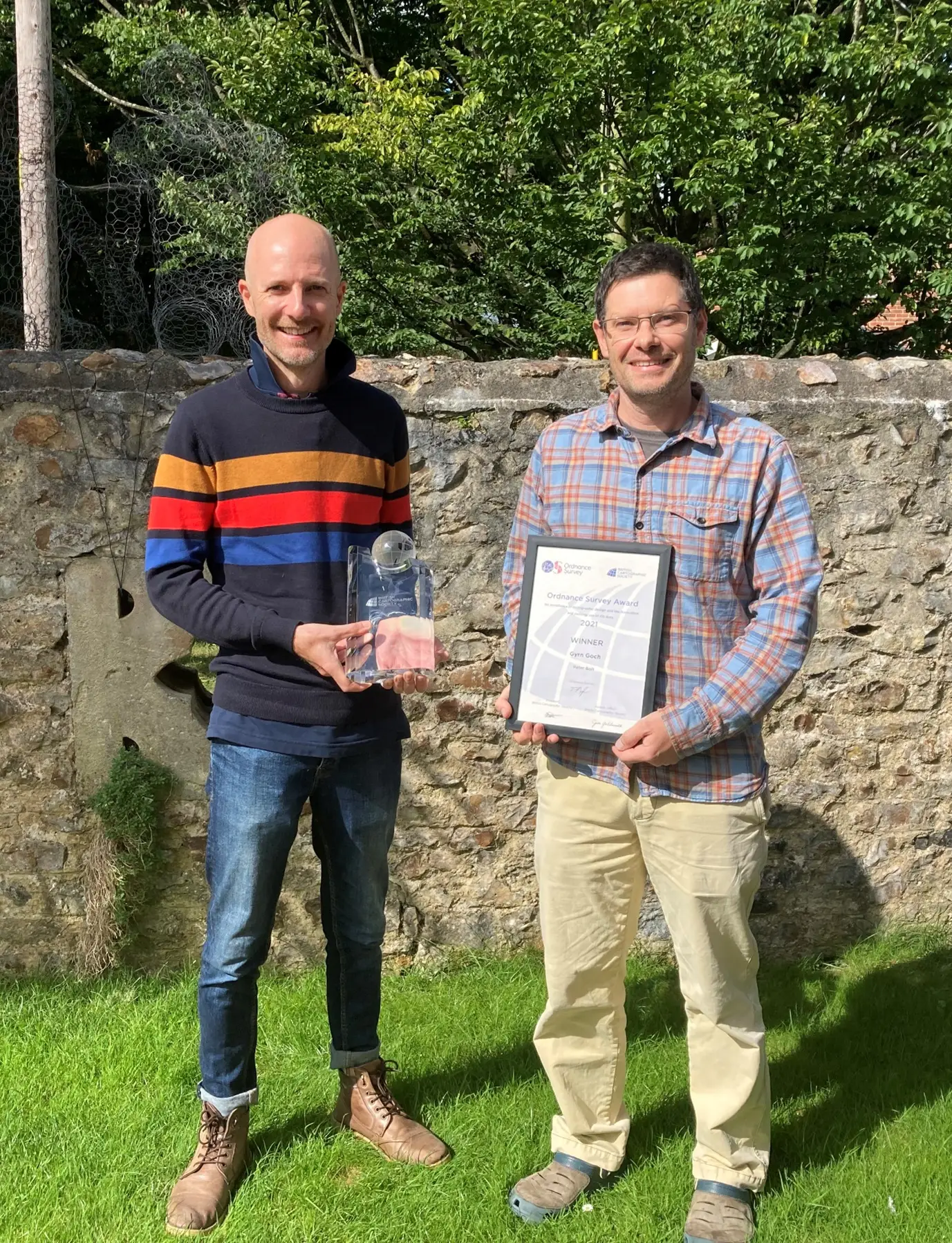 Peter, it's a unique area of expertise, how did you get into producing these 3D models?
My family and I moved back to my home county of Devon in 2013. My wife returned to work as a teacher at Uffculme School, and I became a stay at home Dad taking care of our then 18 month old son. As our son became older, and started to attend pre-school, I filled my time experimenting with making 3D nautical models. Once I was satisfied with the quality I gave one to The Salcombe Yacht Club and the Turf Locks Hotel in Exminster. I posted images of these charts on social media which were seen by The Duke Street Gallery in Dartmouth. I made a piece of the River Dart for them which proved to be very popular. Following on from this I went on to create my own website and started selling pieces in the spring of 2014. I have now made over 450 models and have shipped to the USA, Canada and the Caribbean, as well as throughout the UK.
Tell us a bit more about what's involved in creating your hand-cut models. How long does it take to produce a model on average?
Each piece is unique and made to order. Once a customer has provided me with their area of interest I search to find out which maps are available. I start by cutting out the map by following the various height contours. These sections are then bonded onto a specialist modelling board which are then re-cut, again by hand. The various layers are then assembled to create the finished piece. An A2 sized piece (my most popular size) takes between 24 and 36 hours to produce depending upon the number of layers and level of detail. I then frame each piece and can offer a number of different finishes. For additional quality I am able to install surround lighting into the frames which really helps to highlight the detail of the cut contours.
What would you say has been your biggest inspiration on continuing to make these models?
I have really enjoyed running my own business. The variation and flexibility suits me, and to be able to work from home is a real privilege and allows a fantastic work life balance. Apart from making the models I have learned how to build my own website and gained experience with marketing.
What has been your favourite project to work on so far?
The River Exe has always been a favourite of mine. It was my first piece, and growing up in Exmouth, I have a sentimental attachment to this area. I have also branched out into larger scale exhibits for museums and visitors centres. I recently made a 2.75m x 1.25m model of Glen Coe which consisted of 15 layers. I love the challenge and complexity of these projects.
Am I right in thinking you used to work as a Formula One engineer? Tell me a bit more about your time in this role?
Yes this is something I had wanted to do since I was 14. It was my motivation through university and my early career as a test engineer in the automotive industry. In 2006 I got a chance to work for Red Bull Racing within the R&D department. I went on to spend three happy seasons with the team. It was a fantastic experience.
Does your engineering background help with your new 3D map making venture?
It definitely helped me in the beginning when I was trying to work out the best materials, methods, tools etc required to make these models. There was no book or instruction manual to follow so I had to work it out for myself. I now have a series of processes that I follow to make sure each piece is made to the highest standard.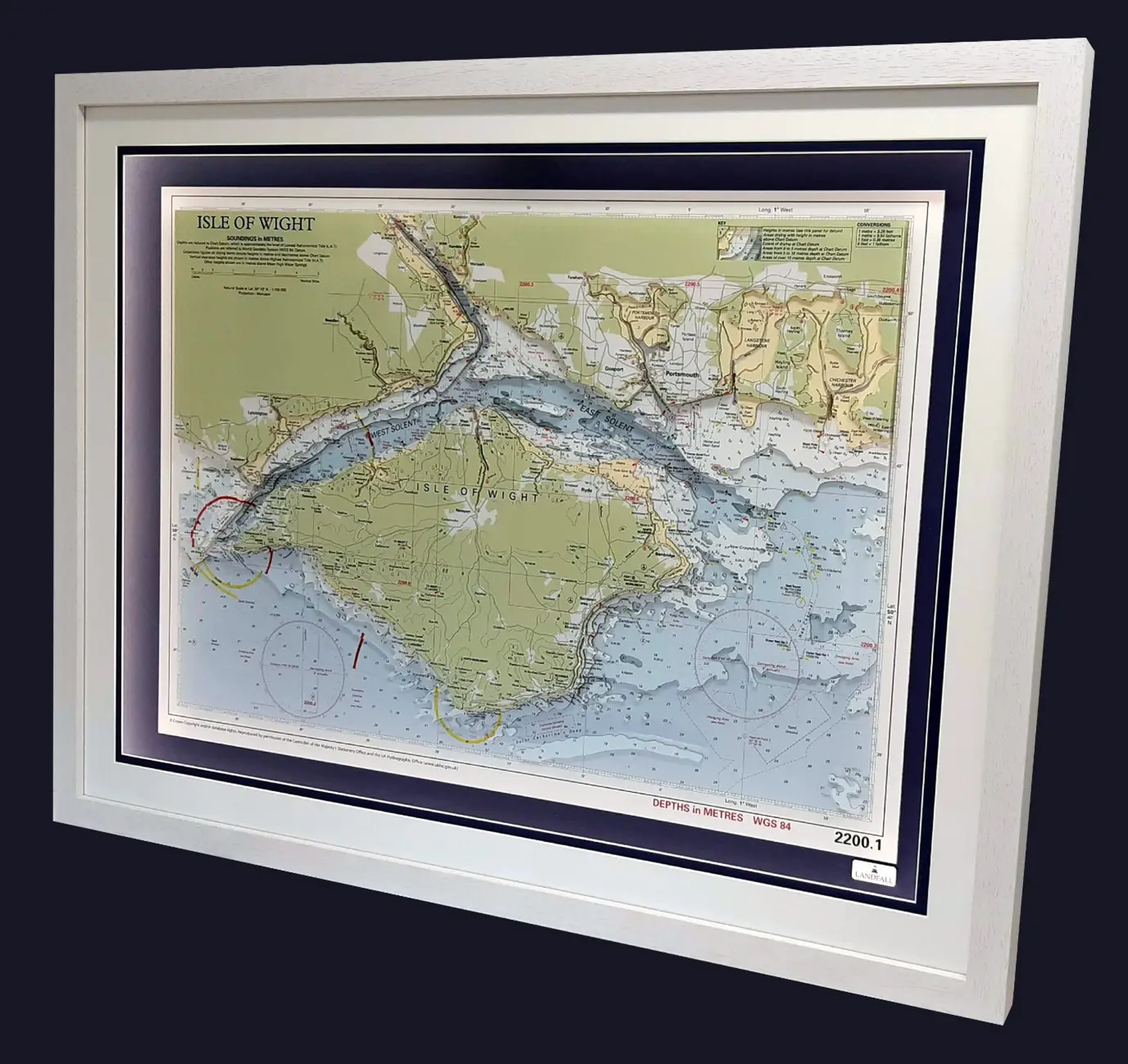 Is there anywhere our readers can find out more about what you do and see examples of your work?
My work is currently on display at the following locations around the UK and beyond:
Nautical Charts:
Ocean Village Marina, Southampton, Hampshire
Darthaven Marina, Dartmouth, Devon
The Cooper Island Beach Club, Caribbean
Mellion International Resort, Cornwall
The Cooper Island Beach Club, Caribbean
The Old Lifeboat House, Holy Island of Lindisfarne
OS Maps:
The Donkey Sanctuary, Sidmouth, Devon
The Exmoor Visitors Centre, Lynmouth, Devon
Mellion International Resort, Cornwall
North Lincolnshire Museum
Other Maps:
The National Trust for Scotland Visitors Centre, Glen Coe, Scotland
Harvey Maps Shop
If you are interested in finding out more or commissioning Peter to produce one of these amazing maps then you can do so by visiting his website landfall.co.uk