Sustainability at OS
8 Jul 2021
sustainability
environment
electric vehicles
We frequently talk about the vital role our geospatial data is playing in helping customers tackle environmental challenges and meet their net zero targets, but we don't often discuss what OS is doing as a business. In addition to supporting customers to become greener with our data, we're also delivering our own sustainability plan.
We are committed to setting more ambitious carbon reduction targets to conserve the environment and in turn, meet the Department for Business, Energy & Industrial Strategy (BEIS) and Greener Government targets.
By reducing our own environmental and social impact through our operations and supply chain, we can help the UK achieve clean growth and protect the natural environment. By ensuring our location data is up to date and accessible, we can support the Build Back Better environment agenda.
Ultra-Low Emission Vehicles (ULEV)
In order to keep the National Geographic Database up to date the OS surveyors are continuously on the road capturing millions of changes every year which is relied on by customers. We are delighted to reveal that we have signed a 4-year contract with Zenith to replace our 300-strong Field Operations fleet with 100% ULEVs by 2024. These teams count for a significant percentage of our workforce and operate 70% of our business fleet, so this will go a long way to reducing our carbon footprint.
Based on the orders so far, the average emissions per vehicle are expected to drop by 73% from 112gCO2/km to approximately 30gCO2/km. As all vehicles will be ULEV, the absolute maximum emissions for any of the fleet vehicles will be 50gCO2/km.
As OS's People Director, Hazel Hendley said: "As part of our commitment to set and meet an ambitious carbon-reduction target, we agreed to move our entire fleet to ULEV from the start of the new business use scheme contract.
"That time has now come, and I'm pleased to confirm that Zenith having been successful in the procurement process, will remain our fleet partner for the next 4 years. Zenith is acknowledged as the pre-eminent provider of electric business fleets in the UK, which was key criteria in us retaining their services.
"We're already working with the team at Zenith to plan the rollout of an exciting range of electric vehicles."
Lisa Sporton, Strategic Account Manager at Zenith, said: " We look forward to starting this new chapter with the introduction of an electrified fleet which helps OS achieve their carbon-reduction targets whilst at the same time allowing employees to drive vehicles based on the very latest EV technology and benefit from low 'Benefit in Kind' tax opportunities."
Head Office
Sustainability has always been a top priority for OS, and this was highlighted back in 2010 when OS moved to its purpose-built head office Explorer House. Rated as excellent by BREEAM (the world's leading sustainability assessment method), Explorer House was created with sustainability in mind.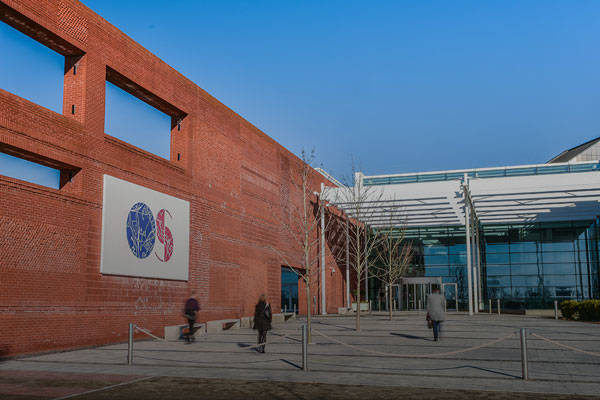 Here at our Head Office, we use ground source heat pumps (GSHP) to heat and cool the building meaning we rely far less on gas. The heat pumps can derive heat from (or reject heat to) the earth through plastic, liquid filled pipes that loop in and out of 80 vertical boreholes, each over 75 metres in depth. Not only does this system provide heating to the building by extracting energy from the earth, it also utilises the heat rejected from the Data Room cooling plant.
We also have measures in place to keep water consumption to a minimum. We use rainwater harvesting to collect water from the office roofs and store it in an 80,000-litre underground tank. After filtering and disinfection, the water is used for toilet flushing and plant irrigation.
Similarly, the pond we have at the corner of the car park is a Sustainable Urban Drainage System (SUDs). All the surface and rainwater from the site will be collected in the pond to prevent it being discharged off site. The idea is that surface water will be naturally collected and filtered in the pond. In addition, sustainable drainage techniques have been used, including permeable paving and soft landscaping, which are designed to reduce the water run-off rate.
OS is also moving to a renewable electricity tariff as well as a carbon neutral gas tariff this year in order to ensure that we're getting our supply from the right place. As a result of the new ULEV contract, we will also be embarking on a project to double the current charging infrastructure on our Head Office site to 20 units.