The power of geospatial data in resilience planning and emergency response
29 Mar 2018
Public sector
Using GI and maps
mapping for emergencies
OS data
geospatial
The beast from the east dominated headlines this month, with snow causing traffic issues, school closures and disruption across the country. In Cumbria, the depth of the snow and challenging terrain resulted in significant issues accessing some communities.
Cumbria's multi-agency Strategic Co-ordinating Group (SCG), made up of partner agencies, secured military assistance to help access the most isolated communities, many of which had been cut off from all supplies for five days. We were asked to assist the SCG under Mapping for Emergencies (MfE).
One of our technical consultants, Kevin Topping, knows the power of geospatial in these situations only too well. Since joining OS last autumn, Kevin has been working with local resilience teams across England and Wales, showing how geospatial data can help in emergency planning. He ensures that authorities are aware of the data available under the Public Sector Mapping Agreement (PSMA) and how to best make use of it, including calling for extra assistance from OS under MFE.
Kevin is in an excellent position to advise on the role of geospatial data in resilience, since joining OS last autumn from Cabinet Office, where he worked on the ResilienceDirect Service. The Cabinet Office-owned secure platform allows agencies to share information in planning, response and recovery to major incidents. Before this, Kevin had spent eight years in the Emergency Planning Department at Lancashire County Council. While there, Kevin realised that many of the emergency plans would benefit from geospatial data and went on an ESRI course to learn how to use ArcGIS, a geospatial information system. After this, geospatial data was embedded into the area's Local Resilience Form (LRF) plans for dealing with a wide range of incidents, including nuclear, chemical, flooding.
Another area benefiting from the power of geospatial data in their emergency planning and response is Cumbria. We supported Cumbria's LRF back in December 2015 in response to an MFE request to deal with the flooding caused by Storm Desmond. Cumbria asked for our assistance this March, in response to the beast from the east. LRFs are multi-agency partnerships and include the likes of emergency services, local authorities, NHS and Environment Agency. They meet regularly to plan and prepare for emergencies and major incidents and often respond in real-life situations too. You can find details of your LRF via the Gov.UK website.
Emergency response to the beast from the east
In this case, military assistance was granted with teams working day and night to reach the isolated communities. Progress was extremely slow due to the depth of snow and challenging terrain. A Chinook helicopter performed airdrops, taking emergency supplies to those who needed them most. This included food and groceries, coal and logs for heating, and electrical heating appliances.
The multi-agency Tactical Co-ordinating Group (TCG) determined those areas at most need and asked OS for assistance, under MFE. Identifying the affected areas and priorities for the initial flight plans meant geospatial data was key. Kevin travelled to Cumbria Fire and Rescue in Penrith on Sunday 4 March, while other OS team members worked from our Southampton head office and from home in Edinburgh.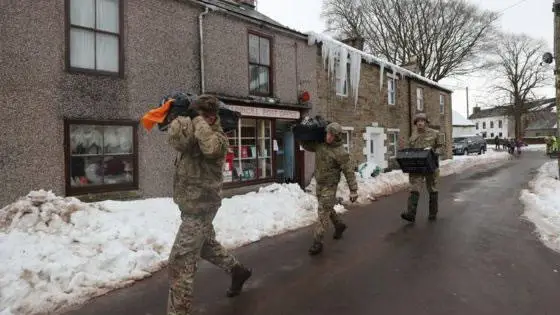 The Cumbria team identified seven areas of concern in the east of the country, with data from a range of sources. We received multiple requests for mapping and data support, with military colleagues requesting maps marked with six-figure grid references to identify locations for supply drops. While many of the agencies operate their own GIS systems, the teams ensure data is shared during major incidents for maximum situational awareness. Cumbria Police were identifying farms within the areas of concern which we cross-checked with our address data to select agricultural premises. A number of families and residents had been identified as high priority and the team in Southampton were tasked with plotting their locations on maps and joined to 1km grids.
OS emergency response under Mapping for Emergencies
Our teams worked to provide practical help, producing a range of maps to meet all of the responding agencies needs and aid them in deploying to the isolated communities. Kevin said, "At OS, we recognise the importance of resilience. 90% of the work is in planning and using the data available under the PSMA for England and Wales, and OSMA in Scotland can significantly enhance these plans. We want more local resilience forums and partnerships to embed geospatial as standard when it comes to planning, response and recovery to major incidents. Mapping for Emergencies is a key service in the national interest, knowing that when you need that critical extra support and time is of the essence – it is only a phone call away."