The scale of Britain's plastic challenge
28 Sep 2021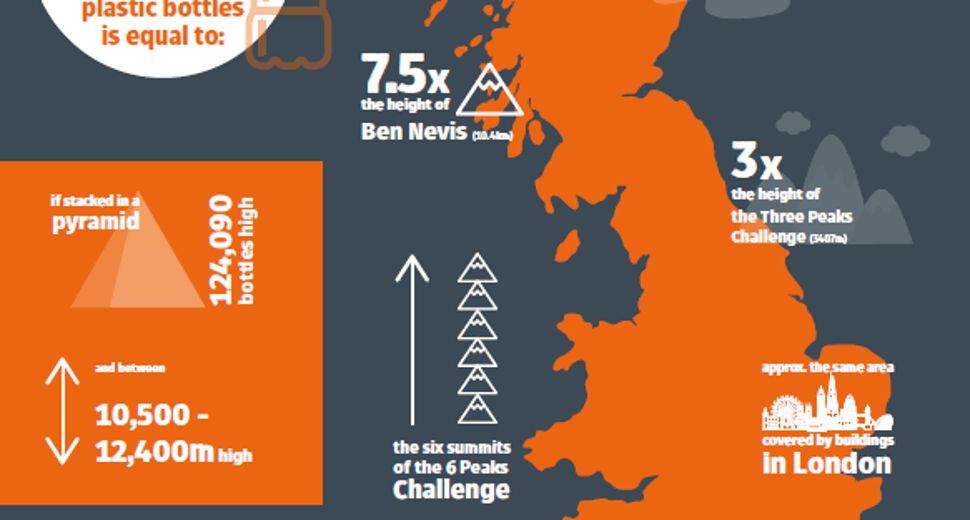 #getoutside
environment
sustainability
sustainable
Another National GetOutside Day was held last Sunday (26 September) with the focus this time on being kind to the environment and protecting it whenever we go outdoors.
According to research we've carried out in the past few weeks, 78% of adults in Britain get upset by people dropping litter in the countryside or in green spaces.
And with so much focus on sustainability and the evolving environmental issues facing us globally, we want to remind everyone that care and respect for our natural habitats is a daily habit that needs to be committed to.
To prove it, we took a look at some facts around plastic pollution and called upon our geospatial experts to measure just how big the scale of the issue is in the UK right now.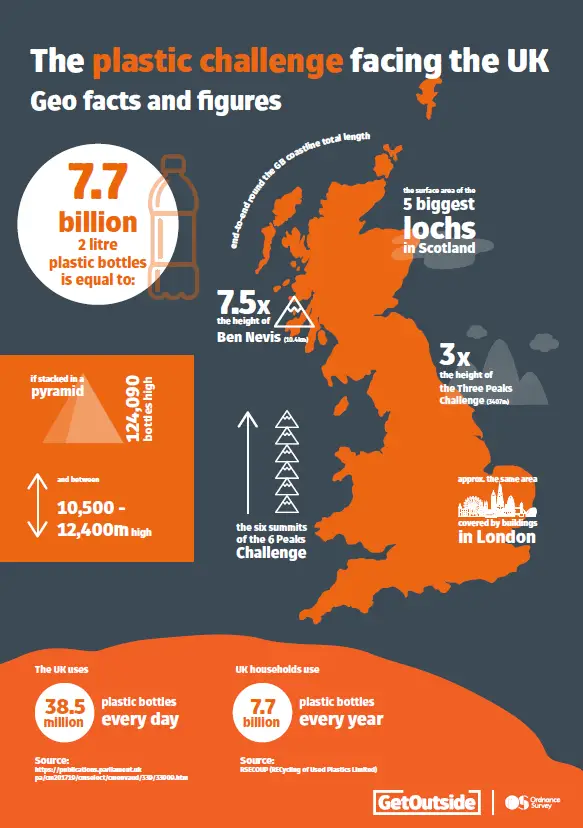 According to the latest Government and RSECOUP (Recycling of Used Plastics Limited) data, we use 38.5 million plastic bottles a day, and UK households use 7.7 billion plastic bottles every year.
Taking that yearly figure (two litre bottles), that is the equivalent of:
5 times the height of Ben Nevis (10.4 kilometres)
The surface area of the five biggest lochs in Scotland
The area covered by all the buildings in London
Three times the heights of the Three Peaks Challenge
The six summits of the six peaks challenge (Smaefell, Ben Nevis, Scafell Pike, Snowdon, Slieve Dunnard and Carrantuohill in the Republic of Ireland).
OS is committed to protecting the outdoors. For example, our standard paper maps are FSC certified – meaning the material is sourced from certified forests, recycled material, or controlled wood. They are also 100% recyclable and when delivered arrive in cardboard and packed with paper void filler instead of bubble wrap.
We continue to support others fighting against plastic pollution, including the likes of the Refill campaign (which has created a network of 274,000 outlets happy to offer free drinking water to people using reusable bottles) , Kids Against Plastic (a charity set up to rid our schools of single-use plastic) and Planet Patrol (OS GetOutside champion Lizzie Carr's campaign to rid our waterways of plastic pollution).
So please help join the plastic crusade, help make plastic pollution a thing of the past and most importantly help make a dent in the size of that ever-increasing plastic mountain.