Meet Ordnance Survey's Rapid Prototyping Team
6 January 2022 was a special date for Ordnance Survey's Rapid Prototyping Team (RPT).
It marked the two-year anniversary since the team's inauguration. In those two years, the team has seen changes in its colleagues, hosted numerous secondments, and been an integral part in the countless projects and concepts flowing in and around OS.
To commemorate their two-year anniversary, Product Owner Charlie Draper and Senior Data Scientist Freja Hunt provide an insight into the RPT.
Who are the OS Rapid Prototyping Team?
The RPT is an implementation centre for new ideas. The team deal in the "Art of the Possible." RPT tests new innovations and concepts, to see whether they are technically feasible. Approved concepts are then developed, and built into working software, which they can then test with real customers. It's a valuable asset to show prototypes to a customer, and demonstrate what is possible, rather than having to explain it to them.
The team itself is made up of a small group of data scientists:
Charlie Draper: Product Owner
Freja Hunt: Senior Data Scientist
Arjan Dhaliwal: Data Scientist
Josh Pooley: Data Scientist
Dan Hirst: Data Scientist
Amy Wright: Graduate (Secondment)
What are RPT set up to do?
The RPT are in place to test technical feasibility. What that means is, they evaluable the possibility and potential behind a concept.
What is technically possible?
What are the benefits of the concept?
What are potential challenges or obstacles?
Will it require new software?
Will it be expensive?
And ultimately, what value will it bring to the business, to our customers, or to our key stakeholders?
"It's like a de-risking engine. We're here to provide evidence for stakeholders to make decisions. When a new project comes in, and it sounds incredible, we're there to ask; can we de-risk it?"
By having the RPT's feasibility testing in place, it introduces a primary point of analysis, rather than immediately jumping onto a new idea or concept. Some projects are declined but having this testing process in place means saving time, effort, and money on something that potentially wouldn't work.
Once a prototype is built, it can be presented to customers, and gain quick, valuable feedback. Sometimes, the prototype is good enough to be used straight away. So far, seven of RPT's projects have gone into use, and they've developed two patents.
What have the team produced?
A system that uses machine learning to detect interference incidents affecting OS Net,
an algorithm to identify roof aspect and pitch from aerial photography,
a system for creating vector maps of habitat land parcels for landowners,
a method for monitoring peatland health from space.
Patents in preparation include those for a junction-matching method for autonomous vehicles, a means for detecting GPS signal disruptions, and a means of dynamically modelling urban population movements.
How does the team work?
RPT describe themselves as "working as a scrum team," progressing through a backlog of suggested ideas and user stories, to then prioritise projects accordingly.
Projects are generally varied, but the team tend to devote one to three sprints to a project, working on it for two to six weeks at a time. Everyone in RPT works on the same project together; it's an all-in and highly collaborative environment. They work closely on everything, be it coding, or sitting together around a virtual whiteboard to draw, annotate, and plan their projects. Charlie describes it as "a constant hackathon environment."
Whatever the project involves – from producing aesthetically pleasing web pages, to building databases driven by machine learning algorithms – RPT work at breakneck speed. The team themselves describe it as "very exciting."
It's easy to see why. Their efforts ensure that OS isn't losing time on high-risk/low-gain projects. When they've developed a working prototype for a concept, the team will iterate (rapidly, of course) on what customers find useful, and what kind of services/concepts/assets they require. They make sure that what they deliver, and what OS as a whole delivers, adds value, and functionality to our customers.
Project X
RPT also have a regular tradition which they have designated Project X.
Originally inspired by other time-protecting initiatives around the company like "Take a Break" and "Focus Time", this mysterious label refers to an event which occurs on one day out of every ten (hence X, the Roman numeral for ten). On this X day, the RPT will focus on their own projects. They will test out their own ideas, possibly undergo training courses; but it's a chance for them to unleash their creativity – either individually, or by reaching out to other people around OS.
Project X was inspired by the likes of 3M, and Google, who have '20% time projects' – 80% of the time spent on business as usual (BAU) work, and 20% on personal projects, like Project X. It's RPT's day to put other work aside and focus on something else. The team will openly share their ideas and results, and they've found it to be very productive, and a beneficial use of time.
Significant results to come from Project X days include:
Building an add-on to explore data in the OS Data Hub Explorer
Developing a Python package for interacting with our data (they had already been using it in-team, and shared it, having acknowledged it as a useful asset)
Examples of RPT's work
The RPT is a resource for anyone in OS, for any idea that needs to be tested. The majority of their work, however, is working with external customers, across various sectors such as government, and healthcare.
Below are three examples; three projects, of which the team is particularly proud.
Heat Data, Space Observation
Rising temperatures threaten the health of people and the natural world. The frequency of extreme heat events is increasing in the UK, and heatwaves like those seen in 2018 and 2020 are expected to occur every two years by 2050. As such, heat risk is one of the highest priorities for adaptation.
A solution is to develop 'heat vulnerability' maps, using satellite-based data. However, one immediate problem is that a lot of the key data is not accessible, and the conversion of complex space data makes it challenging to process.
The RPT have partnered with the National Centre for Earth Observation (NCEO) to provide accessible, evidence-based solutions that can facilitate more effective analysis, and insight. The team have gathered use cases, and provide prototypes and tools to NCEO to support their decisions.
Their prototypes can be seen here. The first (above) is the net result of two whole day's work, and while perhaps not the most visual of prototypes, the rapidity of their work meant the team could receive immediate feedback. Another week later, and they had developed and enhanced it further (right).
From this, RPT can further explore how heat vulnerability collates to greenspace, and how institutions – such as schools, hospitals, care homes – will be affected by overheating.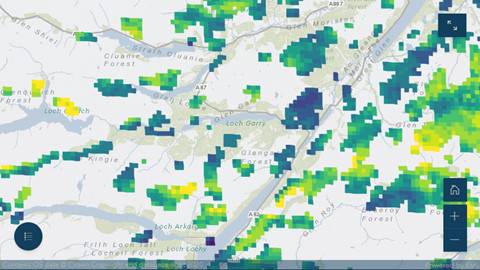 Peatlands health
RPT, working in partnership with Space4Climate, Assimila, and the University of Durham, have used satellite data to monitor peat health from space. Peat is a critical carbon sink, but 80% of the UK's peatland is in a damaged state, meaning it is releasing carbon into the environment, rather than absorbing it.
Mapping the health of peatland, assessing the efficacy of peatland restoration and carbon sequestration projects is therefore critical to meeting the challenges of the climate emergency.
The RPT proved that it is possible to monitor relative peat health from space by assessing albedo (brightness), vegetation index, and temperature.
"InfectioNet"
The RPT have also played a key role, during the Covid-19 pandemic.
The team developed a model that could help track spread of Covid-19 and support the government. Geospatial data was used to analyse areas of population density, how people interact in a given location, and from that, how Covid-19 was liable to spread. This network-based model considered how the population were interacting inside and outside of their houses, and how altering that change in movement – such as implementing lockdowns, or social-distancing measures – could then reduce the virus spread.
This project was shared with NHS England, and has since been presented to the German Statistics Agency, and the Newton Institute at Cambridge. It was also used in conjunction with police forces, to identify areas where it was especially important to monitor the lockdown more closely. Shortly after this work, Arjan went on secondment for several months to the Joint Biosecurity Council, to support their Covid-19 response.
What's next for RPT?
Like every team, the RPT have their own goals and ambitions for how they want to develop their team. For example, their work in developing heat maps has helped them towards becoming role model in sustainability, using their capabilities and know-how to develop new solutions.
A primary objective of theirs is to optimise a robust, and repeatable method of testing. That way, they can continue testing feasibility, delivering working software, and work towards reducing risk.
But with that model in place, they want to go beyond working on projects, and have ambition to generate new ideas of their own. Their own way of becoming more proactive, than reactive.
They would align with business propositions, ensure that innovation projects are delivering successful outcomes, and demonstrate themselves to be champions of agile software development, that has integrated and collaborated throughout OS.
The ideal end goal? That RPT becomes an internal centre of excellence, for testing business ideas.
Get involved
You can become a part of the RPT's ambition.
If you have a geospatial-based business idea that would benefit from prototyping and testing feasibility, you can contact Charlie Draper at charles.draper@os.uk, or email the wider team at rapidprototyping@os.uk.