Scaling sustainability - a decade of start-up success
Ahead of #GeoCom2019: Hitting Zero – Applying geospatial to global challenges, which sees the great and good of the global geospatial industry come together to discuss environmental, social, technological, economic and political challenges and the role the industry can play, we look back at the origins of Geovation.
Using the mantra of Think globally, Act locally, Scale sustainably, this past decade has seen Geovation develop and support start-ups that are tackling some of these very same problems, helping them grow and thrive.
Dr Chris Parker has spent his working life using geography as the context on which people's living and working conditions and general ways of life can be improved for the better.
It has taken him all over the world working collaboratively with at levels of government and private sector. One moment he'd dealing with sheikhs and sheikas, the next with tribal chiefs, villagers, farmers, nomads, or individual landowners.
No stranger to problem-solving, Chris at one stage or another has been confronted by bushfires that destroyed his surveying team's remote camp, a baying pack of hyenas while trying to free his trapped Landcruiser from mud, and, ironically for a geographer, he once was lost in a single-engine plane over the jungle.
It's all these experiences, which, when he joined Ordnance Survey (OS), proved so useful in helping to develop Geovation and bring other people and organisations into it.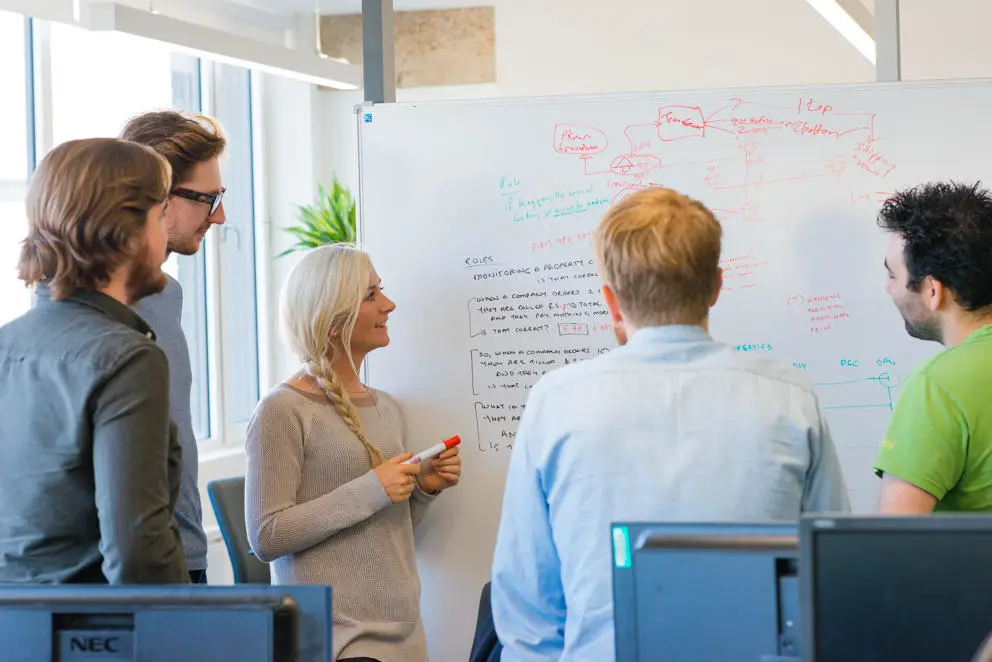 Over the past decade, the positive spirit of collaboration Chris has helped create, has seen him help hundreds of start-ups. "For me, one of the standouts that encapsulates what Geovation is about is Refill, who are creating impact using geographical information to tackle a real global problem."
The Refill app reduces the need for single use plastic bottles by connecting people to places where they can fill up their water bottles with free tap water.
"Refill is addressing global problems locally and scaling sustainably, and now they are working with many partners to deliver free tap water across the UK and in other countries. This exemplifies what Geovation set out to achieve – think globally, act locally, scale sustainably to create (social, economic and environmental) value and impact."
Titled: "Tackling grand challenges through mass collaboration" Geovation launched its first challenge in October 2009 following a "Terra Future" conference Chris organised at the Royal Geographical Society.
Geovation was the brainchild of Chris, OS's then Director of Innovation, Peter Ter Haar, John Abbott, who is now HM Land Registry's Director of Digital, Ian Holt and Dr Liz Ratcliffe.
It was felt that OS could not do it alone, as it needed to establish a level of credibility for Geovation. This required a different style of non-OS type thinking. Steven Feldman, well-known in geography circles and for building geo businesses; self-confessed map Addict and Chief Technology Officer at Kamma, Gary Gale and computer science graduate from Cambridge, Stewart MacTavish, who was running a start-up and now Director, Cambridge's ideasSpace, one the university's innovation hubs, were the other co-founders who helped establish Geovation.
"This collaboration with Steven and Stewart," says Chris, "allowed OS to sit around other people's campfires, if you like, and find out what they are thinking and wanted to do. Building these relationships and trust allowed us to feed insights back into OS, enabling it to improve and become ready for next-generation technologies, businesses and communities of users. An early example of this was when OS released its initial OS OpenData portfolio.
"Steven gave us credibility in the start-up space and GI industry. Stewart was already working on ideas platforms (before they were commercially available) that he said we could reskin for Geovation."
After the first challenge, the Geovation team became just Chris and Viv Alexander (in later years they were joined first by Jonathan Field and then Luke Hampson, who is still a part of the Geovation team and has recently been brokering partnerships between Geovation and tech hubs across Britain).
"We realised we could develop something exciting, a series of problem focussed challenges that people could submit ideas to, and for Geovation to help develop better ideas into sustainable businesses."
With "Think globally, Act locally, Scale sustainably" in mind, Chris developed subsequent challenges linked to the Millennium Development Goals and then the UN Sustainable Development Goals, an inherently geographical strategic framework. Chris and Viv worked closely with Sean Miller and the team from the design consultancy Nonon and Roland Harwood and team at 100%Open to develop an open, collaborative design-led, problem focussed value creation model that used geographic information, technology and design-led business model thinking to develop new, disruptive solutions to old problems.
It's a model that Chris believes can be picked up and used easily by anyone.
"I have a strong geography and arts background, and these are both open and exploratory disciplines. Design thinking and standing in the shoes of the user to really understand what a problem is and the open innovation approach - where you share the risks, resources and rewards to create value based on trust and collaboration - informs my thinking.
"Three guiding maxims help explain the Geovation way. Everything Happens Somewhere – it's true and simply draws you back to realising you need geography and an idea of location to better understand, appreciate, plan and develop. Think globally, act locally, scale sustainably is simple, but effective business advice that sets the geographic context for disruptive opportunities, action and behaviour, and Innovation = problem x solution x execution, frames a designer's logic to problem-solving."
So the approach was working and working and Chris and Viv were able to attract DEFRA, HM Land Registry, who later became Geovation Accelerator Programme partners, British Geological Society, the Environmental Agency, Innovate UK, Northumbrian Water, Southern Water, Welsh Government, United Utilities and various others, to be involved and support the challenges. Slowly it was being recognised that the Geovation approach could be a device for creating extra value.
Chris picks up on this point. "An innovation hub recently opened in Singapore and they have been very open about how Geovation has and is inspiring what they're trying achieve. I was even once surprised at an event few years back when a Harvard business professor began telling me he knew exactly what Geovation was and that he was using our approach of thinking globally, acting locally and scaling sustainably on his students. This was a huge compliment."
Four years ago, Ordnance Survey opened the Geovation Hub in Clerkenwell, London, to increase the reach and depth at which it and its partners could support and develop start-ups. Alex Wrottesley, bringing years of experience in launching and building new commercial propositions, joined as Head of Geovation, and Seb Ovide, as the lead engineer, and the Geovation team around Chris and Viv grew to include developers, UX designers and business mentors.
Paul Nebel, one of Geovation's Senior Innovation Engineers and Virtual CTO at Geovation neatly explains the 3 C's criteria used to help select candidates for the Geovation Accelerator Programme in order of priority.
Clarity – if you can't explain your business idea in 50 words or less then you probably don't have a business idea
Credibility – You must be able to satisfy an investor that your team are experts in your chosen problem domain, otherwise why would they trust you to provide a solution
Cooperation – When you're starting up, cooperation within your team is critical to prevent the loss of any of its members.
In August 2019, Geovation expanded with the launch of an Accelerator Programme in Edinburgh, run in partnership with Registers of Scotland (RoS).
So, what's next?
"The focus for Geovation has and always will be on helping start-ups start up. Geovation gains an awful lot from those partnerships in terms of potential revenue and insights, and it's important we continue helping to create those start-ups and help them to success. It's equally important that we're a voice in the overall conversation around innovation, creativity and innovating for sustainability, working across sectors collaboratively and openly. In coming years I think we will see Geovation expand both thematically and geographically.
"There are massive, disruptive business opportunities in the United Nations' Sustainable Development Goals. In many respects start-ups are better positioned to use geospatial and land and property data to create sustainable business solutions to the issues the UN has set out.
"The next generation starting out in employment and business do not want to be a part of the problem. They want to know they're a part of the solution, part of the change required, working for purposeful businesses, creating positive impact and value. The challenges we collectively face as inhabitants and custodians of the planet, include those related to poverty, inequality, climate, environmental degradation, prosperity, and peace and justice. Many of these challenges are inherently geographical to which "Innovation = Problem x Solution x Execution" can well be applied. It is time for more to think globally, act locally and scale sustainably."
Start-ups take note.