James Crawford
Strategic Product Manager
Why are secure data exchange platforms so important to utility companies?
Ordnance Survey is increasingly acting as a trusted data delivery partner for our customers in energy and infrastructure. In the past, our main focus was delivering data as a product in the form of digital maps. While that is still a core part of what we do, our digital services are expanding too.
We're doing this by working more closely with energy and infrastructure customers in prototyping new services, taking into account their specific needs and building products and services in tandem with the people that will go on to use them. As a result, our customers are seeing more value from services that are built to solve specific problems that they face.
To meet this changing demand, we've formed a new division within the company. Known as Propositions and Innovation, it brings together the teams working on novel geospatial solutions from across the organisation to fast-track collaboration, while putting our customers at the heart of what we do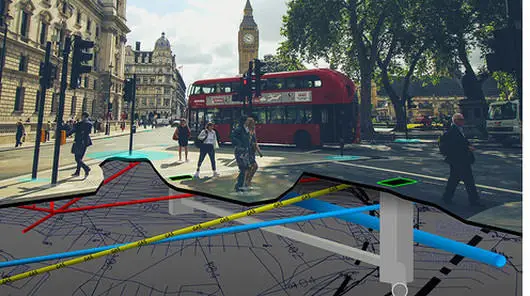 For the utilities sector, there is a need for detailed information of the infrastructure under our feet. Despite there being 1.5 million kilometres of underground pipes, cables and passages in the UK supplying the nation with water, gas and electricity, there's no single source of ground truth that describes the location of all these utility assets. The information exists, but it is siloed in separate private companies, and data sharing between them can be slow and inefficient. The result is accidental strikes on underground assets during maintenance digs, which cost almost £7 billion per year to repair when taking into account exploratory excavations.
A single portal to access all underground asset location information is a game-changer for energy and utilities. To address potential security concerns associated with centralising infrastructure data, and to secure buy-in from our delivery partners, we had to build a system that was both authoritative and robust. Queries to the system are geofenced – it will show you every underground asset in a given radius, but not the whole city. This makes sure the right people get the right data at the right time and provides safeguards against unwanted access.
The need for underground asset information really came to life during a sprint at the 2018 Northumbrian Water Innovation Festival, as did another core offering our innovation teams are looking at – the Roadside Asset Data Service (RoADs). This new initiative automates dynamic mapping of roadside assets, using data captured using vehicle-mounted cameras and sensors.
At this year's Innovation Festival, Ordnance Survey lead and facilitated the Vantage Point sprint, four days of collaborative exploration around data architecture requirements for secure data exchange between energy, telecoms and infrastructure companies. The reason so many innovative pilots have emerged from these sprints is because they bring Ordnance Survey and the energy and infrastructure community into close partnership to solve specific problems centering on customers' needs from the outset.
Our new Propositions and Innovation division embodies the spirit of collaboration on display at these sprints, combining the fast-paced innovation of a start-up with the data security expertise that comes with being Britain's most authoritative geospatial experts. As our emerging geospatial solutions demonstrate, centering our customers' needs and fostering collaboration from the outset produces better services and more value from existing services for our delivery partners in energy and infrastructure.
If you enjoyed this article, check out this piece on how cloud computing and automation are transforming geospatial change detection.