Innovation in Manchester's corridor
1 Mar 2017
The activity OS is undertaking in the Corridor Manchester is part of CityVerve, the UK's Smart City demonstrator project. OS is collecting this data to stimulate innovation that it and project partners believe will lead to better services for residents, visitors and business.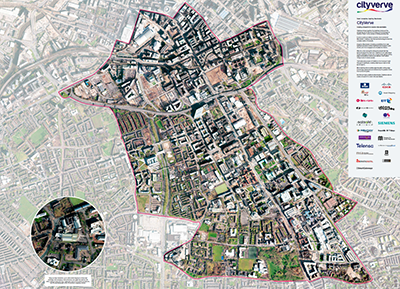 OS, whose digital database of Great Britain contains more than 500 million unique geographic features, presenting the most detailed, location data rich picture of the country, is challenging itself through CityVerve to see what extra information can be found in the real world that will be of benefit to the nation.
So far, the precise location of more than 40,000 individual street assets housed within the Corridor have been noted. OS is giving each of these street assets, such as street lamps, their own unique code and a detailed set of information that is specific to it. The aim is to provide partners with richer context to experiment with.
One of those partners who will be using this data is Manchester-based software solutions provider, Sparta Digital. Vijay Natarajan, Sparta Digital's Marketing Director, said: "We are an innovative SME and CityVerve gives us the opportunity to work with Ordnance Survey and utilise their APIs and services to build an interactive personalised digital wayfinding and navigation experience within the city that is consistent with the physical signage.
"Part of this effort will be to promote walking and cycling within the city, while promoting local events and businesses. Sparta Digital will be working with Transport for Greater Manchester and Ordnance Survey to create a new head-up way-finding experience for the city, which will be enabled by Augmented Reality and proximity sensors installed around the city."
CityVerve is a £10m Department for Culture, Media and Sport funded project that aims to redefine 'smart' in the context of a living, working city, by using technology to meet the complex needs of its people. Led by Manchester City Council, the consortium of 21 organisations is creating a real-life blueprint for Smart Cities worldwide.
Miranda Sharp, OS Head of Smart Cities Practice, said: "Through the Public Sector Mapping Agreement, national and regional government use geospatial data and intelligence each day to improve transport, healthcare, energy and other services. Daily at our London-based Geovation Hub we see how up-to-date geospatial data, when combined with new technologies, has a major role in shaping the whole Smart City, Internet of Things (IoT) landscape and the huge potential this has to deliver new and better services.
"Now Manchester is set to become a live arena for in-field innovation trials that demonstrate the capability of Smart Cities. This is a very exciting time for OS. We are providing data that our partners can use to plan, build and deliver a smarter more connected Manchester, and the successes born out of this project can hopefully be applied to other areas of the UK and around the globe."
ENDS
Notes to editors
About Ordnance Survey
Britain's mapping agency, Ordnance Survey makes the most up-to-date and accurate digital and paper maps of the country. Each day OS makes over 10,000 changes to its database of more than 500 million geographic features. Since 1791 OS data has been used to help governments, companies and individuals work more effectively both here and around the world. The information OS gathers helps keep the nation, economy and infrastructure moving.
How Government is using Geospatial data to improve services
About the Public Sector Mapping Agreement

About Geovation
Geovation is about experimenting and developing ideas. It is about being creative amongst like-minded people. Everything happens somewhere, and the Geovation mission is to expand the use of location in the UK's innovation community. Geovation is based at a dedicated location-data lab in London that supports and enables open innovation and collaboration. More about Geovation