Will you go out with me on National GetOutside Day?
16 Sep 2019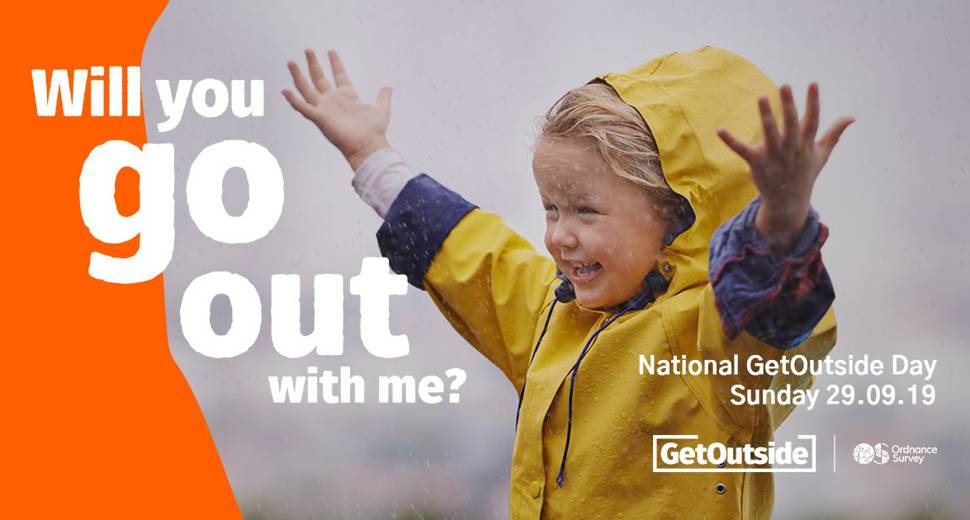 National GetOutside Day returns this month as part of OS's GetOutside campaign to get more people enjoying the British outdoors more often.
This year, alongside TV presenter Ben Fogle, trainer to the stars Professor Greg Whyte and endurance athlete Sean Conway, OS is aiming to attract more people outdoors on the same day than ever before by encouraging everybody to invite someone to join them, whether that be for a walk, a picnic, a run, a bike ride, climbing a hill or anything else taking place outside.
OS Managing Director for Leisure, Nick Giles, said: "According to industry figures, it's thought that there's about 20 million people in Britain who want to get outside, but for whatever reason don't.
"That's a huge number, and National Get Outside Day on Sunday, September 29 could be just the catalyst we need to tackle that.
"I'm a passionate believer of the benefits that physical activity outdoors can bring and strongly encourage everyone to join in. It can be daunting starting something on your own for the first time, so this is an ideal opportunity for us to grab some company and show people just how good it feels to be outside."
Thousands of people have already signed up to take part through webpage www.os.uk/getoutsideday and joined one of six regional teams representing the country.
With events taking place up and down the country, there is something for everyone. Simply visit the website to find out what's going on in your local area.
Anyone who has their own idea for an event, and wants people to join them, can also add it to the interactive map themselves.
Nick added: "GetOutside is an initiative for everyone, and you can get involved too.
"Last year we saw huge engagement with the campaign and overwhelming support for the day.
"Just imagine what a difference we could make if we all invited one or two extra people out for the day, who wouldn't normally choose to go outside?
"Our country is beautiful and unique, there is so much to do on our doorstep, so let's show everyone how good the outdoors can be."
Anyone wishing to find out more can visit www.os.uk/getoutsideday or follow the social media hashtag #GetOutsideDay.