Ordnance Survey
14 Dec 2021
How geospatial data provides insight and analysis in SearchLand's new sourcing tool
SearchLand is a tool that brings national housing data into one place. It enables users to make informed property and land decisions, based upon the relevant information.
They have built an array of powerful tools around this data, to automate workflows and save their customer's time. This includes a direct-to-vendor letter-sending tool, an industry-leading land-sourcing tool, and a planning search/alerts tool.
Having integrated OS data throughout their platform, SearchLand uses OS's AddressBase Premium datasets as its source of truth for UK addresses. They use OS data gathered from several APIs to build algorithms to identify plots of land. SearchLand has proactively used OS data to enhance their business offer, such as their mission to make property companies more data-driven and linking data in smarter ways using Unique Property Reference Numbers (UPRNs).
New sourcing tool
SearchLand is constantly striving to simplify and disrupt the site sourcing process. Their motivation, added to existing frustrations from the lack of innovative property technology, led to the creation of their new sourcing tool.
Their sourcing tool enables users to search through the 20+ million freeholds in England to find the exact properties that fit the user's requirement. It integrates several data sources to provide insights that inform decision-making and presents this back to the user in a simple, visual way.
The sourcing tool allows users to build a query, search in seconds, and swipe through available properties. Once the user has found a property that they may be interested in, they are able to reach out directly to the vendor on the platform.
Integration of OS data
Through joining the Geovation Accelerator Programme in Spring 2021, SearchLand gained access to a range of open and proprietary datasets from OS, as well as HM Land Registry, and other Partners.
The data integrated into the search tool is heavily derived by OS data, using AddressBase Premium data to cross reference against previous planning applications. SearchLand rely on several OS APIs to build algorithms to identify plots of land. For example, they have built an algorithm to classify backland development plots. These plots are often gardens that are ideal for building in. They believe that the key is finding gardens that have good access to roads – which can be done using the classified land in OS MasterMap. Other data sources include planning data, spatial constraint data, and EPC/VOA data.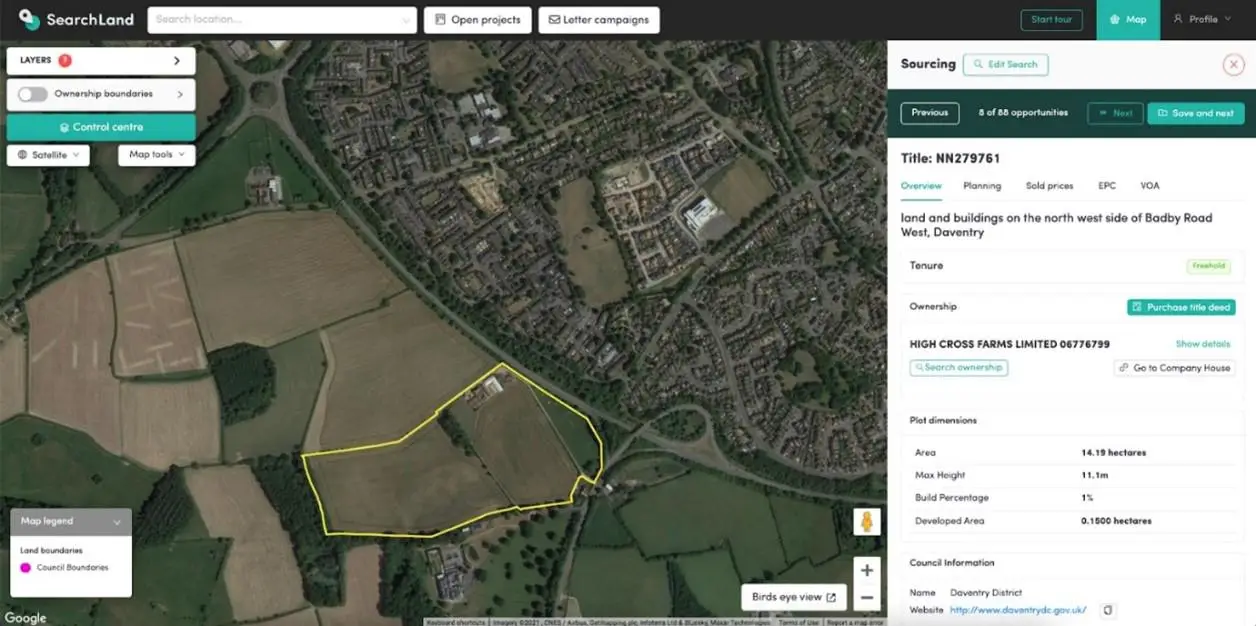 What next?
SearchLand will continue to build algorithms to find better sites to include in their new sourcing tool. This may be influenced by rich feature datasets from OS, which are the foundations of all their algorithms. They recently released a planning alert tool that emails users when there are any changes to planning applications that they have shown an interest in.
Find out more about SearchLand on their website, or if you want to try their new tool for yourself, you can sign up for a 7-day free trial.
Geovation Accelerator Programme
The Geovation Accelerator Programme provided SearchLand with a six month period of intensive support, including workshops, events, access to datasets, up to £20,000 of funding, and much more to support their growth.
Applications for the next cohort of geospatial and property start-ups will open in January, but in the meantime, you can find out more on the Accelerator Programme homepage.
SearchLand has accessed geospatial data through the API suite and on the OS Data Hub. For more information on how to access and use OS data via our API suite, visit the OS Data Hub and view our tutorials and documentation.