GB's longest linear walk without crossing a road
10 Jan 2019
CaTS team
os maps
osmm highways network
polygons
Here at OS, we get asked some curiously specific questions by our Twitter followers. Our teams are always up for a challenge and, as this query required map exploration, who better to ask than our amazing Consultation and Technical Services (CaTS) team? Please see the query embedded below.
@OrdnanceSurvey Hello! An enquiry if I may…..what (and where) is the longest distance you can walk in a straight line in England/Wales/Scotland without crossing a road (defined as a paved surface for vehicular use)?? Planning a potential expedition. Ta!

— Roger Dalton (@100in7) November 15, 2018
Now, not only were our CaTS team able to identify the longest distance in Great Britain you can walk in a straight line without crossing a road (which consequently you may have read about in some newspaper articles), but as this was in Scotland, the team also decided to find the longest in both England and Wales too.
So for Great Britain, the longest straight line that you can walk without having to stop, look and listen is 71.5km or 44.43 miles (71500.817767m) and is unsurprisingly in Scotland. Crossing the Cairngorms, the distance goes from 262540, 778255 on the A9 and ends at 328042, 806921 south of the hamlet of Corgarff. The high point is on the summit of Beinn a'Bhuird at 1,179m (3,870ft).
While you have the right to roam in Scotland, it doesn't mean it is advisable to roam. As quoted in The Times article, our CaTS member Eddie Bulpitt states "I wouldn't recommend anyone do it unless they are very conversant with a map and compass. It is not following known tracks or paths, and it looks like there may well be several scrambles along the way too". The relevant maps are below.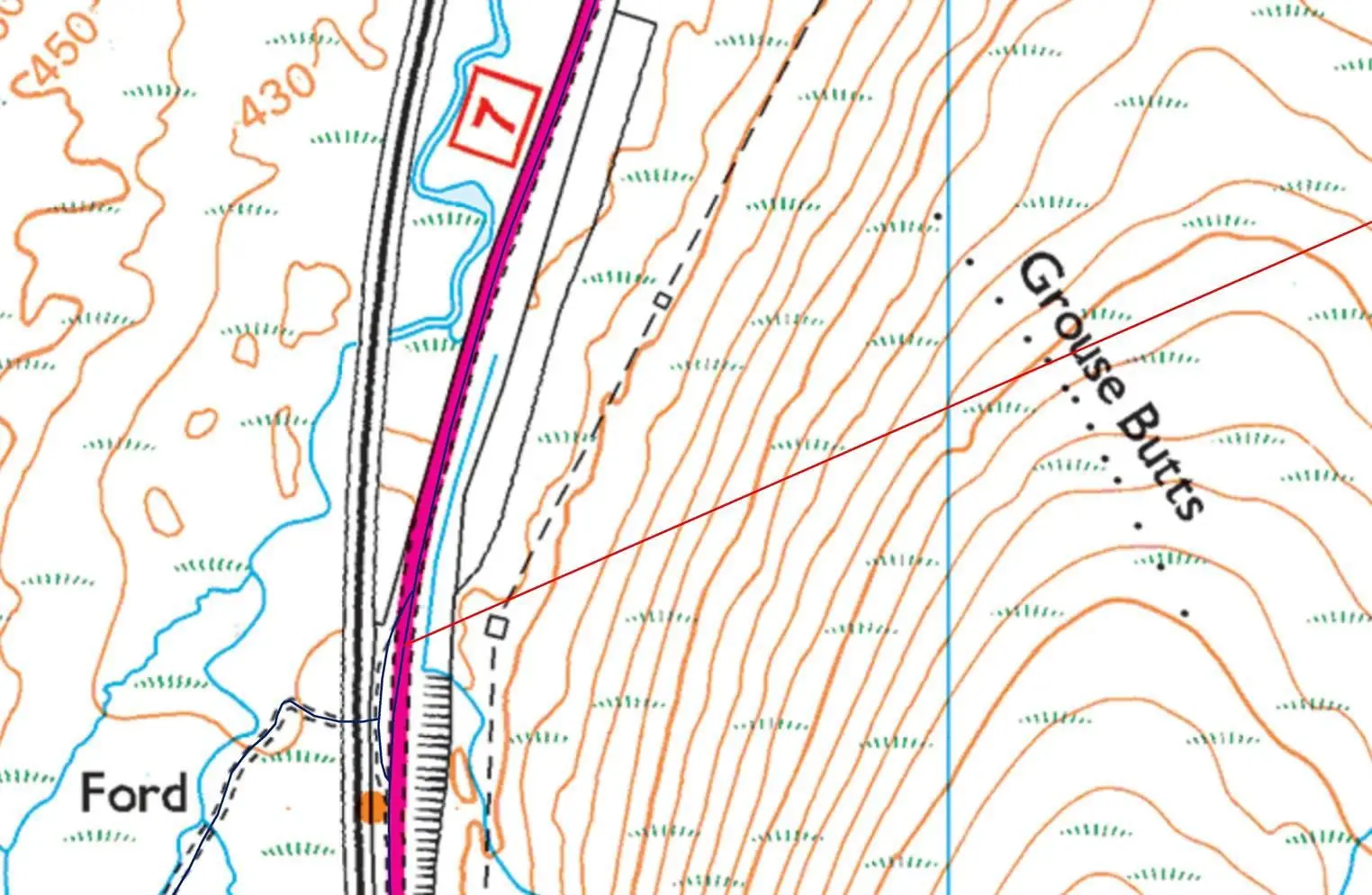 In Wales, the longest straight walk is 22.242 km (22242.534959m) and runs along the south of the Cambrian Mountains. Its northernmost point is located at 276605, 268059 on an unclassified minor road to the east of Ffair-Rhos, Ceredigion. Its southernmost point lies at 294252, 254502 on a classified unnumbered minor road approx. 5.25km (by road) NE of the village of Beulah, Powys.
Unlike Scotland, you do not have a right to roam and this route hasn't taken trespassing in to consideration. Additionally this area will be remote and likely involves some water, so we do not recommend attempting it.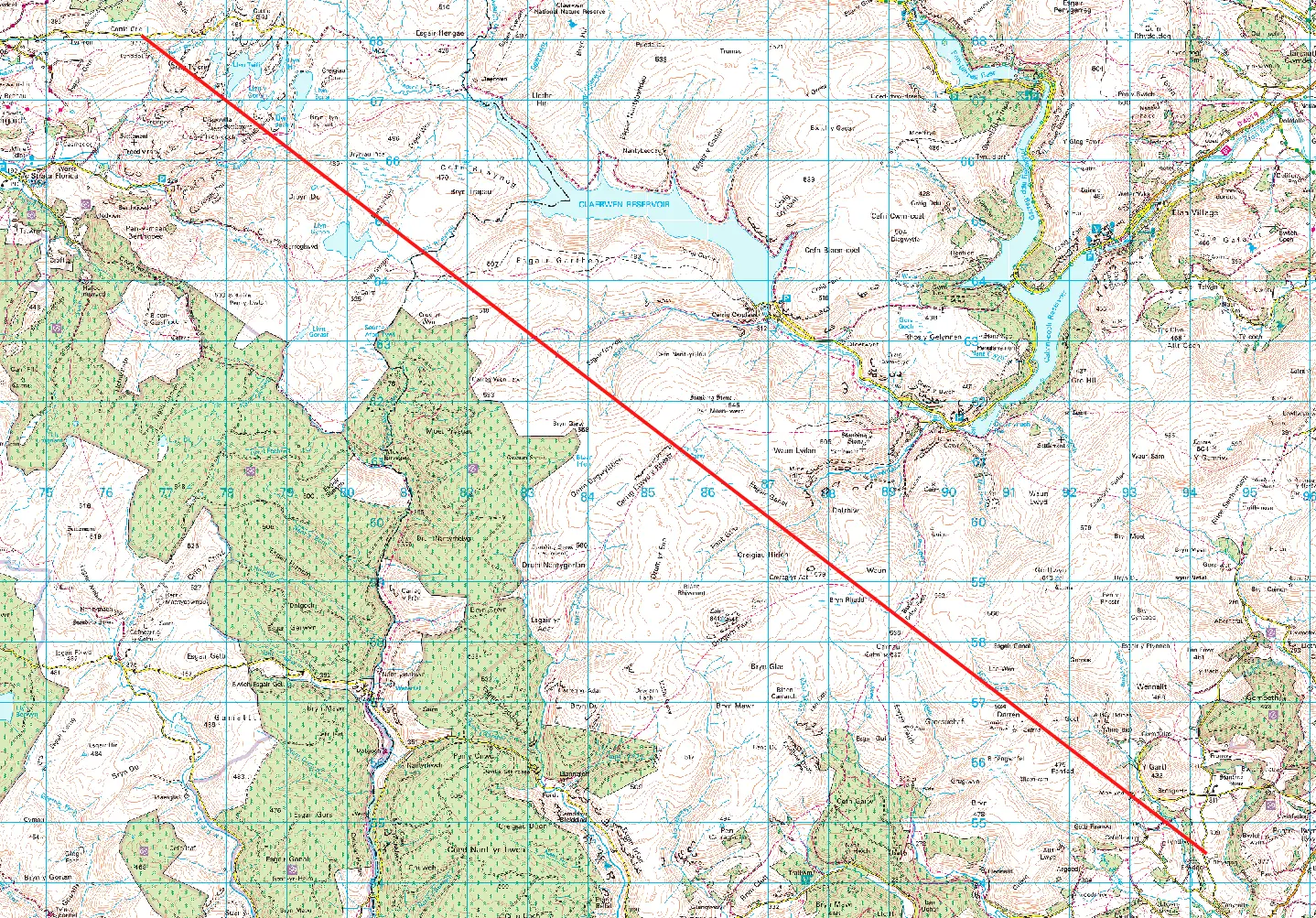 For England, the longest straight walk without encountering a road is in the North Pennines to the east of the Lake District. The straight line is 29.874km long (29874.438016m). The northernmost point of this line is at 369365, 543355 at a classified unnumbered minor road that comes off of the A686 and leads to Leadgate. The southernmost point is on the B6276 heading east from Market Brough/Brough, the coordinates being 381007, 515840.
Like Wales, trespassing is illegal in England, so permissions will need to be sought if crossing private land. Also, this straight line takes you right through the MOD Warcop Training Area so check this if you are thinking of exploring. This route is likely to involve water so please take this in to consideration!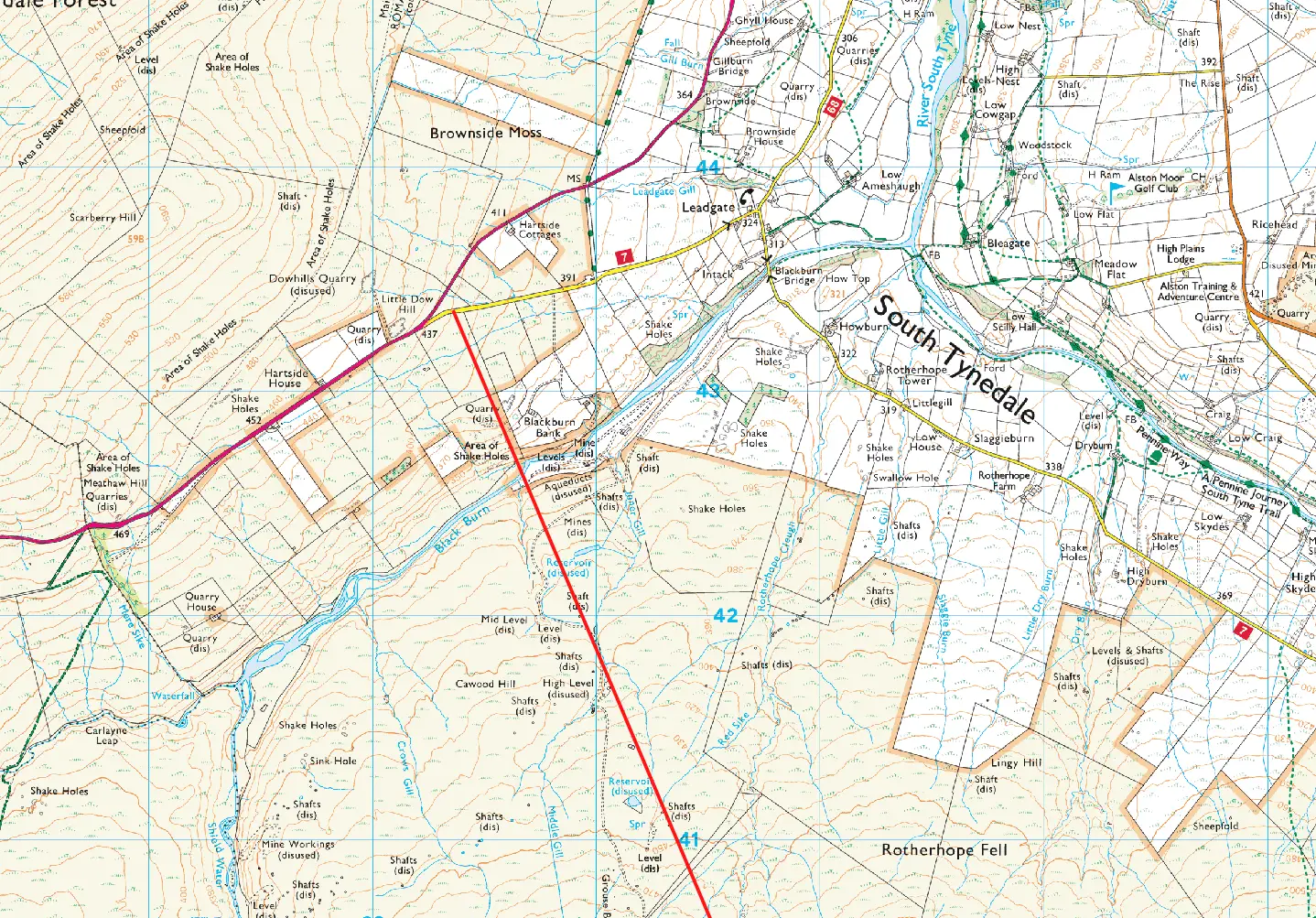 Summary of methodology
Using OS MasterMap Highways road network, our CaTS team calculated the areas of all the polygons to identify the largest ones. This included all roads that are navigable by car, so the start and end points of the 'straight walk' start on vertices that are inherently within the OS MasterMap Highways road network. They then had to identify the longest straight line of sight that could be made between opposing vertex points that did not cross a road.
Disclaimer
Now in case you are eager to explore these areas, we must remind you that we do not condone trespassing and, as above, we cannot guarantee the routes avoid private property. Additionally, the bodies of water shown on the maps do not indicate depth as we do not have this data. Please take this in to account. If you are looking to explore these areas, make sure that you are prepared before venturing out. Finally, if you plan to investigate these areas, please do let us know via our Twitter or Facebook!