Using OS data and APIs to build bespoke mapping solutions
Maps can be a valuable asset for many organisations, and so much more than a simple static image on an About page.
They can be used to demonstrate services and communicate with target audiences. Local authorities and governments can put maps on their websites to help inform and engage with their users.
"While Map APIs may seem complex, we can provide how-to tutorials, get-started guides on how to plug the APIs into your website, and code examples that demonstrate real-time changes. "

Chris Wilton, Strategic Development Manager at Ordnance Survey
We appreciate that many organisations, governmental or otherwise, vary in terms of web mapping capabilities. Some have it, some don't, and it's not always a case of 'one size fits all.' OS APIs are a really easy way to help organisations create web maps for customer engagement – and hopefully solve queries, reduce customer contact calls, and try to save money.
What is an API?
An API is an Application Programming Interface. APIs allow access to data and content across the internet, and can then be embedded into a website, on a platform like Wordpress. If you've ever used an interactive map on a property site, for example, then you've used an API. (And quite possibly one using OS data!)
APIs as building blocks
APIs enable you to create and customise maps to meet your individual needs, and embed them on your website. Use Features API to see greenspace, woodland, or buildings, for simple data visualisation; or combine Vector Tile and Address API with a search function to allow users to see a three-dimensional rendering of a given location.
As demonstrated in our recent webinar, and in the screenshot below, organisations can build web functions using a selection of APIs.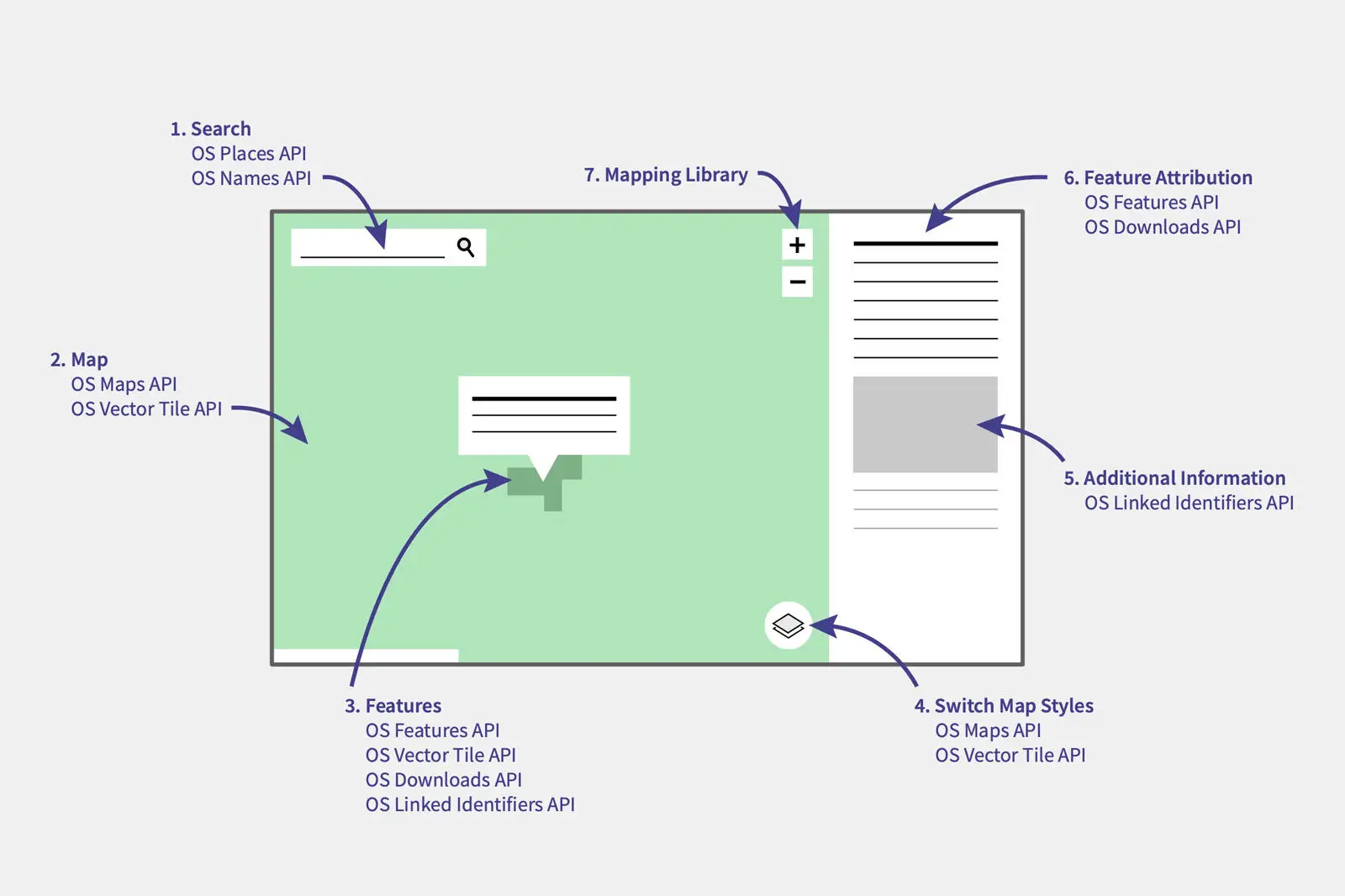 An API can focus on different aspects of mapping; it's not as basic as simply embedding a map onto your site. OS offers multiple APIs, such as:
OS Maps
OS Places (address search)
OS Vector Tile (vector maps with customisable content & style)
OS Features
OS Names (locations of interest)
"OS detailed maps can be a framework to speak with citizens."

Charley Glynn, OS Product Manager
APIs have brought history to life
The National Library of Scotland created an intriguing concept: a way of comparing modern geography, with that of the past. Visitors to the library's website could view historic maps with new ones side by side, or even use an overlay to see how the landscape had evolved – even being able to select specific time periods.
OS Maps API made it possible to make these comparisons, and while the National Library of Scotland used it for education and entertainment purposes, local authorities could use it for monitoring urbanisation, changes to greenspaces, and so on.
Making the maps interactive also adds an element of fun, and enjoyment. Tourism-based organisation VisitScotland used the OS Vector Tile API to mark locations where the TV series Outlander was filmed. The Vector Tile API provided a seamless zoom function for users to inspect local areas, and an additional API layer added points of interest.
These examples demonstrate how APIs are effectively the building blocks. Unique pieces which, when combined into a single asset, can allow you to create the solution(s) you need.
Additional benefits of APIs include:
Accessing data efficiently, usually in real-time.
Interacting with data in new and exciting ways, such as 3D rendering.
You receive the same data across desktop, tablet, and phone applications.
Data is always up-to-date. OS do that bit, so you don't have to.
Automating workflows.
Get started now
While APIs may seem quite complex, they can be used and adapted by users at any end of the spectrum, from beginner to advanced. To anyone that needs them, we will provide how-to tutorials, get-started guides on how to plug the APIs into your website, and code examples that demonstrate real-time changes. We also have a range of product support pages.
Don't be put off by implementing APIs; instead, realise how much they can help inform and engage your audience. It's up to you to create the solutions, but OS can provide resources to help you make the applications you need. APIs are the building blocks, with step-by-step guides to help you.
We give you the tools – it's up to you what you build.
If you'd like to watch our webinar, it is available below and on YouTube: see how we can help share maps on your website.
Or to see the products available and get started on your own geospatial creation, visit our OS Data Hub.
Public sector organisations, such as local authorities and councils, can also take this opportunity to register as members of the PSGA, to access our essential data and services.