Britain's top walking spots since lockdown eased
11 Aug 2020
Cartography
Ordnance Survey in the news
covid-19
data visualisation
geodataviz
os maps
In the months since lockdown restrictions around Great Britain began to be relaxed in response to the Covid-19 pandemic, Britons valued the chance to GetOutside. During that time, subscribers to OS Maps have logged almost 700,000 routes in the app, showing whereabouts in the country they've been outdoors.
We've analysed the data to identify some Britain's top walking spots since lockdown eased.
Data visualisations
We've created three visualisations from the OS Maps data to illustrate the story. Our datavis has broken Britain down into 15 KM-sized hexagons. Each starting point of a route in OS Maps (since 13 May 2020) has been assigned to a hexagon. The hexagons with the most routes are marked dark green. The hexagons with the fewest routes are coloured yellow. Hexagons with no routes at all are marked white.
In total there were 694,342 routes created in OS Maps between 13 May and 29 July this year. This is almost double the 353,626 routes created for the same time frame in 2019 – a 96% increase year on year. In total, OS Maps contains 3.4 million private and publicly shared routes, covering 30 million miles.
Top 10 places in GB where people have started a route since lockdown restrictions were eased
Edale, Peak District
Wasdale Head, Lake District
Resting Hill, Yorkshire Dales
Keswick, Lake District
Horton in Ribblesdale, Yorkshire Dales
Mam Tor, Peak District
Kirk Howe, Lake District
Ambleside, Lake District
Seathwaite, Lake District
Upper Derwent, Peak District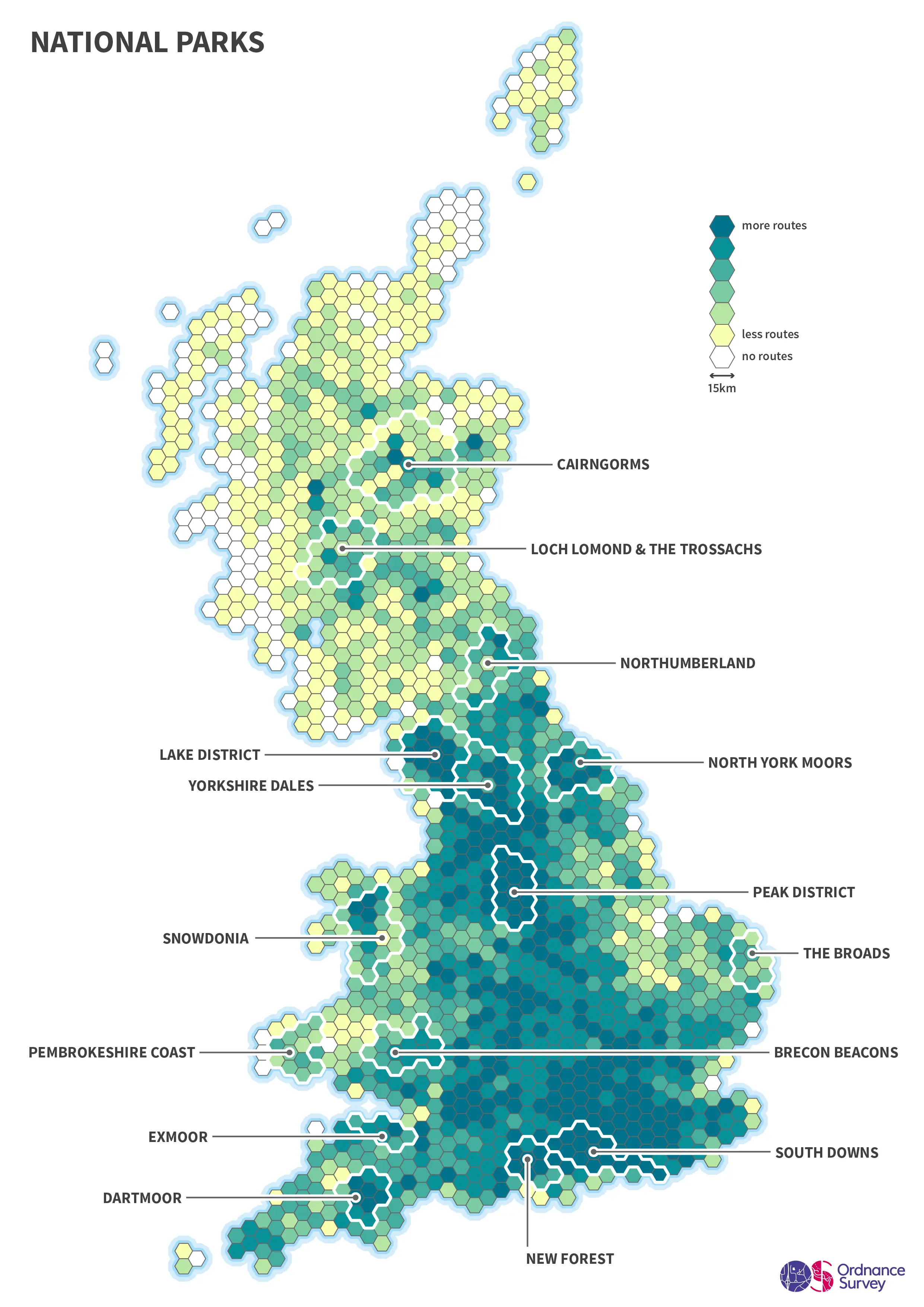 It's no surprise to see the National Parks proving to be the country's most popular route destinations. Edale in Derbyshire's Peak District remains the number one place to start a route, as it was in 2019. The rest of the top 10 is dominated by locations in the Lake District, the Yorkshire Dales and the Peak District.
Across England, Scotland and Wales the map shows national parks across the country have proved hugely popular.
Areas of Outstanding Natural Beauty have also been favoured as some of Britain's top walking spots.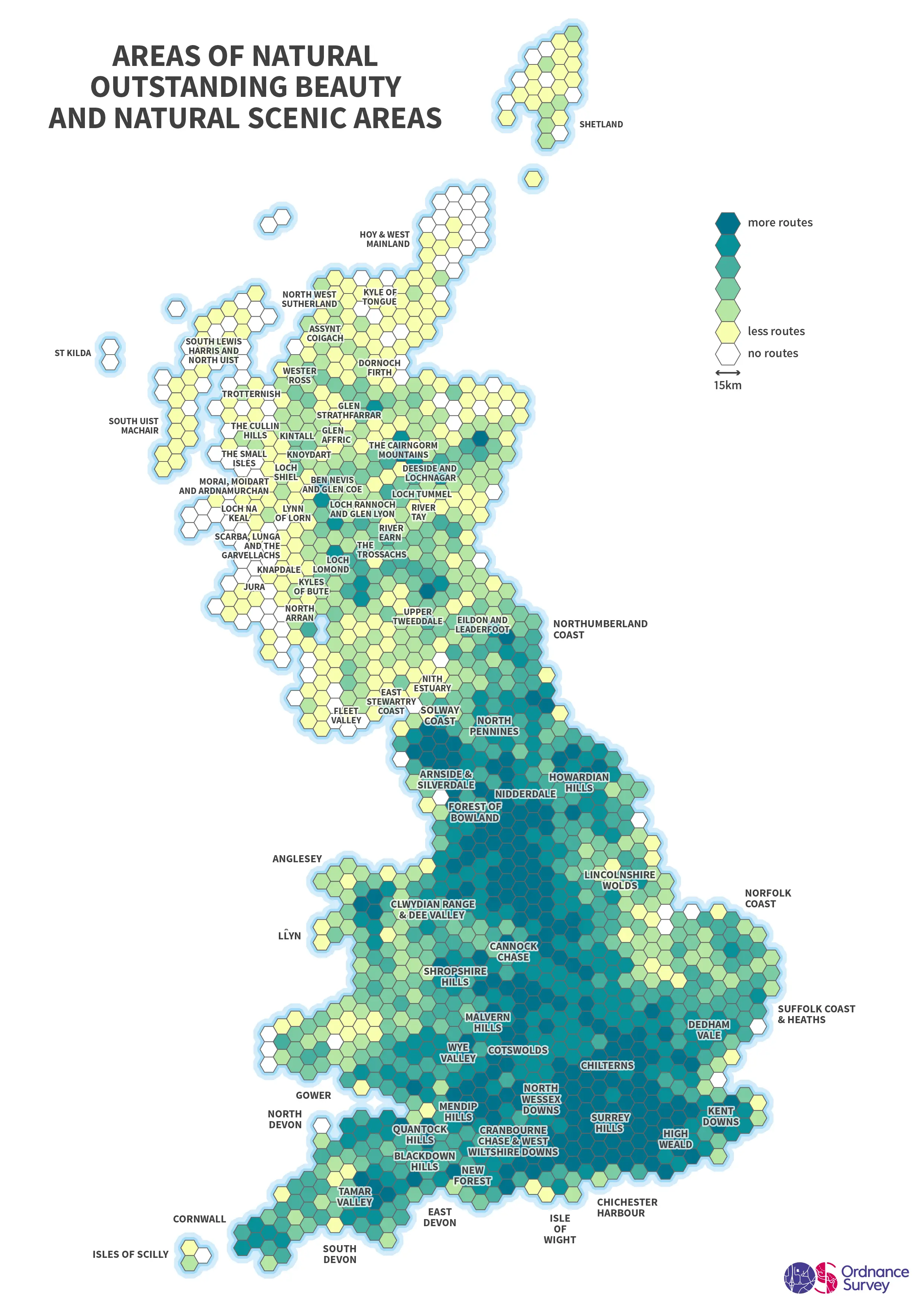 The least walked areas in Britain since lockdown restrictions were relaxed
There are a number of locations across Great Britain where numbers of routes recorded are low or without any recent recorded routes. As expected, Scotland, due to its remoteness, has many areas which are less trodden, including the west coast.
Across England and Wales some of the less walked areas include:
Meidrim, Carmarthenshire
Lundy
Maplin Sands
Wainfleet All Saints
Scolt Head Island
Morecambe Bay
Aldbrough
Braystones, Cumbria
Silloth, Cumbria
All the above locations listed had no routes recorded since 13 May. We understand that some of these areas were temporarily closed off or were inaccessible to the public during this time. We also understand that the terrain in some of these locations will impact the number of routes and only appeal to the more experienced adventurer. With all walks or day trips we urge you to plan ahead and take the right kit.