Using Ordnance Survey's world-class Leisure maps in your app
2 Jun 2020
APIs
developers
GIS
leisure
os data hub
Update: 1 July 2020, OS APIs now live and available via our OS Data Hub, sign up here
Our OS Explorer Maps and OS Landranger Maps are iconic, and so are their digital counterparts! 1:25 000 Scale Colour Raster and 1:50 000 Scale Colour Raster can be downloaded as georeferenced image files for use on commercial terms – and they're also available via API.
These maps have enjoyed a successful transition from paper to digital, and you can easily integrate them into your GIS, web and mobile applications. Alongside 1: 2500 000 Scale Colour Raster and Miniscale, they form part of our Leisure style which is available via our new OS Maps API.
Have a look at this code example which will help you get started quickly. You will need an API Key from the OS Data Hub, and then you're ready to build your own application or use these maps in your GIS.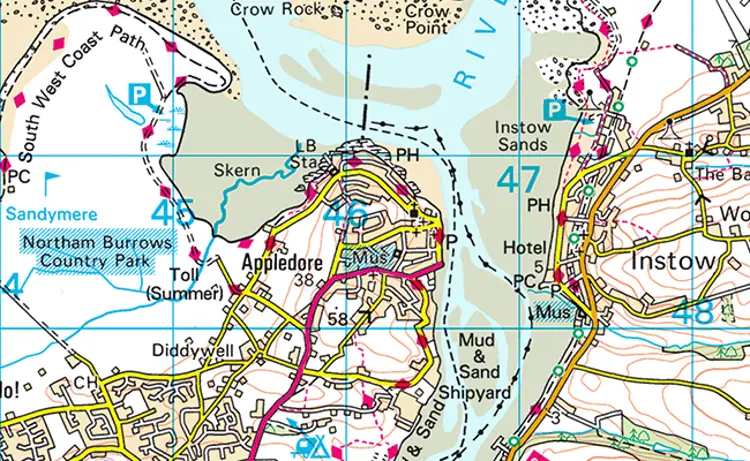 Design classics
What makes these maps so iconic? Their design is clear and legible. Despite containing so much detail, these maps are easy to read and that is a testament to the cartography. We have been mapping the topography of Great Britain for over two centuries, so these maps are the culmination of many years of craft and expertise. Have a peek at how our maps have evolved over time – it's awesome!
Let's examine some of the main features of our maps:
Public Rights of Way
You can walk on all public rights of way and some are open to cyclists, horse riders and motorists. They are routes marked with signs and we show over 220,000 km of them on our maps. Approximately 170,000 km of these are footpaths and 40,000 km are bridleways. Learn more about the nuances and how we depict them in this blog post.
Font
Our Leisure maps have long utilised Gill Sans as their typeface – it is a quintessentially British classic. It helps add hierarchy and clarity to the complex craft of cartographic label placement.
"There is warmth and humanity found in Gill Sans that is found in few sans serif typefaces."– Fonts.com
Using OS Maps API, you can switch between map styles so you can complement the Leisure maps with our three others: Road, Outdoor and Light.
"OS Leisure maps are well-known, well-liked and trusted by our users."– Walk Unlimited
Get started
Discover the OS Data Hub now to start using these iconic maps in your apps for free.
The OS Data Hub is in trial until 17 June and will be launching on 1 July. Learn more about the OS Data Hub.
Stay up to date with our #OSDeveloper content by signing up for our newsletter.