Authoritative relationships
OS Open Linked Identifiers is a dataset containing the authoritative relationships between Unique Property Reference Numbers (UPRNs), Unique Street Reference Numbers (USRNs) and Topographic Object Identifiers (TOIDs). Watch our OS Open Linked Identifiers introduction video.
Better visualisation
Connecting addresses with road features enables more related data to be joined together which simplifies a number of valuable workflows. Linking these features to graphical elements of OS MasterMap products enables better visualisation of the data related to them.
Find all addresses on a road
Link data related to an address with its building footprint. Validate an addresses UPRN with the name of the road that accesses it. Validate a streets USRN with the name of the road it relates to.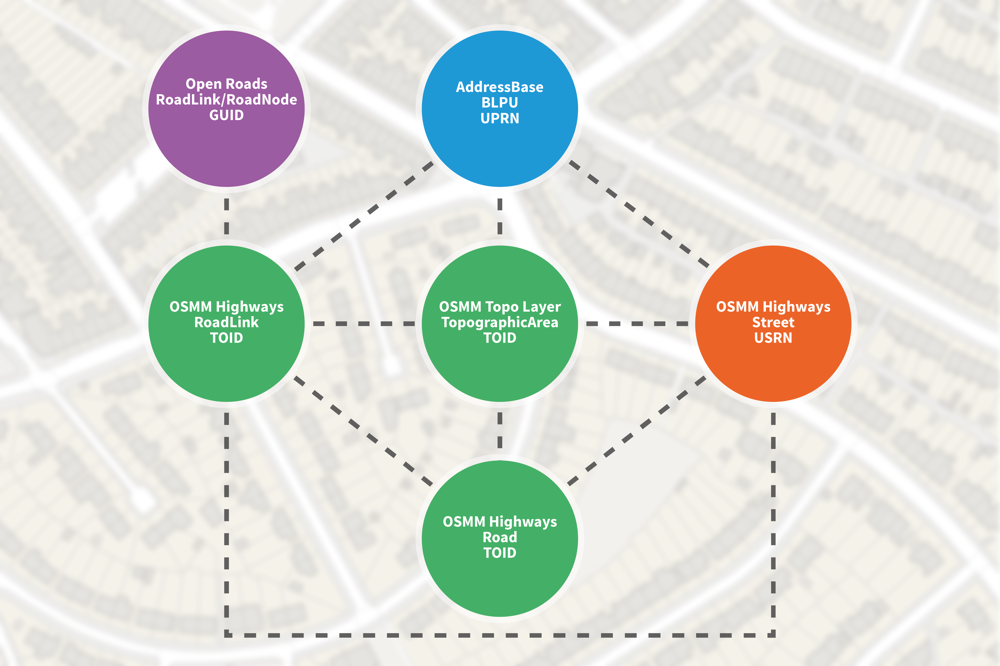 Joining the dots
The OS Open Linked Identifiers product provides the valuable relationships between the following features found in OS MasterMap products (TopographicAreas limited to address and road features):
TopographicArea* (TOID): OS MasterMap Topographic Layer
RoadLink(TOID): OS MasterMap Highways Networks – Roads
Road(TOID): OS MasterMap Highways Networks – Roads
ORRoadLink/ORRoadNode(GUID): OS Open Roads
Street(USRN): OS MasterMap Highways Networks – Roads
BLPU(UPRN): AddressBase Premium
*restricted to address and road features.
Authoritative
The relationships UPRN and USRN are provided by the bodies responsible for the identifier schemes; and these are spatially matched to OS MasterMap features by Ordnance Survey. This means you can have confidence you're accessing an authoritative source of these relationships.
Relationships you can trust
The relationships are taken from our premium data products and being made open for the so everyone can access them from one trusted source.
Regularly updated & Easy to access
OS Open Linked Identifiers is updated every six weeks soon after AddressBase Premium release. Available in CSV file format for easy ingestion into database products.
Our open data products are covered by the Open Government Licence (OGL), which allows you to:
copy, distribute and transmit the data;
adapt the data; and
exploit the data commercially, whether by sub-licensing it, combining it with other data, or including it in your own product or application.
We simply ask that you acknowledge the copyright and the source of the data by including the following attribution statement:
Contains OS data © Crown copyright and database right 2022
Where you use Code-Point Open data, you must also use the following attribution statements:
Contains Royal Mail data © Royal Mail copyright and Database right 2022
Contains National Statistics data © Crown copyright and database right 2022
| Key Features | What this product offers |
| --- | --- |
| Format | Comma Separated Values (CSV) |
| Data structure | Identifiers |
| Attributes | Correlation ID, Identifier1 (Identifier, Version Number, Version Date), Identifier2 (Identifier, Version Number, Version Date), Confidence |
| Update frequency | Six Weekly |
| Supply | Online download |
| Coverage | Great Britain |