Reimagining the nation's capital
17 May 2018
Britain's Most Historic Towns
capital
graduate
mapping
Citing his inspiration as our work that reimagined Winchester as the nation's capital and the recent episode of Channel 4's Britain's Most Historic Towns, John Murray replicated our technique to reimagine Chester (Britain's most Roman town) as the capital.
Out of curiosity, we thought it could be interesting to see what other cities would look like if they were the capital. As with Winchester, many cities have backstories which historically make them viable capital candidates. We got our Graduate Consultant Data Scientist, Jacob Rainbow, involved and, as with the Winchester map, he applied the same process.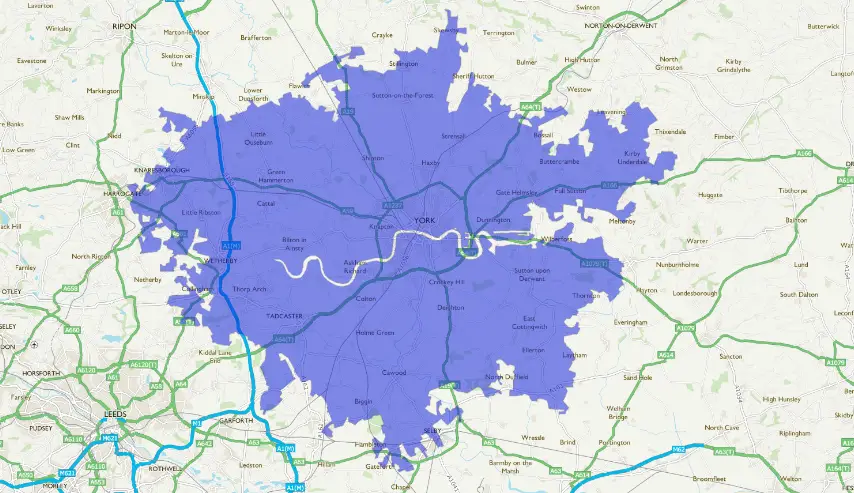 With York having been identified as the Viking capital of England, it seemed a good place to start. As well as being Britain's most Tudor town (and the most complete medieval city in Britain), Norwich was once second only to London in importance.
Intrigued where the London landmarks would be, we put together a list for both York and Norwich.
York
Wembley Stadium – in a field just South of Sinklinghall (near Weatherby)
The O2 – just off Hull Road (A1079) in the grounds of Lodge Farm (near Kexby)
Buckingham Palace – in West Bank Park by Acomb Primary School, Holgate
Kew Gardens – Marston Wyse Farm near Bilton in Ainsty
London Zoo – between the A1237 and A19 Shipton Road (front entrance by the roundabout at the North West corner of Rawcliffe)
Big Ben – property on Scarcroft Road (A59) near The Mount
10 Downing Street – near the main depot of the central station, Holgate Junction
London Eye – at the corner of Nunnery Lane and Micklegate
St Paul's – a property on Cinder Lane, just off Heworth Green
Tower of London – on the dismantled railway cycle way just south of St Aelred's RC Primary School
Norwich
Wembley Stadium – in a field near Weston Green (west of Ringland)
The O2 – by the river at Surlingham Broad on the railway line (west of Brundall)
Buckingham Palace – within the ring road (a property on Jessopp Road near Heigham Park)
Kew Gardens – in Wramplingham on the river Tiffley south of Barford
London Zoo – on a golf course just south of Hellesdon
Big Ben – on a property on St Stephens Road, A11, just opposite The Pavilion
10 Downing Street – on Union Street (by the play area on the corner of Norfolk Street)
London Eye – in the south east corner of Chapelfield (in Chapelfield Grove)
St Paul's – east of St James Hill on Britannia Road
Tower of London – Weston Wood, at the end of Bishop's Close off Yarmouth Road
While Cheltenham and Belfast do not have such strong capital links, we explored them as they are Britain's most Regency and most Victorian towns respectively.
Graduating soon?
Jacob applied to Ordnance Survey after being impressed with the BBC documentary A Very British Map. Prior to this, he imagined the company as quite old-fashioned. Since starting his role, Jacob states he has joined "a team that embraces technological change and is investing in machine learning research and other methods of big data processing". Find out more about our graduate schemes.